In defense of 'Roseanne'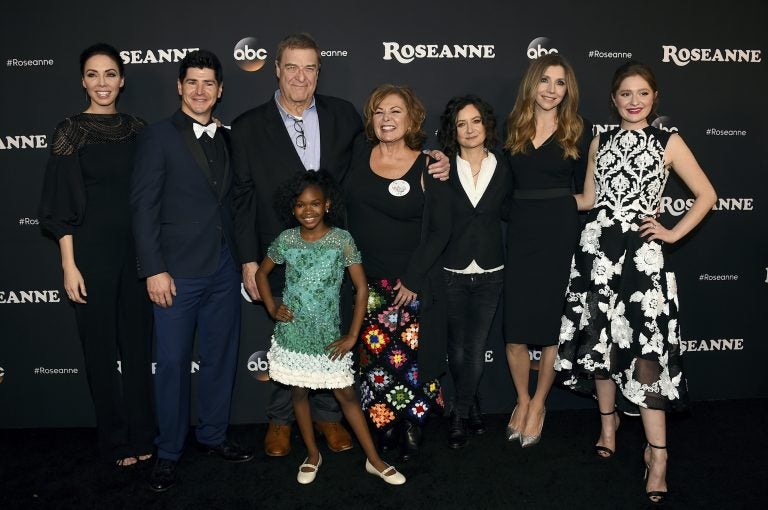 "Maybe we pushed too far. Maybe people just want to fall back into their tribe."
That's what Barack Obama told adviser Ben Rhodes, following Donald Trump's surprising White House victory in 2016. The episode is recounted in Rhodes' new memoir, "The World as It Is," which paints a melancholy portrait of Obama. He had come into office preaching unity across America's differences, but now he worried that Americans didn't want it.
He was right. But it's not just Trump's supporters who have fallen back into their tribe; it's Obama's, too.
Everyone is drawing a line around themselves and denouncing the people outside of it. It's us or them, my team or your team, kill or be killed. And there's nothing in between.
Witness the sad demise of the hit TV sitcom "Roseanne" following a racist tweet by its eponymous star, Roseanne Barr. To most of my fellow liberals, the swift decision to fire Barr — and to cancel the next season of the series— represented a simple victory of good over evil.
"This morning @RobertIger quickly and easily determined that righteousness trumps profits by firing an open racist and anti-Semite from his company," tweeted actor Bryan Cranston, congratulating the CEO of Walt Disney after the Disney-owned ABC fired Barr. "If our elected officials had the courage to do the same by declaring that country trumps partisanship, we'd have a healthier society."
But the show itself was an effort to overcome partisanship, portraying a family divided by politics but trying to get along. And we'd have a much healthier society if we made more efforts to follow its example.
"Roseanne" showed its Trump-friendly star arguing over health care and job growth with her sister, Jackie, who wears the trademark pussycat hat of the anti-Trump crowd. They also clash over Roseanne's new Muslim neighbors, whom she fears are terrorists.
Jackie points out — correctly — that Roseanne's tirades about "Eye-raq' and "Talibanistan" are ignorant and bigoted. And, by the end of the episode, Roseanne has changed her tune: We see her defending her new neighbor from an Islamophobic grocery store clerk, who is trying to shame the neighbor for using food stamps.
Yes, critics on both sides of the political aisle complained that "Roseanne" caricatured them. But how many television shows have even tried to depict the deep tensions that Donald Trump's election has unleashed in our country? Indeed, how many have depicted any Trump supporters at all?
The answer is none, so far as I can tell, except for "Roseanne." Sure, there are other shows featuring everyday Americans; as "Speechless" star Minnie Driver tweeted, in a shameless plug for her own sitcom, that show is also "about a middle-class family." (So "come and watch us" instead of "Roseanne," she added.) But "Speechless" is a gentle comedy about how a family brings up a teenager with cerebral palsy; it's not about politics.
Ditto for our other shows about middle and working-class Americans, which explore the hardships of life in Trump's America but avoid mentioning Trump himself. On "Superstore," we watch a young mother work two jobs so her daughter can go to a good day care; in another episode, employees try to find a better alternative to their lousy health plan. But we rarely hear the T-word or people arguing about him, as we did on "Roseanne." And now we won't.
That can't be good news for our bitterly polarized nation, where entertainment — like everything else — seems to split us along political lines. But in this respect, too, "Roseanne" was different: 39 percent of its viewers voted for Trump, and 34 percent voted for Hillary Clinton, a near-even split. We need more such opportunities to explore our differences, which might be the only thing that can bring us together.
Let me be clear: Roseanne Barr's tweet about former Obama aide Valerie Jarrett — likening Jarrett to an ape — was as vile and hateful as American racism can get. It came on the heels of other offensive tweets by Barr, including an anti-Semitic attack on financier George Soros. Surely ABC was within its rights to cancel her show, as an affirmation of its commitment to equality and inclusion.
But you'd think that people who share those values would also bemoan the demise of "Roseanne," one of the few shows that attempted to include people from different political backgrounds. In the best of all possible worlds, we could denounce Roseanne Barr and still defend "Roseanne." But in the world as it is, to borrow from Ben Rhodes' book title, that's become impossible. It's all tribalism, all the time.
_____
Jonathan Zimmerman teaches education and history at the University of Pennsylvania. He is the author (with Emily Robertson) of "The Case for Contention: Teaching Controversial Issues in American Schools" (University of Chicago Press).
WHYY is your source for fact-based, in-depth journalism and information. As a nonprofit organization, we rely on financial support from readers like you. Please give today.