Improving Philly writers with poetry slam-turned game show
An effort at the Community College of Philadelphia to use slam poetry to help improve students' writing skills has become an Emmy-nominated reality TV-style game show.
Listen
1:43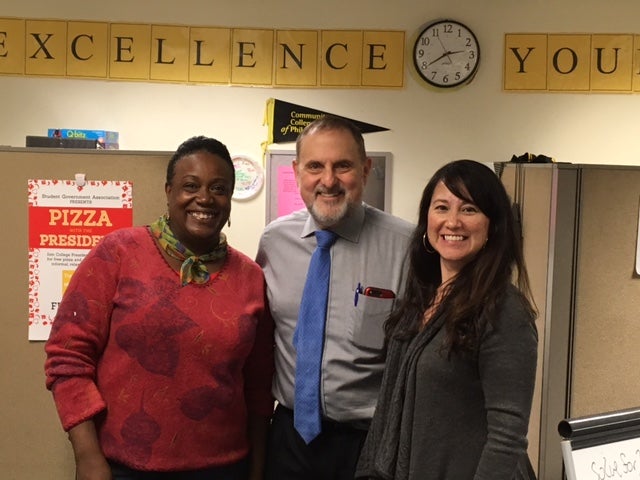 As the American dream of a college education leads more and more students to community colleges across the U.S., many schools are grappling with an influx of students not fully prepared for higher education.
A project at the Community College of Philadelphia is using spoken word poetry to support students who have not tested at the college level for reading and writing. Michelle Myers, a poet and associate professor of English, wanted to give these students confidence to take on different types of writing by first encouraging styles they have experienced.
"If we can get our students to recognize that they do have access, in their own way, to wonderfully powerful language, I believe that we can find a way to bridge between that and feeling that they can write proficient academic essays in the way that they're being asked to in a college classroom," said Myers.
Poetry slams abound across the Philadelphia region. Myers decided to take CCP's one step further and enlisted the producer of the college's cable TV channel, Allan Kobernick to morph the project into a reality TV game show.
The result is "Drop the Mic," a spoken word competition show, produced before a live audience and airing on the college's cable TV channel. The format provides another avenue for student work, Kobernick said, as he enlists students in his digital video curriculum in the production. But Drop the Mic has gone far beyond being a student production, garnering three Emmy nominations.
Like the reality TV game shows that inspired it, faculty and alumni judges offer feedback, pointing out strengths and weaknesses in the performance and the writing.
"The feedback we received allowed me to be a better writer," said Darlene Monts, a CCP student who has performed on the show since its beginning. "It made me say, 'Wait, you're getting in front of an audience.' And if I want that audience to get what I'm saying, I'd better speak a language they understand."
The final taping for season four takes place Tuesday evening at Community College of Philadelphia and features a performance by poet Yolanda Wisher and her band, along with student presentations. The event is free and open to the public.
WHYY is your source for fact-based, in-depth journalism and information. As a nonprofit organization, we rely on financial support from readers like you. Please give today.