Immigrants' real stories show a commitment to U.S. citizenship too often out of reach
Not for a moment do I regret deciding to immigrate, even though now is not the best of times to be an immigrant in this country.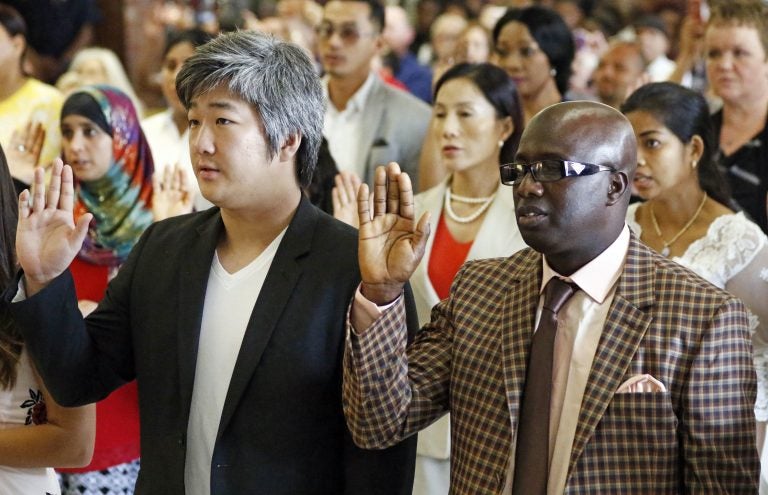 I love this country and this whole continent. For that reason, I chose the United States to raise my children, my most sacred treasures.
Not for a moment do I regret deciding to immigrate, even though now is not the best of times to be an immigrant in this country. Regardless, I continue to seek permanent legal residency through ethical and legal means. Many people think it is easy, but getting political refugee status, or changing from a tourist visa to a working visa is a daunting and expensive process.
I am a Mexican journalist. I was born in Mexico City. In my 20s, I moved to Italy. I got married, had children, and got a master's degree in intercultural dialogue in Milan. Escaping what turned out to be a violent marriage, I went back to my home country, where I worked as news manager for Televisa's news hour in Mexico state.
It wasn't long before my editorial line against corruption started to bother public officials. In 2010, after I had uncovered collusion between the narcos and high-level officials in the police department, the chief of police of the state "invited" me to abandon the state for the safety of my family and myself. That corrupt chief of police still works for the Mexican government. And the governor of Mexico state at that time, Enrique Peña Nieto, is now the country's president. I have not been back to Mexico since.
To be clear, my story is not different from those of the people in the community I cover as a journalist for El Sol, a newspaper here in Philadelphia. Even under different circumstances, the vast majority of people who move to this country have a real yearning to belong and to prosper here. We move in, work or open a business, pay taxes, and do everything we can to merit permanent residency. Some of us have arrived with temporary visas that we cannot change or renew. Others less fortunate had to pay between $5,000 and $14,000 just so a coyote, a smuggler, could guide them through the border. We are all escaping violence, lack of security, civil wars, or immense poverty.
No guarantees
America may be safer than the countries we left behind, but because of its obsolete immigration system, there are no certainties that I can settle here. Even after 30 years of working in, living in, and contributing to the United States, Oscar and Humberta Campos were deported to Mexico from New Jersey just last month. They left behind a landscaping business, a house, and three American-born children. Two of them are college graduates; the youngest is just 16 years old. The Camposes are not outliers trapped in the incongruity of an outdated legal system; their story is repeated all too often in Haitian, Salvadorian, and Vietnamese families across the country and our region.
To make matters worse, the rampant spread of misinformation has made immigrants a target. Social media posts, white nationalist websites, and even public officials have bluntly categorized us as criminals, rapists, or "welfare" leeches — even when, time and time again, it has been proved that most immigrants are law-abiding citizens who commit less crime than their American-born neighbors.
Personally, I do not condone any criminal act — although, as a social researcher, I try to understand their origin and effects. However, the irony of the American government's position on immigration is not lost on me. All too often, law enforcement and public officials turn a blind eye to crimes and rights violations committed towards immigrants.
It is also a documented reality that American institutions and society in general benefit from the taxes that immigrants put into the system — even when we won't be able to receive any Social Security assistance. Employers also benefit from the unregulated working conditions of undocumented migrants, the majority of whom are exploited farm workers and agricultural laborers. The vast majority of them, including minors, work regular shifts of 12 hours. Even though not all Americans are the direct beneficiaries of these injustices, society as a whole benefits from the low prices of our products and services.
Yet, in spite of all these facts, almost all immigrants agree that politicians are right to deport immigrants who have committed crimes. After all, even Democratic President Barack Obama, who pushed for immigration reform during his tenure, deported more people than any other president in U.S. history.
But deportation has proven to be a tricky business. At least one out of every three "criminal" defendants has only committed the "crime" of not being able to find a way to regularize their immigration status. Which means that people like me, who came to the country on short notice because of extenuating circumstances, can be deported at any time during their path to permanent residency. Just the fact of being in the country can be considered a criminal offense. And while President Donald Trump may insist that his priorities lie with the "bad hombres," in reality ICE agents are conducting raids on everyone. Agents now have at their discretion the power to send immigrants to detention centers to begin the deportation process — which could even be expedited if the detainee does not have proper legal advice — simply for being unable to verify that they have a valid immigration permit.
Feeling at home in Philadelphia
However, the hope of being able to one day completely regularize my family's immigration status keeps me here, faithfully. Even under our government's growing hostile rhetoric against immigrants, I still feel safer here than in my native country. In the city of Philadelphia, residents and public officials from all sides of the political spectrum have shown me countless acts of solidarity, especially my church sisters and brothers — donating a car to my family when ours broke down or calling me or my kids at home with words of love and encouragement after the president has made anti-immigrant comments. Here, people have helped me get my kids in an online school and have given us a space in their community, they have heard us, and, most importantly, they have acknowledged our humanity and our value.
Likewise, I would never bite the hand that has been extended to me, as this country has become a refuge for me and millions more who escape systemic violence, prejudice, and war. With all its faults and imperfections, this country is made up of many good people that know that they too come from a long and old lineage of immigrants. That is, after all, this country's greatest strength: the fact that the United States of America has been since its beginning the refuge of thousands who were looking to make a better life for themselves. Because America is already great and we are calling to fight for its original values; I hope one day that my descendants and I will be able to give back to this land all of the blessings we have received.
—
Perla Lara is a journalist and activist who fights for social and political reform in Latin America and the United States. Currently, she is a special reporter with El Sol, a widely circulated Latino newspaper in Philadelphia. She is a social psychologist from Universidad Autonoma Metropolitana in Mexico City, with graduate studies in cultural anthropology, historical demography, and intercultural dialogue in Italy. She worked as a TV news producer in Mexico at Televisa, the largest Hispanic television network.
WHYY is your source for fact-based, in-depth journalism and information. As a nonprofit organization, we rely on financial support from readers like you. Please give today.