ICE contracts with local governments can be ended quickly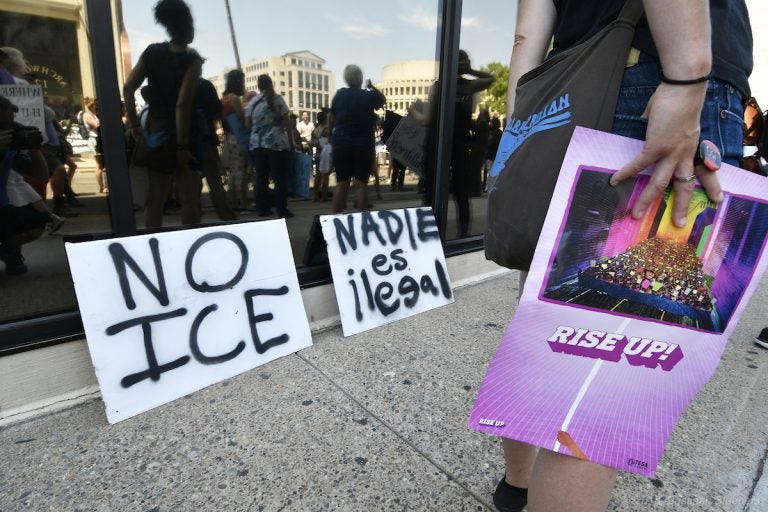 As Philadelphia Mayor Jim Kenney ponders the future of the city's arrest data-sharing agreement with U.S. Immigration and Customs Enforcement amid pressure from protesters, municipalities across the country are ending their contracts with the agency. And apparently, it's not very hard to do.
"They were written badly to begin with. Many of them are based on forms that were done ten years ago and they're oddly consistent on how they're not good," said Hosea Harvey, an associate professor of law at Temple University.
These "bad" contracts are called intergovernmental service agreements or IGSAs, and they bind municipalities to such services as data-sharing, holding detainees for ICE, and deputizing local law enforcement.
Typically, all it takes is 30 to 120 days notice to terminate these agreements. The contract with Philadelphia set to expire at the end of August can be called off with just 30 days notice. So even if city officials renewed the contract, they could end it without waiting years more.
In California, Contra Costa County ended its detention agreement with ICE due to rising costs and constant protests. The termination required 120 days notice.
"ICE wrote the contract so you could say tomorrow, 'We're done,' and they would begin unwinding the agreement," said Harvey.
Some businesses have faced internal backlash over their agreements with ICE because of the agency's enforcement policies — including the Trump administration's recently reversed policy of separating parents and children at the U.S.-Mexico border.
While he did not support that policy, Harvey said that is just one aspect of the agency's work and its less controversial efforts don't get much attention.
In addition to deporting people living in the U.S. without authorization, ICE has a homeland security arm whose work ranges from investigating human rights violations to recovering stolen artifacts.
Andrea Cayley, U.S. country coordinator for Civitas Maximas, said ICE's homeland security investigations unit is crucial to her work as a human rights advocate.
"These are people who are investigating agents who are working on human trafficking cases agents who are prosecuting and finding war criminals in our country who've committed crimes abroad," she said. "That's very valuable, essential work for public security, national security."