Hurricane Irene causes major damage to regional rail trains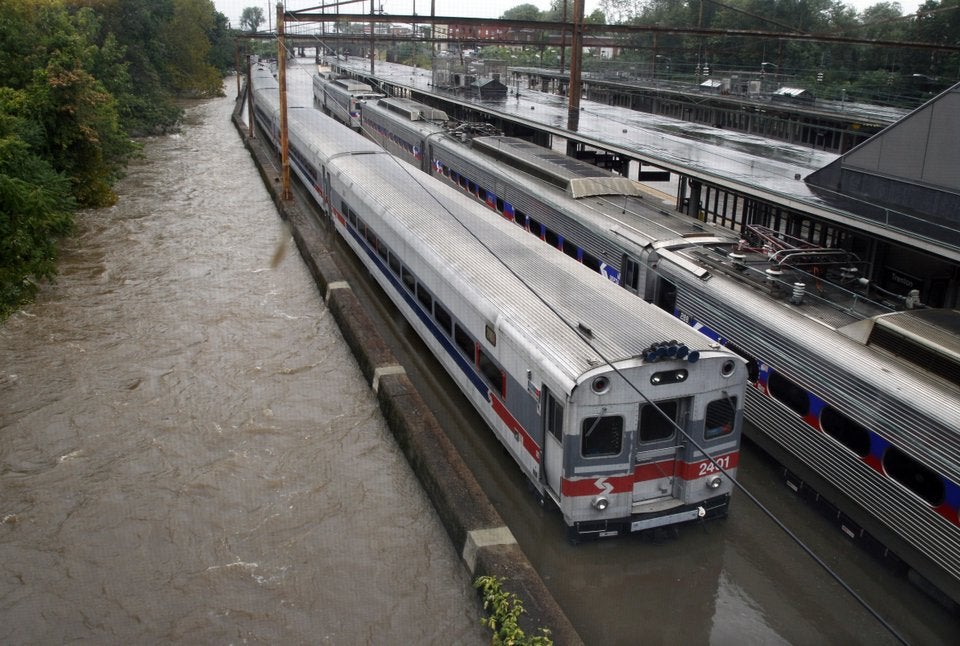 Although the flood waters have receded and Hurricane Irene is long gone, the storm left 12 regional rail cars with long-term damage.
A total of 16 regional rail cars — five Silverliner IV trains and one push-pull consisting of seven train cars — were partially submerged for several days when the nearby Assunpink Creek overflowed its banks.
Though four of the cars have been returned to service, 16 suffered "considerable damage," according to SEPTA spokesman Richard Maloney. "It's going to take some time to clean them up."
The water caused severe electrical damage because much of the trains' electrical equipment is located on the underside of the cars.
The storm caused SEPTA to shut its entire system down. Amtrak also shut down the Northeast Corridor the afternoon before the hurricane hit, which made it impossible for SEPTA to move the cars out of harm's way, Maloney said.
SEPTA crews were dispatched to the cars when it was clear the trains would be submerged. They lowered the cars' pantographs from the catenary wire, de-energizing the trains and preventing more serious damage from occurring, he said.
Flooding also prevented SEPTA rail service to Trenton until today because of damage to track signal equipment.
Maloney defended SEPTA's decision to store trains near Trenton before the Hurricane, saying the station had not flooded in recent memory.
"It was a storm beyond precedent," he said, adding that estimates were that water near the station would reach 10 feet — the creek crested more than 5 feet above that level.
It's unclear how long repairs would take or how much they would cost, Maloney said, adding that in-house crews would have to "essentially rebuild" the damaged cars.
That cost concerns Matt Mitchell of the Delaware Valley Association of Rail Passengers, who said SEPTA should have moved the trains to higher ground before the storm hit given the possibility of flooding.
"SEPTA should have known that that with the amount of rain predicted to fall on the region,
there was a risk of serious flooding, and the equipment should have been moved to higher ground," he said, adding that having fewer cars in service could disrupt service for riders.
Maloney said SEPTA would use spare trains to prevent overcrowding until those cars are brought back in service.
Contact the reporter at acampisi@planphilly.com