Hundreds rally to support trans people in Philly
Hundreds of people turned out for a "Rally for Trans Existence and Resistance" in Philadelphia's Love Park on Tuesday.
Hundreds of people turned out for a "Rally for Trans Existence and Resistance" in Philadelphia's Love Park on Tuesday evening. The rally was in response to the U.S. Department of Health and Human Services seeking to legally define sex as "biological and determined by genitals at birth."
"I am an extremely out and proud transgender woman, activist, advocate, mother, daughter, sister, auntie and friend," said Deja Lynn Alvarez, of the Mayor's Commission for LGBT Affairs, as her words echoing off the buildings around her.
"It is very important for me to stress the word 'proud' because it took me a long time to be proud of who I am and not only accept but love myself as a transgender individual and I'll be damned if I allow Trump, his regime, or anyone to ever take that from me," she said.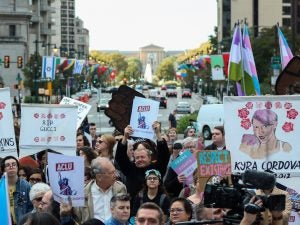 Marie Conte, a self-defined ally, repeatedly started chants to get the crowd going.
"I support equal rights for everyone; LGBT, trans, all of us and I'm concerned with what this administration is doing to threaten people who are already marginalized and have such an impossible road ahead of them," Conte said.
"We have to make our voices heard because this stuff could go on in the dark, we have to bring light to it," she said.
Lucy Baber, who identified herself as a mother, said it was important for her to set an example.
"I'm here because I wanted to show my kids that trans lives matter and this is important," said Baber
"I wanted them to know that we take care of each other and we take care of people regardless of who they are and what they look like," she said.
The proposal by the DHHS would specifically affect the protections against gender discrimination in education programs that accept public assistance under Title IX of the Education Amendment Act of 1972. The federal law prevents discrimination "on the basis of sex." Since 2016, "sex" was interpreted to include gender identity, thus protecting trans people from discrimination in schools.
The proposed legal definition contradicts the American Medical Association's Resolution 122. The 2014 resolution states "whereas, Gender Identity Disorder (GID) is a serious medical condition recognized as such in both the Diagnostic and Statistical Manual of Mental Disorders and the International Classification of Diseases."
"I will not be erased," said Dr. Rachel Levine, Pennsylvania's Secretary of Health, a trans woman.
"As an American woman, I have the right to equal protection under the law. Trans rights are human rights," she said.
"No one should be denied healthcare. No one should be denied a job. No one should be denied housing because of who they are and who they love. I only wish we had a president in Washington that believed the same thing," Levine said.
"To our transgender, non-binary and gender non-conforming community — we see you, we love you, and we stand with you," said Amber Hikes, Executive Director of the Mayor's Office of LGBT Affairs. "Our community is strong, and we will continue to resist acts of hatred and discrimination of any kind, especially against those of us who remain the most targeted and marginalized."
Most of the speakers at the Rally for Trans Resistance had a similar message.
"I know that we as transgender, queer, non-binary people are worried, scared and tired of facing the darkness, but we are the light that pushes back that darkness," said Deja Alvarez.
WHYY is your source for fact-based, in-depth journalism and information. As a nonprofit organization, we rely on financial support from readers like you. Please give today.