Hundreds attend Katie Elise Lambert butterfly release at Jeanes Hospital
The early afternoon sky was filled with fast moving color Saturday afternoon as 100 Monarch butterflies were released by individuals who attended the Katie Elise Lambert Foundation's Memorial Butterfly Release at Jeanes Hospital in Fox Chase (Burlholme Park).
The Lambert family lost their youngest daughter, Katie Elise, in late January 2005 when her little body was crushed by a large, unsecured wardrobe cabinet that tipped over. She was only 3 years old. It was a tragic accident, one which could have been prevented had the cabinet been secured, but too few parents of little children are even aware of the potential risk. That's why the Bob and Judy Lambert, Katie's parents, founded the Katie Elise Lambert Foundation to increase awareness.
Thanks to some good publicity, it's estimated more than 200 people came to witness and participate in the release of butterflies Saturday afternoon. Why butterflies? Little Katie had a favorite shirt, pale blue with a pink butterfly on the chest. Katie's mom chose a pink butterfly to be the foundation's logo; Judy Lambert wears a pink butterfly pin and Katie's dad and brothers wear T-shirts displaying the same butterfly.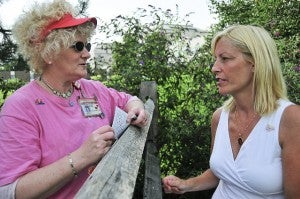 Although Monarch butterflies are not pink, they are colorful. The Lamberts ordered 100 of the brightly colored butterflies from Swallowtail Farms. The butterflies were shipped in a cold pack, sleeping. Before the release, the dormant insects were warmed slowly. They announced their readiness to take flight with their flapping wings. At a cost of $900, about $9 apiece, there were not enough butterflies available for everyone who attended to have their own to release. Asked if the event was a fund raiser, did donations offset the expense of purchasing the butterflies, Judy Lambert replied, "No. The Memorial Release was intended to attract attention to the purpose of the foundation–to raise public awareness of the risks of serious injury or death to small children when large, unsecured pieces of furniture tip over."
Children naturally explore; it's impossible to watch them every moment, so keeping them safe from dangers, known and unknown, is an ongoing exercise for parents. Bob and Judy Lambert point out that there are no mandatory standards furniture manufacturers must follow to make furniture safer for children. All standards are voluntary. Ikea is one manufacturer that is proactive. The company provides "securing" straps on the backs of some, if not all, large pieces of furniture they sell.
The U.S. Consumer Product Safety Commission estimates that in 2006 alone, more than 42,000 people were treated in U.S. hospital emergency rooms for injuries associated with appliance, furniture and TV tip-overs. Deaths are not nearly as frequent as injuries but, of the 180 deaths that CPSC states occurred between 2000 and 2006, 80 percent were children under the age of 10.
After most of the people who attended the butterfly release had left, including PA State Rep. Josh Shapiro and a representative sent from Congresswoman Allyson Schwartz's office, the Lambert and Schumacher families packed their vehicles and took a few final moments to visit a nearby butterfly bush where two Monarchs still remained. Rachael Schumacher, who lost her infant daughter, Lulu, to Sudden Infant Death Syndrome, and Judy Lambert were certain the two butterflies were there for the daughters each had lost.
What can you do to make your home safer for small children? Visit the Katie Elise Lambert Foundation's Web site for tips on how to minimize the dangers of furniture tip-overs.
*The Katie Elise Lambert Foundation is non-profit.