How to unscrew-up neighborhood zoning in two easy steps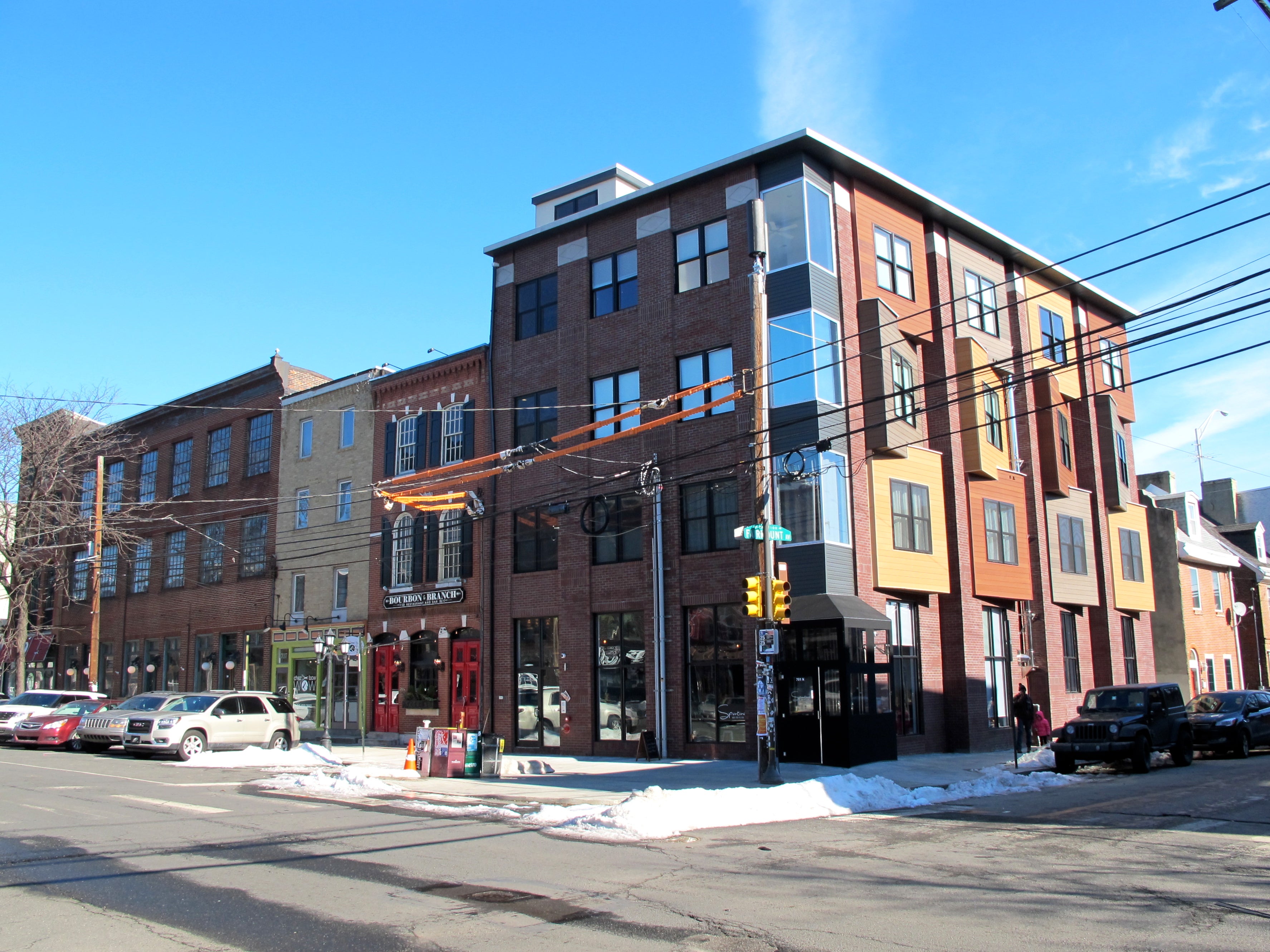 After three years under a new zoning code there are some kinks worth ironing out. Here Community Contributor Matt Ruben, President of the Northern Liberties Neighbors Association, identifies two fixes that could help realize more neighborhood-scale mixed-use buildings, strengthening commercial corridors with local retail and residential density.
Neighborhoods can't thrive without commercial activity. Small, local businesses are the life-blood of any urban community. And local businesses can't exist without people living on top of them: Developers need the apartments to finance and make money on their projects, and businesses need as many nearby customers as possible.
This type of development – businesses on the street level with apartments on top – is called mixed-use development, and it creates safe, interesting, economically vital city neighborhoods. Philly is a city of rowhouses, yes. But its commercial corridors are the spines that hold the rowhouses together as communities, and the arteries that nourish the neighborhood's public life.
Think about it: So many of our city's most storied older areas and most popular newer ones center on commercial corridors. East Passyunk Avenue in South Philly; Frankford Ave. in Fishtown; Baltimore Ave. in West Philly; 9th St in the Italian Market; 4th St/Fabric Row in Queen Village; N 2nd St. in Northern Liberties; "Two Street" in Pennsport; Germantown Ave. in Mt. Airy and Chestnut Hill – the list goes on and on.
When our city updated its antiquated zoning code in 2012, it recognized the importance of mixed-use corridors and created several CMX ("commercial mixed-use") zoning categories to allow this kind of development without the need for cumbersome case-by-case zoning variances.
But something went very wrong in the fine print, and the two most important CMX categories have been rendered useless – or even damaging – to our neighborhoods. Here's what's wrong with them, and the simple fixes that will make them work.
STEP ONE: CMX-3 – Kill the McMansions
CMX-3 is a zoning category meant for small to medium-sized apartment buildings. The problem is that while CMX-3 allows apartment buildings with businesses and lobbies on the first floors, it does not require a commercial component. So developers can instead build single-family homes on CMX-3 property.
This loophole lets developers put residences at the street level, diluting commercial corridors. And because CMX-3 height, open-space, and parking rules are meant for apartment buildings, it lets developers build overgrown townhouses with insufficient yards, whose large size is out of proportion to the neighborhood and draws buyers or renters with more cars. It creates a perverse incentive for single-family home developers to seek out CMX-3 properties instead of properties actually zoned for single-family residential development.
So CMX-3 is a lose-lose: If you're an urbanist who wants mixed uses, higher density and fewer cars, you instead get single-use, lower density, and more cars. If you're a longtime resident who wants to maintain neighborhood architectural fabric, gain access to convenient businesses, and control rising demand for limited street-parking spaces, you instead get disrupted fabric, no new businesses, and more cars.
Fortunately the CMX-3 loophole, while catastrophic, is easy to fix: City Council and Mayor Kenney need to enact a law prohibiting single family homes in CMX-3 zones. With this simple stroke of the pen, they can help preserve a key part of what has made Philly's neighborhoods great in the past, and ensure they remain great long into the future.
STEP TWO: CMX-2 – Stop Torturing the Developers
CMX-2 is meant for smaller-scale commercial development: a storefront on the street with a few apartments on top. It's the classic urban setting: The Marshall St. butcher shop with the owner's family living above it in 1926; the Pine St. antique store with medical students living above it in 1996; the Frankford Ave. coffee shop with web developers living above it in 2016.
In theory CMX-2 is great. It requires commercial first floors (no single-family houses allowed), and it has a clear, simple height limit that keeps development modest in scale. But as currently implemented, CMX-2's problem is the opposite of CMX-3's: While CMX-3 gives developers too much leeway, CMX-2 is too restrictive. Almost no one can actually build a CMX-2 project in Philly, for two reasons.
First, the height limit is too low. It's 38 feet, the same as the limit for single-family homes. This seems to make sense because it means CMX-2 buildings will blend in nicely with nearby residential ones.
But in the 21st century, commercial spaces need to be taller and airier than residential ones. Sure, you can sell vintage records out of a little old rowhouse storefront – but you can't get financing or building permits to build a new commercial space like that. So it's very tough to fit a proper commercial first floor, plus three levels of apartments, into 38 feet of height. And it's very tough to secure financing if you have only two levels of apartments on top of your first floor.
The second problem with CMX-2 would make Kafka blush. Because of how the regulations are written, in most cases the number of apartments a developer can put into a building doesn't match up with how large she can make the building. For example, CMX-2 rules might allow a developer to construct a building large enough to accommodate six apartments. But other CMX-2 rules wouldn't allow her to actually divide that building up into six apartments. Instead, the rules might limit her to, say, four.
This would force her either to build absurdly large apartments, or else to build an artificially small building. In either case, the restriction deprives the project's commercial space of potential customers by reducing the number of tenants above – and more fundamentally, the restriction is likely to kill the project altogether by making it impossible to finance.
As with CMX-3, the problems with CMX-2 are major, but also easily fixed. Mayor Kenny and City Council need only enact a law that raises the CMX-2 height limit to 41 or 42 feet, and adjusts the allowable apartment density to match the allowable size of the building. With those two simple changes, they can spur the kind of development that longtime residents, millennial urbanists, and developers alike all would love to see.
Matt Ruben sits on PlanPhilly's Advisory Board.