How mindfulness helped one woman battle opioids
What she learned was, "It's all about being in the moment and being OK with what is now." That helped her manage her addiction and made her a better mom.
This story is part of Battling Opioids, a statewide Pennsylvania public television collaborative dealing with the problem of opioid addiction.
—
Kelliann O'Hare's struggle with opioids began freshman year of high school.
"I woke up one morning in excruciating pain," said the Philadelphia resident, now 33.
Her parents rushed her to the hospital. At first, the doctors suspected appendicitis, but after examining her, they decided it wasn't and left her appendix in. But the pain continued on and off for years.
"I saw doctor after doctor. No one could figure out what was going on," she said.
Eventually, O'Hare did have her appendix removed, along with her gallbladder. She also underwent a procedure to scrape out her uterus, after her gynecologist diagnosed her with endometriosis. That dampened the pain somewhat but didn't completely eliminate it.
"Throughout this whole time, I'm in pain, in and out of the hospital, emergency rooms, being prescribed medication left and right – Percocet, Vicodin, whatever," she said.
At that point, she didn't realize taking so many painkillers so frequently was a problem.
"It was being prescribed," she said. "I was taking it as I needed to, when I was having pain."
The problem was, she was having pain most of the time.
"I made the realization and the connection that like, ooh, when I take this medication, I'm not myself. I'm someone different. I don't have to pay attention to the fight that we're having or the pain that I'm in from this, or whatever. It was a mask."
Because of that, O'Hare started taking the pills more frequently, until one morning she woke up and realized she couldn't stop.
Following advice from her brother, she went through a detox program, where she stayed for six or seven days. Not long after that, she found out she was pregnant with her first child.
She stayed sober through her pregnancy, but shortly after the baby was born, overwhelmed with the stress and anxiety of becoming a mother for the first time, she started taking pills again.
When her first was about a year old, she found out she was pregnant again. This time, however, she couldn't stop taking the pills.
O'Hare found herself doing things she never would have imagined herself doing: trying to write her own prescriptions using forms from the rehabilitation clinic where she was working; siphoning money from her parents' bank account.
"I don't know how it got past my mom for that long, but I came down one morning, and my dad was on the phone with her, screaming and yelling, and I was like, 'What is wrong with you?' And he was like, 'Someone's been hitting our bank account. We're out a lot of money, this has been happening for the last couple of weeks, and Mommy's saying it's you, and I'm trying to stick up for you and I know it's not you,' and all the while having my back, because that was his role for me," O'Hare said.
She broke down and admitted that it was her — and that she needed help. A friend she'd grown up with had been in recovery for a few years, so her brother called the friend, who came over and told O'Hare about Jefferson University's recovery program for pregnant women, Maternal Addiction Treatment Education & Research, known as MATER. The 45-year-old program treats pregnant women who have been exposed to drugs, in most cases opioids.
Her friend told her that being pregnant meant methadone was her only option. Detoxing would not be safe, nor would any detox program take her if she was pregnant. Once O'Hare understood that she had limited treatment options, she enrolled in MATER's outpatient program.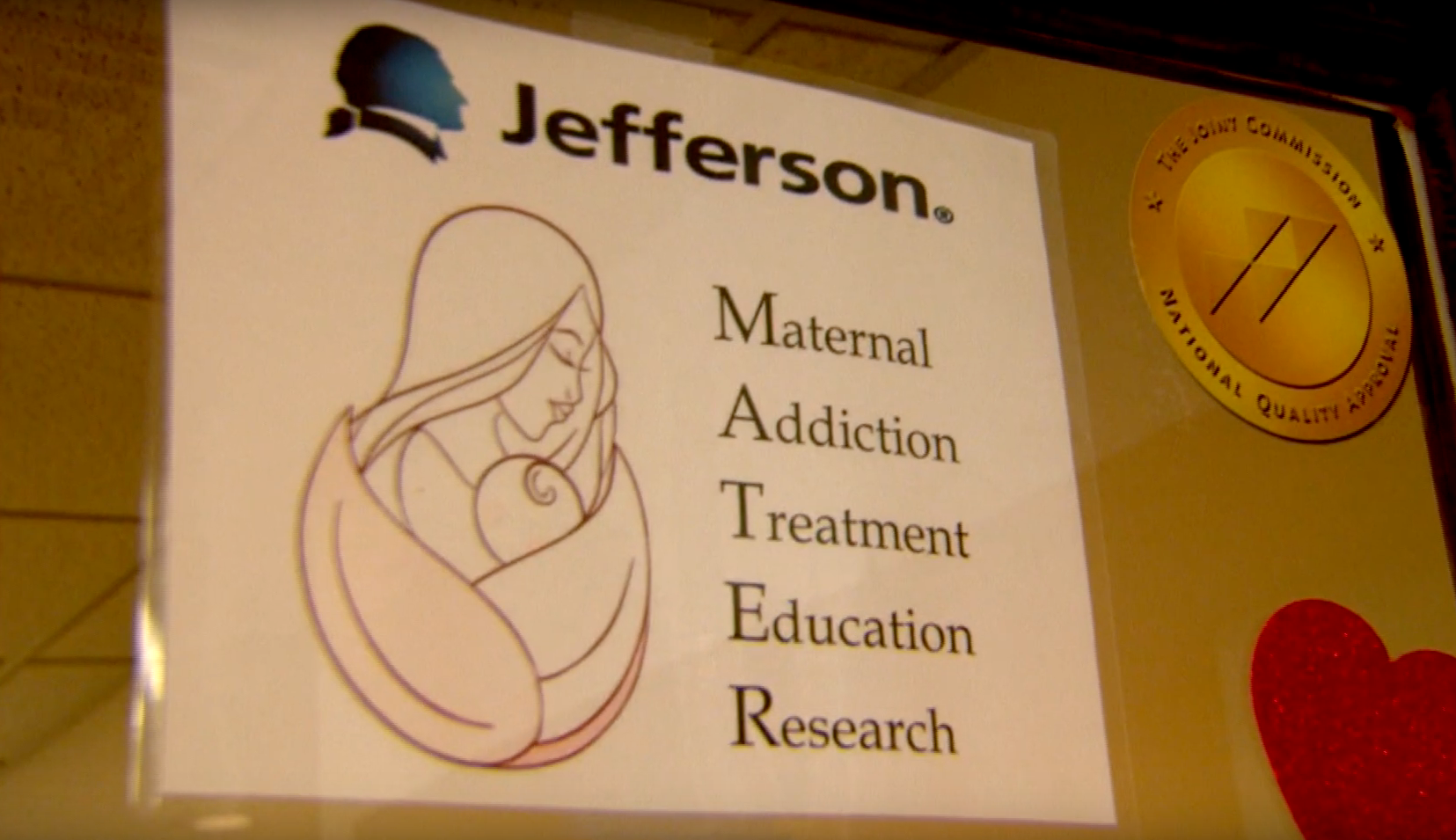 At the very beginning, she would simply arrive at MATER, get her medication, and leave. But she quickly realized recovery would require a significant commitment.
"The group schedule was intense," she said, "and I was like, this is a job. I didn't know this is what I was getting into. I was devastated. Like what am I going to do with my daughter during the day?"
MATER director Diane Abatemarco said treatment is very much like a part-time job.
"It's about 10 ½ hours a week that they have to be here," Abatemarco said, "besides being here seven days a week to get the medication."
But, she added, the mothers who come to MATER tend to stick with it because they are deeply driven to do so.
"What ends up happening for women that come to our program is that they're pregnant and they decide, `I want this baby to survive and be healthy and happy. I'm going to do whatever it takes.' "
O'Hare stuck with the MATER program. She gave birth to her second child, who ended up needing hospital care for more than a month after birth, and continued her treatment. It wasn't easy.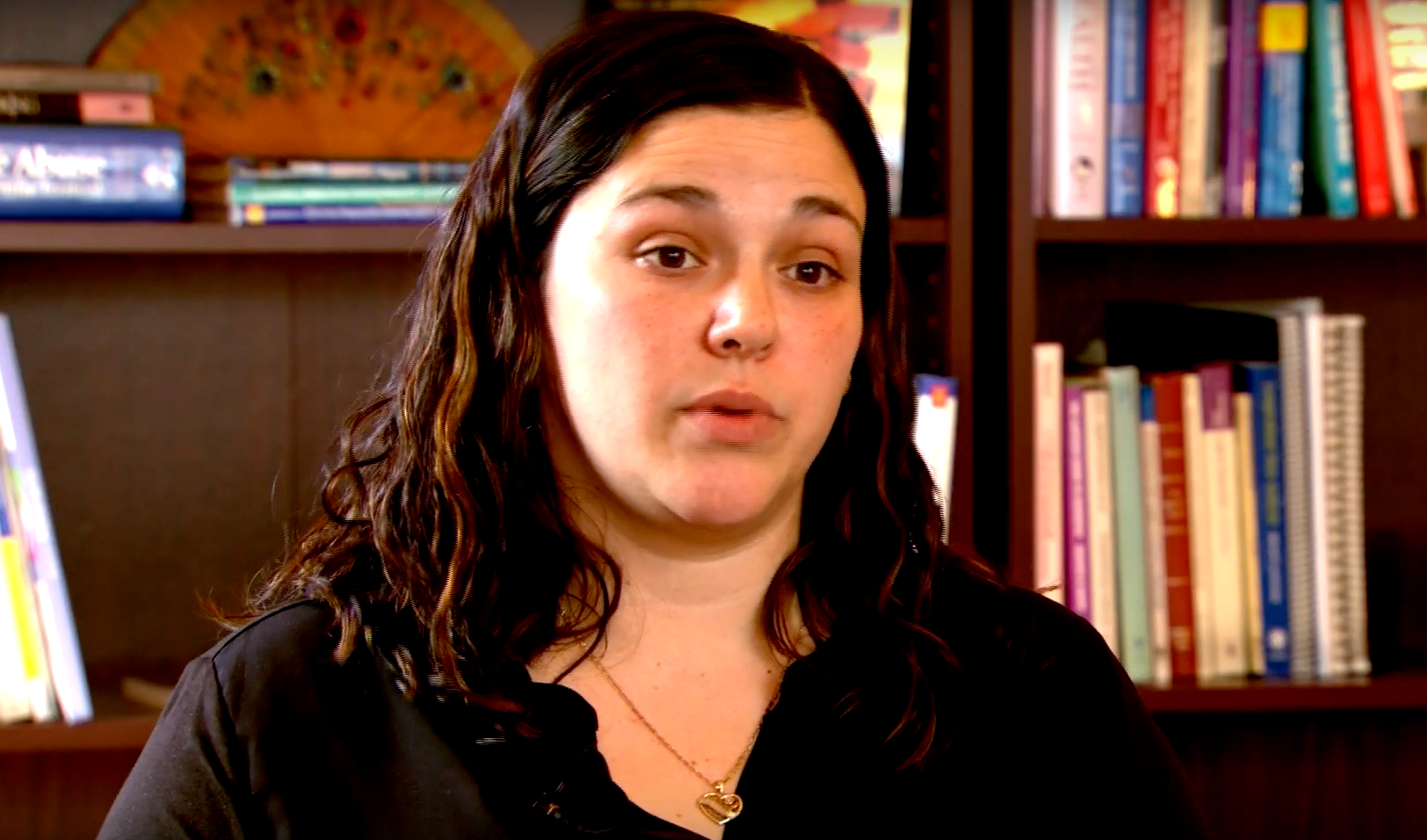 "Getting home to food shop or take them shopping for clothes, or get diapers or formula — trying to balance treatment with real life was really hard," she said.
Still, with the support of her parents, she persisted. After about a year or so of being a client, O'Hare saw a sign at MATER for a new research study on mindfulness-based parenting.
"I hated meditation before that," she said. "I'm not good at it, I fall asleep, it's boring. I don't want to do it."
But the study offered a Visa gift card upon completion, which enticed her, so she enrolled.
"The first session that I sat in on was an education on what mindfulness is," she said. "And it really intrigued me. I was like, 'Oh, this is interesting,' like I never was told before, 'Don't be judgmental.' It's all about being in the moment and being OK with what is now. Not the past, not the future. If you fall asleep, that's OK. If your mind races off in different directions, that's OK, this is how you bring it back. So I was taught the why and the how and what to do."
O'Hare completed the course and then — to her surprise — enjoyed it so much that she enrolled in it a second time. Practicing mindfulness not only helped her manage her addiction, but it also made her a better mom.
"There's a huge difference in the way I parent because of this course I took," she said.
Abatemarco said she sees that with clients across the board.
"One of the things we know from the research is that moms who use or have used drugs, even when they're in treatment, have a really hard time attaching to their babies," she said. "In order to attach a mother and child, you have to access your own emotions. So if you're not accessing your own emotions because they have so much negative baggage, you're not going to be able to attach to this infant and recognize that infant's emotions."
But mindfulness teaches people to live moment to moment — with themselves and with their children — and not worry about the past or future. That, she said, allows them to bond with their babies.
"When moms in our program do mindfulness, their parenting quality improves beyond the general public's," Abatemarco said. "So it really makes a difference in the parenting and in the attachment."
O'Hare continues to practice mindfulness every day, whether it's first thing in the morning or on the ride to work. Doing so, she said, has also improved her relationship with her parents, with whom she still lives and who help care for her children.
"My parents were my rocks," she said. "Always have, always will be. And if it wasn't for them, I don't know where I would be right now. But those relationships were not always wonderful. I did a lot of damage when I was using, and even in the first couple years of recovery. Living there and being a burden. Like they would say I wasn't a burden, but I knew I was.
"But with mindfulness I've learned, I put myself in that position. I'm still living at home today because of choices that I've made a long time ago and haven't been able to dig myself out. But for the most part, I'm doing good."
After O'Hare completed her first mindfulness course, she attended a graduation and pizza party with other participants. That's the first time she met Abatemarco, who sat next to her as they celebrated over slices of pizza.
"She asked my opinion on what the class was like, what I got out of it, what I thought was bad about it, how could we change it," O'Hare said.
They also started talking about families — how they can be both a barrier when it comes to treatment as well as a support. O'Hare helped Abatemarco realize that often families see treatment as an extension of the acting-out behavior that was part of addiction.
"Kelli helped me think that out and realize how important that is," Abatemarco said.
After that lunch, the next time Abatemarco talked to O'Hare, she said, "You're going to do big things. You're going to be my coworker someday. You will be a part of MATER."
O'Hare dismissed that at first, but then a position in the outpatient office opened up, and O'Hare took it. Not long after accepting the job, she found out she was pregnant with her third child, so she wasn't able to stay in the position after the baby arrived. But she eventually found another job at MATER that was a better fit, and today she is lead patient navigator, a job in which she helps pregnant women in addiction enroll in MATER's programs, holding their hands along the way.
"I can't fix everybody. I can't fix anybody. But I can offer what I went through. Or I can offer you the help — here are the tools you need to get started."
Abatemarco said O'Hare is an asset to the program — as she suspected she would be from the moment they met.
"When I sat next to her, what I realized was, I'm learning," Abatemarco said. "She has this energy that made me want to be around her, and since I'm the director of the program, I want to be with people who I really like and who make me think and challenge me. And I thought, she could be a content expert. We could really improve care if we have her here."
O'Hare said working at MATER has given her a purpose and helped her stay sober.
"It takes me out of myself, and it feels really good to be able to help other people and affect somebody's life," she said.
"I don't tell everybody my story. Not every woman here knows what I've been through. We have a peer specialist, and that's her area of expertise to do," O'Hare said.
"But if I feel like it'll make a difference, I'll tell them, and I have a few women who are like, 'If you wouldn't have told me that, I wouldn't still be here.' So it makes a difference. And just giving back what was given to me really helps."
WHYY is your source for fact-based, in-depth journalism and information. As a nonprofit organization, we rely on financial support from readers like you. Please give today.