How are other cities reinvesting in civic infrastructure?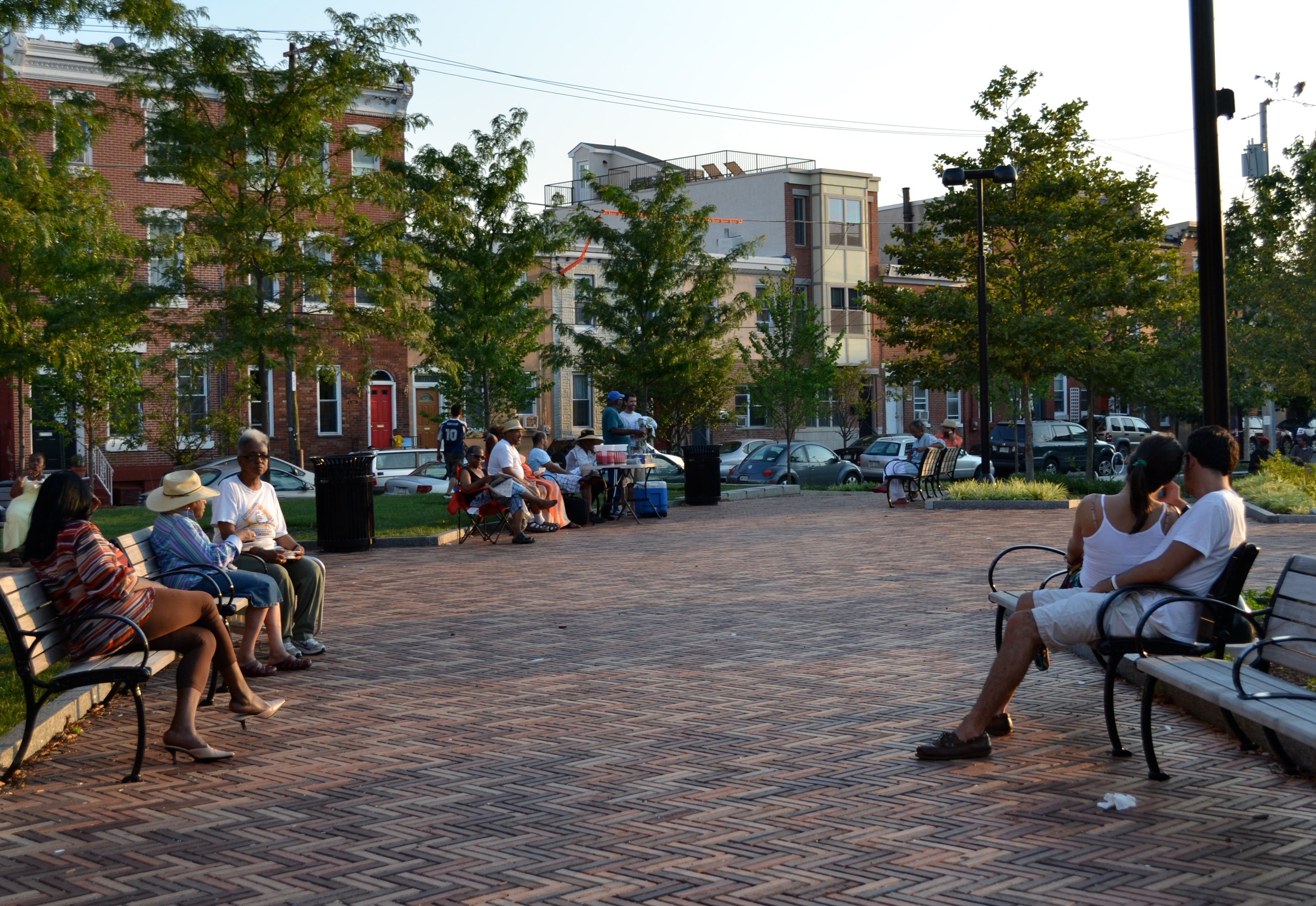 Ever since pop-ups and parklets became trendy in Philadelphia, there's been tension surrounding them. Despite the fanfare they've drawn from urbanists, a lot of longtime Philadelphians have viewed these newfangled spaces as signifiers of gentrification, catering to new Philadelphians while the city's existing stock of parks and recreational facilities languishes. For every award-winning example of charismatic and tactical urbanism that Philly has deservedly earned, there have been hundreds of facilities left rusting and rumpling in neighborhoods that the creative class rarely sees.
That tension hasn't gone away, but Mayor Jim Kenney has made a priority out of the improving those overlooked facilities. Urban planners appear to be taking his lead.
It's a shift that's been happening across the country. There's been more collective energy paid to creating equitable public spaces through civic investments in recent years, which was the backdrop for a panel discussion put on by PennPraxis Thursday night. The event, held inside the upper gallery of the Pennsylvania Academy of Fine Arts museum, brought together a few of the most accomplished contemporary urban thinkers in the country for a conversation on "Remaking Civic Infrastructure: A Discussion of How Cities are Reinvesting in Libraries, Parks, Rec Centers, and the Public Realm."
The event comes on the heels of a robust 95-page white paper [pdf] authored by Mason and Elizabeth Greenspan (senior researcher and writer at PennPraxis, among other feats) that delves into this concept of civic infrastructure investment and explores best practices. Another backdrop to the event is Mayor Kenney's Rebuild initiative, a $500-million plan to improve the Parks & Rec inventory and a project that invokes ideals of equity and inclusion.
While the title of the event might lead you to imagine "civic infrastructure" as the public parks, swimming pools, or playgrounds that exist in every city, well, you'd be wrong. PennPraxis casts those facilities as just half the equation. At the start of the panel, Randall Mason, executive director of PennPraxis, defined "civic infrastructure" as not only our physical spaces and structures, but also, everything that brings them life. It's the material, "as well as the immaterial habits, traditions, processes, organizations that give it life," Mason said. "Infrastructure also has a good deal of social and cultural function that we tend to take for granted, and we actually have to deliberately invest in, in order to realize this ideal of civic — of city life."
Mason described our current era as civic infrastructure's moment, in which mayors across the country are "democratizing the successes of the last generation."
One of the prevailing themes of the conversation was that community input and engagement is key to successful civic infrastructure. "When we talk about infrastructure, we have to be talking about people," Ryan Gravel said. Gravel is the visionary behind the Atlanta Beltline (a version of the project was originally his masters thesis). He credits the Beltline project for coming as far as it has, due to the grassroots support it engendered from the very start. "It became this movement of people. The people of Atlanta believed in this thing before anybody else. In fact, I would say that city planners were probably the last to believe in this project."
In Detroit, there's long been a citywide effort to reuse and reignite the vacant land throughout the city. And Maurice Cox, the acclaimed planning director of the City of Detroit and a former mayor of Charlottesville, Virginia, concurred with Gravel that an ongoing relationship with the public is paramount. In planning Detroit's Fitzgerald Revitalization Project, which has drawn laudatory national press and is that city's Civic Commons project, Cox said project leaders were speaking with 600 households in the neighborhood for 12 months , and tailoring the plans to their vision, before announcing the massive project. If the ultimate goal of public space is for it to be used to improve a neighborhood's social fabric too, it's especially important for people in the neighborhood to feel a sense of ownership.
Building trust in the community took time. Cox and the team behind the project decided to let residents hear the pitches from the firms on how they were going to tackle the ambitious goals of the Fitzgerald Revitalization Project, including the creation of a two-acre park, 300 gardens, and the rehabilitation of more than 100 homes.
"We're talking about bringing back neighbors and rekindling the kind of porch life that neighborhoods have. Or fence life — where you stop and talk to your neighbor across the fence," Cox said. "But to do that without building a single new structure in the neighborhood. That's the challenge."
Inviting the residents into the process helped the city gain early adopters from the community. "Trust is not easily given. Trust is earned," Cox said.
Another topic of discussion, echoed in the PennPraxis report, was how to best utilize public-private partnerships (PPPs) to achieve inclusive and equitable civic infrastructure. Lynne Sagalyn, professor of real estate from the Columbia Business School, said that the most important quality for a successful PPP is having a public sector that writes the rules of engagement clearly, possessing a vision for their big, strategic goals. "If the public sector can't do that," Sagalyn said, "then they're not going to get what they want."
At a few junctures in the conversation, as in the report, Rebuild came up. While the William Penn Foundation commissioned the independent report by PennPraxis and has also made a $100-million pledge toward Rebuild, the event was not intended to be prescriptive for Philadelphia nor all about Rebuild. But there is a natural synergy between these new conversations about "civic infrastructure" and the investment that will happen all around the city assuming Rebuild goes off without a hitch. And PennPraxis things that it could help inform other cities' thinking, given how many other places are working on their own civic infrastructure campaigns.
During the question-and-answer portion of the event, architect and Design Advocacy Group steering committee member George Claflen asked the experts on stage for advice on Rebuild. None of the panelists felt knowledgeable enough about Rebuild to directly answer, but Gravel was willing to offer an answer as to how parks and rec facilities might sustain themselves long-term: creating a culture of advocacy and grassroots support across the city for parks. A byproduct of the Beltline has been the formation of "a network of people across the city who were advocates for parks, primarily so that if the Council started trying to slash the parks budget, they would have a network already formed to get loud, really fast and squelch that attempt."
Cox chimed in. "How do you create a sphere of influence that is larger than the single asset that we're focused on and will receive the capital investment."
NOTE: PlanPhilly was a project of PennPraxis until our move to WHYY in 2015.