Housing Authority will auction 200 vacant homes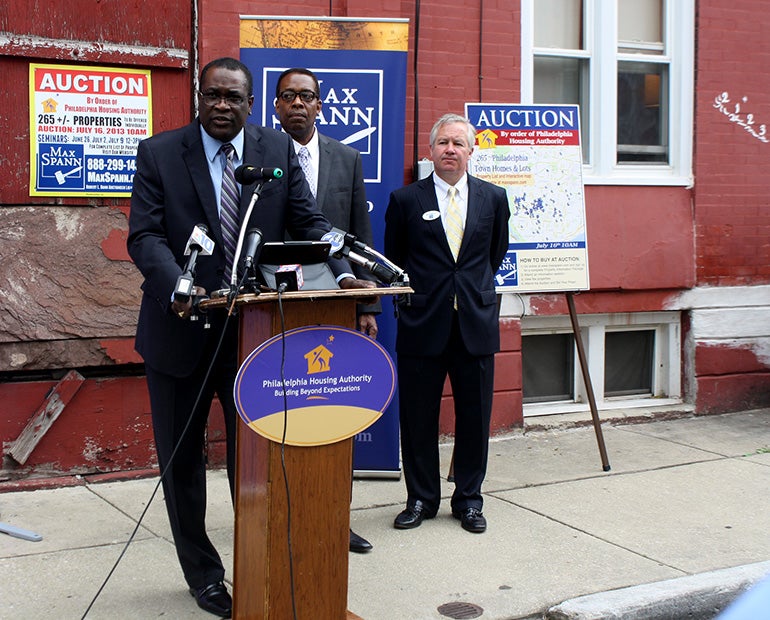 The Philadelphia Housing Authority announced Tuesday that it would auction off around 200 vacant and blighted scattered sites, in partnership with Max Spann Real Estate and Auction Company. The auction will take place at 10 a.m. on Tuesday, July 16th, at 3801 Market Street.
PHA has been working to dispose of its scattered sites. It currently controls 4,000 such homes, down from a peak of 8,000, according to Kelvin Jeremiah, the Authority's president and CEO. Around 1,700 of the sites are vacant, Jeremiah said. A 2011 auction saw the sale of 341 PHA scattered sites and earned the Authority around $6.4 million, according to a press release. The Authority hopes to bring in between $3 million and $4 million through the July auction for its own operating budget.
The auction was announced Tuesday morning in front of one of the houses to be offered, a dilapidated, boarded-up, brick row home on the 2100 block of North Marston Street, in Strawberry Mansion. Jeremiah said the property is exemplary of the types of homes that will be auctioned in July, a map of which can be seen here.
The homes will be auctioned individually, said Max Spann, Jr., president of the Max Spann auctioning company, and anyone may bid. Spann said previous auctions of similar properties saw a range of sale prices from $6,000 to $300,000. The property where the announcement was made, he said, would likely be on the lower end of that spectrum.
"This strategy is the right strategy," said Council President Darrell Clarke, who also represents the 5th District. Clarke pointed out that the neighborhood had "suffered significant decline" over the past several decades but said that "it's coming back." Auctioning properties to private investors and homeowners, Clarke said, "will eliminate blight relatively quickly."
The properties are sold with a covenant requiring the buyer to begin rehabilitation within three years and complete it within five, according to PHA president Kelvin Jeremiah. He said the covenant is attached to the property through any subsequent sale within five years. If the owner fails to rehab the property after five years, Jeremiah said, it falls back into PHA control. Since the auction will offer each property separately, Jeremiah said, it is "not intended specifically for developers."
After the press conference, a N. Marston Street resident who identified herself as Montina Jublilee said she doesn't think it's fair that people who live in the neighborhood don't get a chance to bid on the properties first. She said another house up the block had been auctioned off by PHA in the past few years, and that the people who bought it are "outsiders."
"Why do we have to go outside the neighborhood to bring people in?" she said. "I don't like strange people."
Jubilee and another neighbor said that the house in question, 2125 N. Marston, has been vacant for around 15 years.
More information about the auction and how to bid can be found here.
WHYY is your source for fact-based, in-depth journalism and information. As a nonprofit organization, we rely on financial support from readers like you. Please give today.