Hotel du Pont makeover, new food hall and more in downtown Wilmington
All of the construction underway in Wilmington points to another cycle of change for downtown, where changes seem to be popping up on every corner of Market Street.
Most notably are changes within the DuPont Building, including upgrades at the historic Hotel du Pont.
The lavish Hotel du Pont put Wilmington on the map when it opened in 1913. Because the hotel has remained a landmark of luxury ever since, its new owners were careful when making $400,000 worth of changes there. The Buccini/Pollin Group acquired the hotel last year.
"I knew that was our first order of business here was to make sure we celebrate what's great about the hotel, preserve it and maybe enhance it even," said Dave Pollin, BPG's co-founder and president. "So the things we decided to do, we're doing very slowly."
BPG invested heavily in state-of-the-art technology and infrastructure, including top of the line TVs and Wi-Fi. The most obvious changes, though, can be seen in the lobby. The carpet and furniture are new. Also, the heavy drapery that used to cover the floor-to-ceiling windows has been taken down, allowing a lot more natural light inside.
"We've created casual seating groups, places to collaborate. Hopefully places people will come after work for a drink or if you're with your colleagues celebrating after a closing dinner. So it's multi-occasion space," Pollin said. "Our goal is to be one of the great hotels in the U.S. and certainly the bones are here."
The Green Room Bar also received a modern makeover, as did the menus at the opulent, four-star Green Room restaurant and at the Café. Pollin said the Café's more casual fare and cheaper prices will fill the void left behind by the Grill, the informal cafeteria-style in the lower level of the hotel that BPG closed in June.
The cafeteria was largely used to feed DuPont employees. The company moved its corporate headquarters to its Chestnut Run Plaza location in the Wilmington suburbs, reducing traffic at the Grill.  When Chemours, DuPont's performance chemicals spinoff, temporarily relocated, Pollin said the decision was made not to reopen the Grill. Despite its closure, Pollin said bake sales, which were held in the cafeteria, will continue.
A new $3.5 million food hall coming to the DuPont Building was a big factor that also played into BPG's decision. DE.CO (an abbreviation for Delaware Collective) is slated to open at the corner of 10th and Orange Streets later this year.
"DE.CO's a food hall with eight kitchens for chefs to open new restaurant concepts," said Peter DiPrinzio of Baltimore-based Seawall Development, who's partnering with BPG. "When customers come in, they'll be able to choose from one of the eight different kitchens, breakfast, lunch or dinner, get food from wherever they like and sit down at all communal tables and get drinks from the bar."
Over the next few months, construction crews will knock down walls in what was office space to make way for the 12,000 sq. ft. collaboration.
"One of the reasons we called it DE.CO is to reference the art deco style that's very common in downtown Wilmington. And so we're going to kind of reinterpret that with a modern flare to have kind of a modern art deco style infused through the food hall, but with the individual character of each of these chefs," said DiPrinzio, who did not share which chefs have been approached, or if anyone has signed on. He did say the food hall will not house any chain restaurants.
And just up Market Street, something new is brewing. Literally. Stitch House is a 160-seat brewpub co-owned by Wilmington natives Dan Sheridan and Rob Snowberger. They also have a full menu, with lots of sandwiches.
"We want it to be a place that could start to grab some more happy hour and nighttime life down here," said Sheridan, who's also the chef.
In hopes of grabbing that late-night crowd, Sheridan said Stitch House is committed to staying open until 1 a.m. every single night.
"We're going to have some slow ones, but I think the bigger picture is to reach that point where it's just a normal thing and people just know they can come here," he said.
The brewpub's name pays homage to the building's former occupants – a linen and tailor shop – as well as to its previous use as both a coal and ice house. Stitch House is only the second downtown Wilmington brewery in over 60 years, and it's the first microbrewery to open on Market Street in over 15 years.
Sheridan, who grew up in Wilmington, knows firsthand how much downtown has changed, thanks in large part to BPG.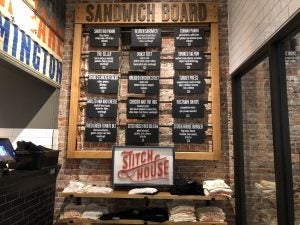 "Now's that big, big tidal wave and it's kind of like it's getting done now or never," Sheridan said. "It's our hope that it happens that Wilmington, the downtown district, becomes very residential, very [pedestrian-friendly], and that people come down here that don't even live around here just to check out all the restaurants, not just us. We want it to become a scene down here and just be part of it."
Pollin said BPG owns and has revitalized 35 buildings along Market Street alone, including the Queen Theater, over the past 10 years. Additionally, since 2001, BPG has developed close to 1,400 apartments and condominiums on the Riverfront and along Market. The developer's latest housing project is The Residences at Midtown Park, located at 9th and Orange streets. The $75 million housing project will have 200 luxury units for rent upon completion in May, this year.
"It's all come together in a great way and we think of the hotel as almost the capstone to Market Street 'cause of course it is at the top of the street. And the food hall is going to be a great welcoming beacon to bring people up Market Street," Pollin said.