Holiday farce 'No Reservations' debuts at Adrienne
Listen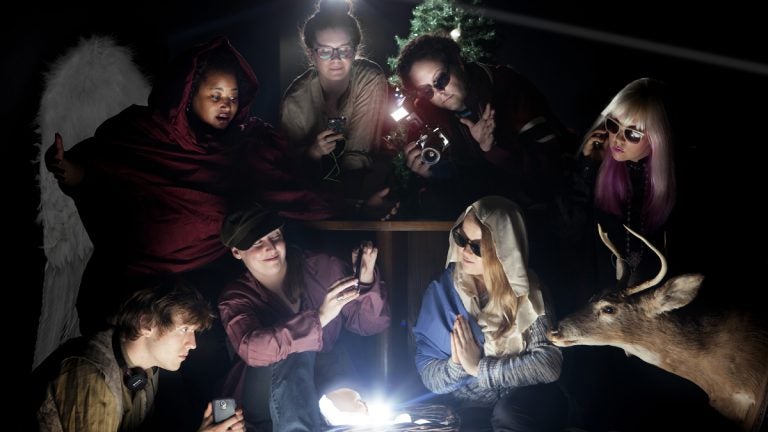 This weekend a Jewish humor writer will make his playwriting debut with a holiday farce based on the biblical nativity story.
Josh Piven's "No Reservations," opening at the Adrienne Theater in Rittenhouse Square, tells the story of a mysteriously pregnant woman who finds refuge at a rural inn. Her infant changes the world.
But the story is not about Jesus Christ; the familiar plot is about celebrity culture, Internet privacy, and reality television.
"There is an Angel Gabriel, but his name is Angél Gabriél, a reality TV producer," said Piven. "There is a wise man, but his name is Tom Wiseman, a reporter in the Tom Friedman mold."
The broad comedy has pratfalls, a broken door, and a Christmas tree that refuses to stay upright. Set in a Lancaster County bed-and-breakfast, the down-on-their-luck proprietors are visited by someone who may (or may not) be a celebrity, who may (or may not) be trying to hide her pregnancy. Regardless, once the pictures hit Twitter the world clamors at the broken door.
Piven, a native of Philadelphia, is known for his best-selling series of humor books "The Worst-Case Scenario Survival Handbooks," in which he gives step-by-step instructions for, say, neutralizing a rogue alligator. For his first play, he used the follies of modern social media and popular culture to tell this story at the basis of Christianity.
"I'm Jewish, I grew up with Hanukkah," said Piven. "My wife was raised Christian. So we celebrate both. I never had a tree growing up — I never celebrated Christmas. But my wife said, 'I want a tree.' And we are raising our kids Jewish."
As someone relatively new to Christmas, he knows about holiday worst-case scenarios.
"We had one year when we put a tree up — I didn't do it properly. I was a novice at trying to make a tree stand upright in a Christmas tree stand," said Piven. "It fell over in the middle of the night."
Piven's play "No Reservations" begins Friday, and runs until Dec. 15.