'His Girl Friday,' the old days, and now (Hedgerow Theatre)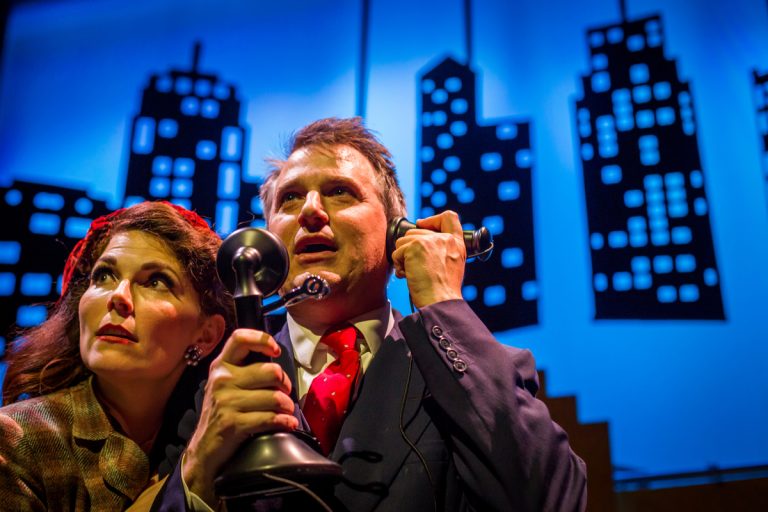 It's summer, time for the annual farce with banging doors, mistaken identities and plenty of rumpus at Hedgerow Theatre just outside Media. Only this year, it's not the traditional farce. It's something that farce led to, certainly on the silver screen – the screwball comedy that pits man against woman, usually in love, sometimes even aware of it.
It's "His Girl Friday," the 1940 film classic that remade "The Front Page," a stage hit from the '20s that's still one of the best (and most retro) newspaper comedies around. In "His Girl Friday," the barking, blustering editor Walter Burns remains a man, but the star reporter he loves to denigrate and celebrate, Hildy Johnson, is rewritten as a woman. They've been married but that's through, and now she's marrying an insurance salesman. Her newspaper days – she's still called a "newspaperman" by the editor – will be history.
Except for one more story she just has to cover (after Burns sweet-talks her into it): The tale of a timid guy who's been convicted of murder and is about to hang, mostly as a political convenience to the mayor days before he's up for re-election.
"The Front Page," a highly successful comedy recently revived on Broadway, is a stage play that became a movie. The play's writers – Ben Hecht and Charles MacArthur, two former newspapermen – later joined with Charles Lederer to turn the play into "His Girl Friday," a film directed by Howard Hawks and listed on many best-comedy collections.
The highly respected American playwright John Guare turned it into a stage vehicle and put his own stamp on it, and it's not been a widespread attraction. (I've never seen it.)  Now, Jared Reed – the artistic director of Hedgerow – and theater-artist-about-town Damon Bonetti have adapted the classic movie and have definitely not put their own stamp on it. It's a wise move: What you get is "His Girl Friday" all the way, without Cary Grant and Rosalind Russell but with all the movie script's best trimmings.
You also get Reed as a convincingly roguish Walter Burns, plus a thoroughly charming Jessica DalCanton as Hildy Johnson and four actors (Adam Altman, Owen Corey, Jennifer Summerfield and Mark Swift) who amusingly play so many roles you'd thing the cast numbered in the mid-teens. In fact, the entire affair – which Bonetti directs with a flourish all the way – is amusing. It's not knock-down funny but neither is the movie, which relies on heavy plot, not heavy shtik, to keep it moving swiftly.
It's a depiction of a newspaper industry that never really was, even in the scoop-generating press room of the criminal courts building in Chicago, a city where newspaper competition was frantic but not as gutter-ridden, sloppy and corrupt as either "The Front Page" or "His Girl Friday" would have it. I was barely out of my teens when I became a newspaper reporter at the end of that era, and I can recognize the casual insensitivity to newsroom colleagues and the general brashness depicted in "His Girl Friday." But it didn't last, as media outlets began hiring more trained journalists who behaved, when at their watchdog best, the way the nation's founders intended.
So I have to admit, as I sat at Hedgerow enjoying the rollicking way the production unfolds in front of Matthew Windham's big-city backdrop, I also felt that this was a strange time to be seeing it. We have leadership that not only deeply distrusts the press (by degrees, that's been true through the history of the republic) but also calls journalists enemies of the people and labels verifiable truth as lies. And in "His Girl Friday" — both the film and the Hedgerow adaptation – we have a show that lovingly mocked the whole idea of collecting and disseminating news but now seems to play directly into the wrong hands. That's no fault of the show or anyone in the production. It's just the world we live in, reflecting directly onto the Hedgerow stage.
—
"His Girl Friday" runs through July 29 at Hedgerow Theatre, 64 Rose Valley Road, Rose Valley. 610-565-4211 or hedgerowtheatre.org.
WHYY is your source for fact-based, in-depth journalism and information. As a nonprofit organization, we rely on financial support from readers like you. Please give today.