Harrah's Philadelphia sued over track conditions after crash paralyzes harness driver
Listen
1:06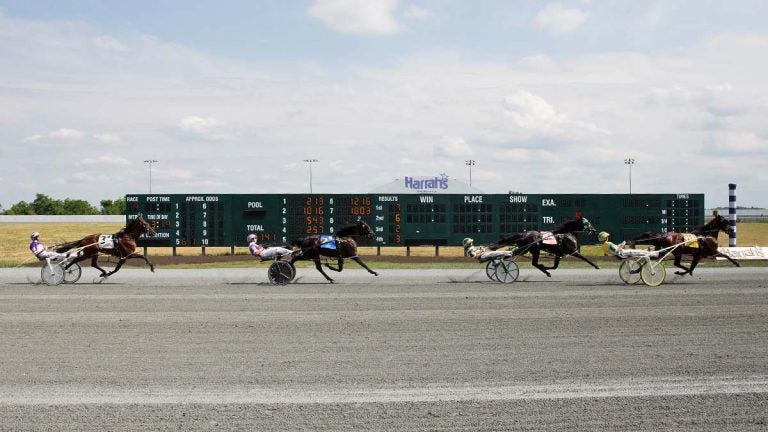 The trial starts this week in a negligence lawsuit filed by the family of a South Jersey harness driver who nearly died in a 2013 crash at Harrah's Philadelphia in Chester.
Anthony Coletta was left paralyzed and permanently brain damaged after he was thrown from his sulky — the two-wheeled vehicle harnessed to a horse — and trampled by a horse in a chain-reaction wreck his attorney blamed on poor track conditions.
Horse trainers, harness drivers, and the president of the Pennsylvania Harness Horsemen's Association had complained for years — before Coletta's Nov. 17, 2013, crash — that the track was dangerously unsafe, said attorney Bob Mongeluzzi, who represents Coletta's parents in a 2014 negligence lawsuit they filed in Philadelphia Common Pleas Court.
"The complaints included that it was like going from a hard surface, hard pack, to actually like being on the beach, and being in deep sand, and that the horses would lose their footing," Mongeluzzi said. "These complaints came from many, many drivers over a period of years. These complaints were documented in emails [and] letters. And the tragic fact is that Harrah's — rather than making the track safer, rather than taking the complaints seriously — ignored them and didn't do anything about it."
The track hadn't been resurfaced since it opened in 2006, Mongeluzzi alleged in the lawsuit. Ten months before Coletta's crash, harness drivers warned Harrah's management that the track had deteriorated so much that a tragedy could happen, according to a recent court filing.
"I would really like you to please do something about the track conditions here at Harrah's," trainer and harness driver Anthony DeFrancesco III wrote to Harrah's security director Charles O'Hala after a December 2012 race. "I would hate to see a driver or horse get really hurt [due] to poor track conditions."
Harness driver Yannick Gingras emailed O'Hala the next day: "The surface yesterday was in very poor condition. It was very hard to see and really dangerous. I am not an expert in track maintenance, but I've raced at a large amount of racetracks, and yesterday's condition [was] one of the worst I have ever seen."
Harrah's managers responded to such pleas by trading interoffice emails in which they belittled Mike Izzo, who as president of the Pennsylvania Harness Horsemen's Association loudly advocated for track repairs, as "a garbage can," "a POS" (piece of shit), and "a weak man," court documents show.
"I'll be diplomatic, but will F with him [Izzo] every chance I get (without putting us in jeopardy of course)," O'Hala wrote in December 2012 to Harrah's racing director Barry Brown.
Harrah's and its parent company, Caesars Entertainment Corp. of Las Vegas, did not respond to requests for comment.
Coletta, now 35, who was engaged to be married at the time of the crash, instead has been declared incapacitated and lives with his parents, Alfred and Rosemary Coletta, in Hammonton, New Jersey.
"He's in a wheelchair. He needs round-the-clock care. He will never be able to care for himself again," Mongeluzzi said. "He has virtually no memory, very little comprehension of anything you would say to him … Unfortunately, I think where Anthony is [now] is where he will be for the rest of his life — in a wheelchair, brain damaged."