Gov. Wolf calls for salary boost for rural teachers in new budget
Wolf wants to boost the minimum teacher salary from $18,500 to $45,000, a move that mostly affects Pennsylvania's rural school districts.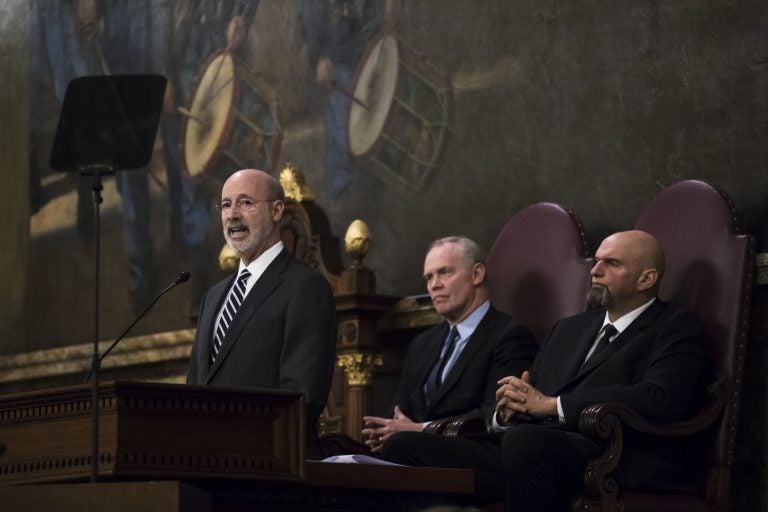 In terms of education dollars, the first budget of Gov. Tom Wolf's second term isn't as ambitious as the one he proposed four years ago.
But it does keep education policy at the forefront, with proposals that would set a statewide minimum teacher salary of $45,000; lower the mandatory education age from 8 to 6; and shift more money to programs that help children before kindergarten.
Wolf asked lawmakers for an extra $200 million in basic education funding. That's half of what he requested in his first budget address, but double what he proposed — and got — last year. He also proposed a $50 million increase for special-ed.
"We must continue to increase funding for education — starting with pre-K and culminating at the end of a student's journey," Wolf said in his Tuesday budget address.
In 2014, Wolf campaigned for dramatic boosts to education funding. Through his first term, basic education spending increased by $365 million.
That number rises to more than $800 million when special education, special block grants and money for pre-K are included.
But Wolf, a Democrat working with Republican majorities in the state House and Senate, hasn't secured the $2 billion increase in education spending he promised in his first budget.
His initial push for more education dollars called for hikes to state income and sales taxes and contributed to a bruising battle with Republican lawmakers that lasted nearly nine months.
Wolf did not revisit those proposals in this budget, opting instead for a request that Budget Secretary Jen Swails called "feasible, responsible."
At first blush, Republican leaders seem willing to work with Wolf on his plan.
Spending plan details
Wolf wants to boost the minimum teacher salary from $18,500 to $45,000, a move that would affect more than 3,000 teachers in mostly rural schools. The average classroom teacher in Pennsylvania makes $67,535 a year, but the average salary is below $45,000 in five traditional districts.
There are 183 districts that pay at least some teachers less than $45,000 per year, according to the governor's office.
"Our government has failed to address this injustice," Wolf said in his budget address.
Wolf called his proposal a "fully funded mandate" because the state would cover the difference in salaries for teachers earning less than that minimum.
He wants the state to earmark $13.8 million of his proposed $200 million increase in basic education funding and route it to districts that need to comply with the new mandate. 
That $13.8 million would not run through the state's fair funding formula for new education spending.
The proposal also does not cover charter schools, which, on average, pay teachers less than traditional districts. There are 46 charter schools where the average teacher makes less than $45,000 a year.
Pennsylvania is one of just three states where students don't have to attend school until they're 8, according to Meg Snead, the governor's secretary of policy.
Lowering the mandatory school age to 6 would boost enrollment by more than 3,300 children, administration officials said.  Students attending half-day kindergarten would already meet this requirement.
But the governor's suite of proposals includes an "impact study" of universal, free full-day kindergarten and other initiatives aimed at increasing educational access for Pennsylvania's youngest learners.
Wolf wants another $50 million for pre-K funding, $15 million for infant and toddler care, and $5 million for a "Parent Pathways" pilot program providing "wraparound" support for young parents trying to get a college degree.
Republican leaders in the GOP-controlled House and Senate said they were generally open to working with Wolf on his proposals. They did have questions, though, about the details.
State Rep. Stan Saylor, R-York, chairman of the House Appropriations Committee, said the governor's overall $34.14 billion budget request was too large.
He said a $200 million boost to basic education could make sense, but it will depend on negotiations elsewhere in the budget process.
He also suggested more of the money should be targeted toward career and technical training, an area where Republicans and Democrats tend to have common ground.
Wolf is calling for an extra $10 million to go into PAsmart, his career and technical training initiative.
State Sen. Ryan Aument, R-Lancaster, wondered how Wolf's teacher wage proposal would work in practice, and whether the money set aside would truly cover the cost. Aument, the new chair of the Senate Education Committee, said the proposal came as a surprise, and he said he wasn't sure how it would mesh with health care costs, pension costs, and the salary scale in districts where some teachers make less than $45,000 a year.
Several Republican leaders also said they anticipate any increase in public school funding will be accompanied by a bump in what Pennsylvania allots to scholarship programs for students to attend private schools.
Wolf didn't make much noise on the higher-education front. He wants to send another $7 million to the state's system for higher education, and hold funding flat for state-related universities such as Penn State and Temple.
He also wants $8 million for a pilot program called Stay in PA. It would give community college graduates a one-time grant of $2,500 to offset student loans if they decided to work in Pennsylvania.
WHYY is your source for fact-based, in-depth journalism and information. As a nonprofit organization, we rely on financial support from readers like you. Please give today.