Gerry Baker, 64, made Eagles games a great day out for fans in Section 109
For Eagles fans in Section 109 at the Linc, game day was not complete without usher Gerry Baker's "big smile," handshake and a hearty "Go Birds!"
Listen
3:00
This story is part of WHYY's series "COVID-19: Remembering lives we've lost" about the everyday people the Philadelphia region has lost to the coronavirus pandemic, the lives they lived, and what they meant to their families, friends and communities. 
Gerald "Gerry" Baker, 64, was planning to retire in June from his three-decade career with the Camden County Board of Social Services. But it was doubtful he would slow down.
"There was not a moment Gerry wasn't moving and doing," said his widow, Baleeia Baker.
Before his death on May 3 due to complications from COVID-19, Gerry was a man on the move, whether he was coordinating food donations for the hunger relief program at his church, doing daily morning runs around the Cooper River in his home city of Camden, running his local chapter of the Communication Workers of America labor union (CWA), or keeping up with his seven grandchildren and three great-grandchildren.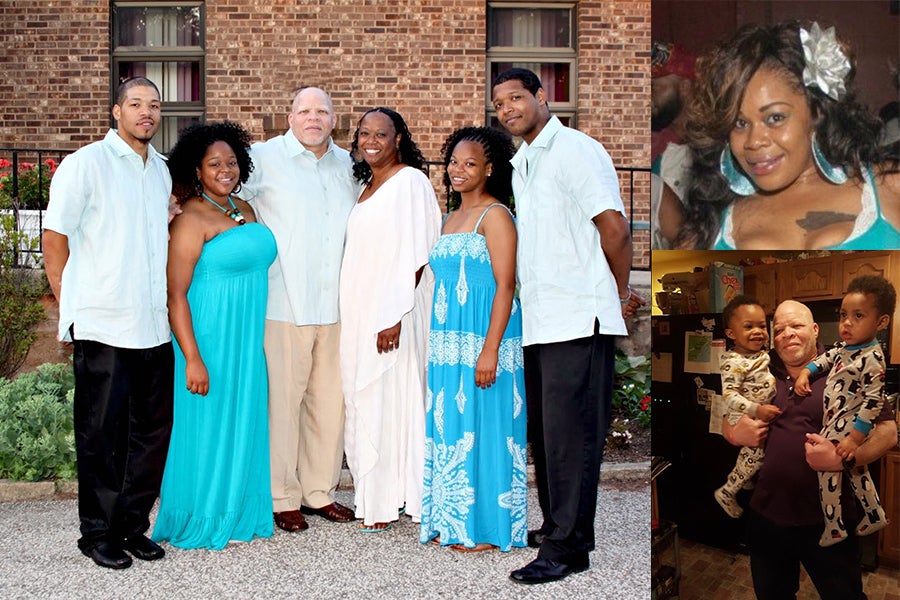 And on Sundays, Gerry devoted himself to the Eagles — even more than the typical Birds fan.
Gerry was part of the game-day staff at Lincoln Financial Field, where he worked part-time as a stadium usher. He greeted fans, high-fiving them at the start of the game and at the end, win or lose, sending everyone home with a hearty smile.
"He would greet me, big smile on his face, and we would just chat about football for a few minutes every game. Then a handshake and a 'Go Birds!'" said Chris Romanelli, a 27-year season ticket holder who has seen every home game at the Lincoln Financial Field since it opened in 2003.
Gerry worked Section 109, right behind the end zone and above the tunnel where players run on and off the field. At the beginning and end of every game, fans rush into that section, hoping to get an up-close glimpse of their favorite Eagles.
Section 109 is mostly made up of season ticket holders, regulars that come faithfully eight Sundays a year (10 with preseason games and more, knock wood, for playoffs) who sit together, cheer and jeer together and keep tabs on each other.
Section 109 is its own kind of community. Some of the regulars tailgate together. Sometimes they keep up with each other outside the stadium. Every year, Chris gave Gerry a Christmas card.
Gerry was there for the Section 109 fans: He helped them find their seats, talked about the players and even quelled arguments. He was also there for himself. He loved the game. He would grab a turkey leg and hang on every play.
Gerry even had his own Super Bowl ring. After the Eagles won the big game in 2018, administration and game-day staff were offered the opportunity to buy official NFL rings just like the players (albeit without the diamonds). If anyone asked, Gerry liked to show his ring to the fans in his charge in Section 109.
"What you saw from Gerry was: When things went well, that smile would get bigger. He was right there with us while making sure everything around him was in order," said Rich Bobbe, another season ticket holder. "He was definitely a fan."
'Through caring eyes'
Gerry's life was more than football. A Camden native to the core, he was born there, went to school there, and spent most of his career working for the Camden County Board of Social Services. Baker attended a Methodist church in the Parkside neighborhood where he ran its food pantry for years.
He was active in his local union chapter, serving briefly as interim president, as well as the longtime editor of its newsletter. That's how he first saw his future wife, while working as a union reporter covering a political event for former New Jersey Gov. Jim Florio, once an attorney for Camden.
Baleeia said they first met by telephone, when she called a friend at social services and Gerry picked up the phone. A few more calls followed.
Baleeia was wary. Already once divorced, a single mother with a young son and Gerry with his own children from a previous relationship, she proceeded with caution. Eventually, she agreed to an in-person meeting at a safe, public place: a Florio campaign rally at a nearby hotel. There she was struck by Gerry's "beautiful, piercing grey eyes."
He was a man of few words.
"Gerry was the strong silent type. He never said much," Baleeia said. "Even with me, he wasn't able to express all the things he felt, but he showed it in the things he did."
Still, Gerry would tell her: "There are some women you date, and some women you marry. When I met you, I knew you were the woman I would marry."
Gerry settled down with Baleeia, but never settled in life. He was always on the go. If someone was hungry, he would hustle for some food. He was known to drop everything to sit with a friend in the hospital.
"That's what Gerry did up until the day he got sick," Baleeia said. "It was about taking care of others. He saw people through caring eyes."
Eagles fans felt it. Even if they didn't know him well, they knew the big guy with the smile that wouldn't quit had their back. For many, Baker was part of a great day of football.
"When I walked into my section, I always looked for him first," Romanelli said. "He wasn't just a person there to point to where your seats were. He loved what he did. He was part of my Eagles experience."
Gerry was buried in a naturally preserved cemetery near Cape May, mourned by a small gathering of a few friends and family in accordance with pandemic social distancing rules. The family is planning a larger memorial event later in the year when more people will be able to attend, likely on his birthday in September.
WHYY is your source for fact-based, in-depth journalism and information. As a nonprofit organization, we rely on financial support from readers like you. Please give today.