Gauging how family, community impact children's mental health
Rutgers-Camden study pinpoints childhood trauma as likely source of anxiety, depression and suggests healthy family life, civic engagement can mitigate problems.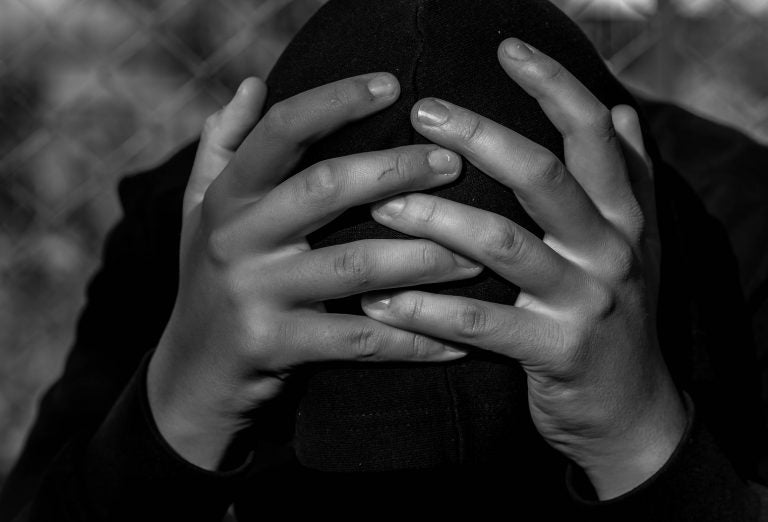 This story originally appeared on NJ Spotlight
—
More than half the adolescents nationwide have suffered at least one traumatic experience in childhood, a situation that made them more likely to be anxious or depressed, according to a new Rutgers University-Camden study.
But the researchers, based in New York City and New Jersey, also found that healthy family behaviors — like talking and working together to solve problems — and civic engagement through community service, church, and clubs could help mitigate the negative effects of those painful childhood events.
Their study, involving national data collected through interviews with nearly 21,000 parents of adolescents ages 12 to 17, served as an opportunity to better understand the connection between mental health and so-called Adverse Childhood Experiences, like living in a home or neighborhood wracked by poverty, drug use, or violence. But it also allowed researchers to explore the impact of positive "mechanisms" like a functioning family and social and community engagement.
Spotting potential problems early
"Early assessment and interventions for children with Adverse Childhood Experiences are necessary to prevent the development of mental disorders in adolescence, especially for minority adolescents and those of low socioeconomic status," wrote Wenhua Lu, an assistant professor of childhood studies at Rutgers University–Camden, who co-authored the study with Yunyu Xiao, a researcher at New York University.
"Safe, nurturing, and supportive home and social environments can help mitigate the detrimental impact of childhood adversity," they wrote; the work will be published in the February 2019 issue of Health Behavior Research. "In particular, more government support and strengthened programming are necessary to expand opportunities for adolescents living in 'civic deserts'."
While connections between Adverse Childhood Experiences, or ACES, and long-term health challenges were first established decades ago, there has been a growing focus in recent years on finding ways to better identify these traumas early on and address the resulting clinical issues — and underlying causes — more holistically.
Healthcare providers, including facilities like Robert Wood Johnson University Hospital, in New Brunswick, have instituted new screening and treatment protocols designed to improve outcomes for those with traumatic childhood experiences. Rutgers University School of Health Professionals, in Piscataway, recently received federal funding to establish a comprehensive mental health training program that addresses traumatic incidents, among other things. The Nicholson Foundation is now working alongside other funders to identify ways to combat ACES in a way that make a real difference for patients statewide.
Surveying parents
The Rutgers-Camden study, which used data collected through the 2016 National Survey of Children's Health, involved nearly 1,000 surveys per state, on average. Researchers conceded that asking parents to answer questions about the health and childhood of their teens might be less accurate than asking the adolescents directly. They also noted that screening tools for ACES are not always precise.
To determine the prevalence of ACES for the national survey, providers asked parents about poverty, divorces, family deaths, incarceration, violence at home and in the neighborhood, mental illness, drug abuse, and racism.
When parents said they had experienced any one of these factors, their teen was considered to have experienced trauma — something that appeared in nearly 55 percent of the youngsters surveyed. Parents also reported that 17 percent of their teens experienced some kind of mental disorder.
When the researchers compared the ACES findings with socioeconomic and demographic factors, they confirmed a number of disparities. Nearly 72 percent of black teens had experienced some kind of trauma, compared with 52 percent of white kids and 36 percent of Asians.
In addition, two-thirds of teens whose parents graduated from high school suffered ACES, versus 43 percent of those raised by college grads. Poverty was also a factor; three out of four youngsters who grew up in families earning less than the federal poverty limit faced trauma as children.
When measuring the positive factors and the influence they had on adolescent health, the national study relied on the answers parents provided to questions about how the family talks together about plans, works together to solve problems, and stays positive about their strengths and future.
Neighborhood factors
They also sought to determine neighborhood cohesion, asking about how parents interacted with others in the community and resolved disputes. Civic engagement was determined by asking about their child's involvement in community service, volunteer work, church, clubs, or other nonschool activities.
Responses were coded and weighted, revealing to the Rutgers-NYU team that there was a "significant direct relationship" between stronger families and communities and lower levels of mental disorders. Family cohesion and civic engagement seemed to be the most important factors, which they said underscores the need for robust early-intervention programs and family- and community-support services, especially in underserved communities.
"The strong mediating effect of family functioning identified in this study provides critical insights as to strategies that can be incorporated into existing family support programs to reduce the risk of negative adolescent mental health outcomes associated with ACEs," the study notes.
WHYY is your source for fact-based, in-depth journalism and information. As a nonprofit organization, we rely on financial support from readers like you. Please give today.