Full funding secured for Schuylkill River Swing Bridge, construction could begin next summer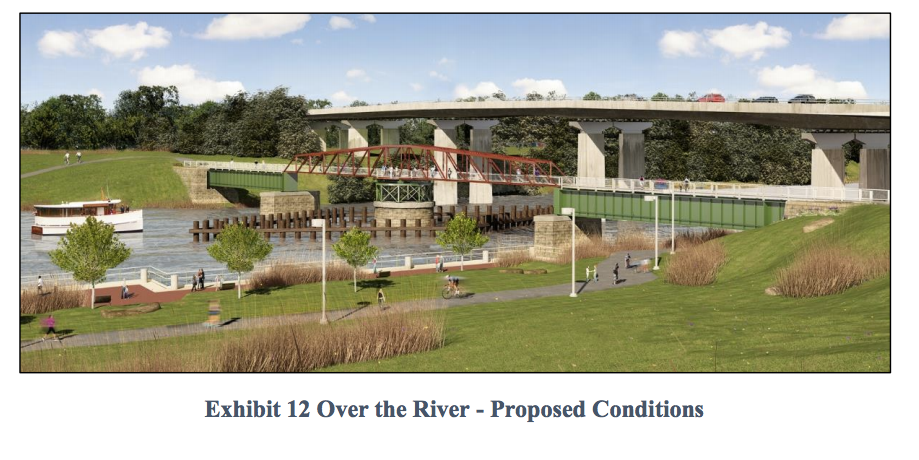 Hammers could start swinging on the Schuylkill River Swing Bridge as early as summer 2016, thanks to the recently awarded federal TIGER grant.
The pedestrian and bicycle bridge will cost about $13 million. The TIGER grant is providing $3.265 million, and previously committed PennDOT funds, courtesy of Act 89, are providing the rest, said Schuylkill River Development Corporation Executive Director Joe Syrnick.
The project is currently in final design, says Syrnick. "In a perfect world," he says, the SRDC would solicit construction bids in April 2016, begin building that summer, and wrap up by the end of 2017.
The Swing Bridge will connect the Gray's Ferry Crescent Trail with Bartram's Mile, which extends north along the river from Bartram's Garden. The Crescent Trail was built in 2013 and currently acts more like a neighborhood park than a trail, unconnected to any other trails at this time. On the western side of the Schuylkill, construction on the Bartram's Mile trail segment is set to finish next December.
Eventually, Syrnick hopes to link those trails to the Schuylkill River Trail. Construction on an extension from South Street to Christian Street is ongoing now. Once that is finished, a much more difficult hurdle to clear will remain: building a trail around the Veolia Energy plant that dominates Devil's Pocket.
Early on, the plan for the Schuylkill River Swing Bridge was to reuse the truss from the old bridge, raising it up 35 feet to allow boats to pass underneath. But the Coast Guard put the kibosh on that: the tug boats that occasionally supply the Veolia Energy plant with oil wouldn't fit. Coast Guard approval is required for structures that may impede navigable waterways.
Instead, Syrnick says they'll use the existing substructures – the abutments, piers and approaches on both sides of the river – to support a new, lighter span that will cross the river at grade.
Original, discarded rendering of Grays Ferry pedestrian bridge | courtesy of Schuylkill River Development Corporation

New Grays Ferry Swing Bridge rendering | rendering courtesy of SRDC

(EOTS on Flickr)

(MOTU TIGER Grant Application)

(Will the swing bridge next to the Gray's Ferry bridge be reused to connect Gray's Ferry Crescent with Bartram's Mile?)
"Swing bridge" is a bit of a misnomer, if you ask me. It's more of a spin bridge. Like its cousin the bascule bridge (commonly called a drawbridge, much to the frustration of pedantic bridge engineers all over), the swing bridge can pivot to allow ships to sail by. Here's a video of one in action. Moveable bridges are frequently used when space constraints on the river banks prevent a longer run up needed for a taller bridge.
At least 18 months of construction. Thirteen million dollars. Worth it?
Definitely, says Syrnick.
"As more of these trail sections become completed, it gets more and more connected. The fewer gaps there are creates more urgency to see them all completed," he said. "And that's good for everybody."
WHYY is your source for fact-based, in-depth journalism and information. As a nonprofit organization, we rely on financial support from readers like you. Please give today.