'Fresh Air,' NPR host share stage and stories at LGBTQ journalists' conference in Philadelphia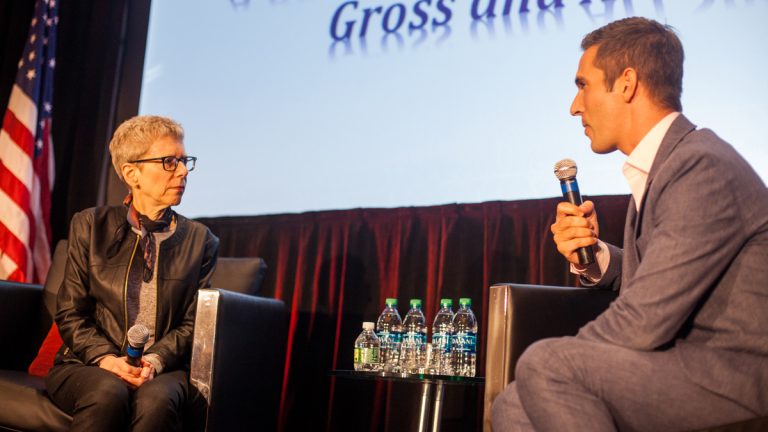 When two famous radio interviewers share a stage, things can get a little complicated, but Ari Shapiro and Terry Gross easily worked it out.
At the national conference for NLGJA, the association of LGBTQ journalists, in Philadelphia yesterday, "All Things Considered" host Shapiro interviewed Gross, host of "Fresh Air." But exactly who was the interviewer and who was the interviewee?
"Last week I looked up and I said, 'Maybe I made a mistake, because really I should be interviewing Ari,' said Gross, laughing. "So I actually went back and looked at the emails I had gotten just to check."
Still, Shapiro got to share his own story. It was 1995, he was 15, not yet out of the closet, sitting in the backseat of his parent's car in Portland, Oregon. An anti-gay measure was on the state ballot and Gross was interviewing the late memoirist and poet Paul Monette.
"I remember that you talked to him like he was a real human being. And it was probably the first time I'd heard anyone talk to a gay person as though they were a real human being," said Shapiro.
Through her conversations, Gross documents the artists, politicians, and thinkers personally affected by public opinion and current events. She said that when it came to the gay community, since early in her career, she has sought out people willing to speak about their experiences.
"I don't think it's my job to 'out' anybody," she explained. "There's always been so many gay and lesbian artists in all of the arts, but they weren't telling their stories of being gay people because you couldn't. I was lucky enough to be working in radio when people were slowly opening up the closet door and emerging as out," she continued.
Gross says she gravitates toward memoirists because of their ability to distill specific individual experiences. For her, the interview is an attempt to draw out how universal those experiences are.
"I think we all have things that we don't want to talk about because we think we're the only person in the world experiencing it," said Gross. "But when memoirists share that in a really open way, it gives me an opportunity to talk about impulses, instincts, feelings, experiences that we actually all share in some way," she said.
This year's convention attracted about 350 journalists, communication professionals, and educators. It wraps up at the Loews Hotel in Center City Philadelphia on Sunday.