The Florida Bridge Collapse Made Us Wonder: What Is Accelerated Bridge Construction?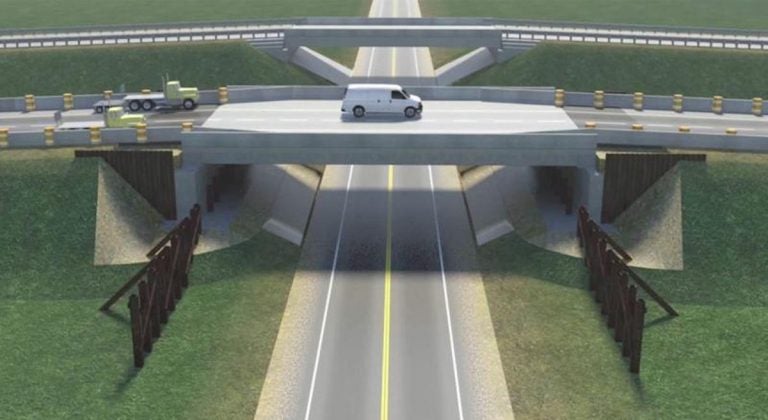 Last week, a partially-constructed pedestrian bridge collapsed in Miami, Florida, killing six people and sending more to the hospital. The National Transportation Safety Board sent a team of investigators to the site to figure out what happened.
The bridge, built over a busy road, was intended to link Florida International University with a nearby community where many students live. It was an example of accelerated bridge construction (ABC) techniques, similar to those used in Pennsylvania.
ABC doesn't denote one specific process, said Jim Foringer of Pennsylvania's Department of Transportation.
"It's a catchall phrase," he said. "Generally what it means is constructing a bridge in an accelerated manner to reduce the impact to the traveling public and get the bridge constructed as fast as possible."
That could happen in a number of different ways: parts of a bridge could be made off-site before being assembled, bridge parts could be partially assembled and finished on-site, and in some cases, most of a bridge could be built adjacent to its future home and then moved into place.
Pennsylvania has a number of examples of bridges built and installed with these techniques: in September and October of last year, PennDOT installed one bridge in Beaver County over the turnpike, and another in Lehigh County over the Northeast Extension.
"Everything we do has safety first, and we take safety seriously, and first and foremost," said Foringer. "Whether it be an accelerated bridge project or a conventional bridge project."
Foringer said the state's Rapid Bridge Replacement Project, RBRP, is another example of accelerated bridge construction techniques, though different from the bigger bridges the state has done. It's a five-year effort to replace about 12 percent of Pennsylvania's roughly 4,500 structurally deficient bridges.
Most of the bridges being replaced across the state are small spans in rural areas. Most often, old infrastructure is cleared from the site as new elements are being fabricated. Those are then assembled on-site.
"We're doing it in an efficient way because we're able to do a lot of the same things together from planning, from design, even into material production," said Chuck Zugell, a project manager with Walsh Granite Joint Venture, which is part of the consortium running the RBRP. Zugell stressed that those efficiencies never eclipse safety. "It is not taken lightly."
Accelerated bridge construction has been used by state departments of transportation for more than a decade. It's an increasingly common way to build a bridge, said Patricia Bush, program manager for bridges and structures with the American Association of State Highway and Transportation Officials. She said it reduces the burden borne by travelers, as well as the people doing the work.
"Work zone accidents are a problem with any construction project, and minimizing the amount of time that the workers are exposed to traffic makes it safer for everybody," she said.
WHYY is your source for fact-based, in-depth journalism and information. As a nonprofit organization, we rely on financial support from readers like you. Please give today.