Five moments that explain Jim Kenney's planning politics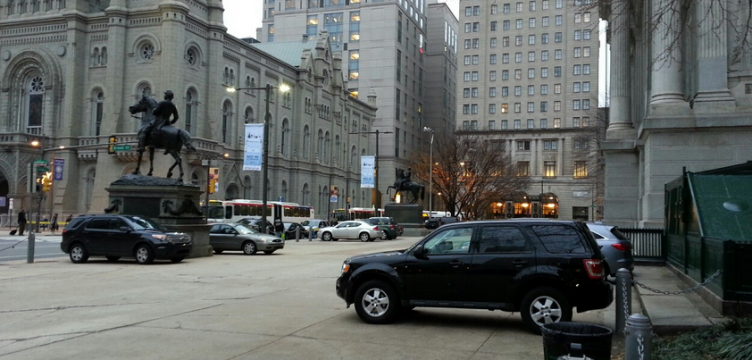 Over at Citified, Patrick Kerkstra is disillusioned with the paucity of real policy substance in the 2015 campaign so far, and he's probably right to be concerned. The high-level dialogue so far has been almost completely consumed by questions about who's in and who's out, rather than what candidates actually want to do if they win.
Here's what he thinks is happening:
So what's going on? Why has the 2015 fight been so–let's face it–vacuous? Partly it's because the mayoral field is still shifting (we are, right now, waiting "for white smoke to emerge from Jim Kenney's office" as Jane Roh just put it on Twitter). Partly it's because the candidates not-named-Tony Williams got off a late start, and thus are still spinning up their campaign policy shops (if, indeed, they will even have policy shops; fingers crossed). Partly it's a reflection of the candidates in the race so far (policy wonks they are not).
Still, there's hope. Substance might get a shot once Kenney enters the race (that seems like only a question of when now, not if). That's not just because he has some policy chops. His entrance could also settle the field, mercifully ending this long, vacuous prelude.
Now just to plug PlanPhilly for a second, I'd say we've had a pretty good run of getting candidates on the record with substantive positions, and all we really had to do was ask for them. At-Large Council candidate George Matysik told us about how he'll try to get the Philadelphia Parking Authority back under city control. We asked former Mayoral candidate Terry Gillen how she'd increase connectivity between Center City and the Navy Yard and she gave us a few ideas. We tried, and did not ultimately succeed, at getting former Mayoral candidate Ken Trujillo on the record about speed cameras and red light cameras when he brought up policing technology at his campaign kick-off. End plug.
The lack of forward-looking promises is certainly dispiriting, but as Vox's Ezra Klein says, "new information is not always — and perhaps not even usually — the most important information for understanding a topic" and it's often not the most important information for understanding a candidate, either. What I would suggest those who are frustrated with the lack of substance do now is look at the candidates' voting records and public statements, and start filling in the policy dimension.
These candidates are long-time incumbents or public servants, and they have a long paper trail of votes, or actions, to look into. The accumulation of past votes is a good guide to what they've historically thought about the issues, and it is frequently a good preview of where they're likely to come down in the future. If Jim Kenney, for instance, doesn't have any new planning ideas or white papers ready to go at the campaign kick-off, that's okay because we've got plenty of old Jim Kenney planning ideas to sort through that can help voters fill out their mental picture of his values and priorities.
To that end, since Kenney was the talk of the town this week, here are five Jim Kenney planning-related episodes that we think illustrate some of his core values on the issues that matter to PlanPhilly readers.
1. He stood up for the Delaware River waterfront buffer (and planning in general) against waterfront landowners and the Development Workshop.
Back in 2012, Kenney defended the Delaware riverfront plan against the Development Workshop's anti-buffer advocacy. Here's the key section from Samantha Melamed's report at the time:
Craig Schelter of the Development Workshop, a business coalition that has recently found itself at odds with various city-planning efforts, described a "thriving electronics recycling business" that was liable to move out of the city if it couldn't expand on its plot along the waterfront at Orthodox Street. "They could be forced to a new location," he said. "Do we really want to characterize our message to the investment community that one needs special exemptions from the Zoning Board of Adjustments" to do business? If companies can't expand because they are hemmed in by that [waterfront-buffer rule] that would be a tragedy."
Straight-shooting Councilman Jim Kenney called bullshit. "What you're asking for is, on the entire waterfront, anyone who's in the buffer can do anything they want as long as they're within their own property, and that was the problem," he said. "What you were asking for initially is irresponsible. Now we're solving a problem that was created by the Workshop."
At his press availability earlier this week, Kenney ticked off some things he thinks the Nutter administration has done right, dwelling a bit on "the way they've included the community in making decisions about how we develop our waterfront." These are some pretty meaty stances to chew on while we wait for the main course.
2. He passed a bill tightening sidewalk closure rules for construction sites, including a $150 per day fine for unauthorized sidewalk blockages.
Kenney has been on a tear about this issue since at least 2008, and last year he finally got a bill passed addressing it. Here he is explaining the problem and how his bill intends to fix it:
"What we have are contractors throwing up cyclone fences with tarpaulin taking the entire sidewalk in highly trafficked areas forcing pedestrians into the street, tourists and residents alike," he said […]
"Now they are going to be hit with large fines, and I'm hoping the word will go off to other people who don't want to pay a $1,000 a day fine," he said. "It is a cat and mouse until we have enough people in Streets Department and [Licenses and Inspections staffers] to do the inspections that we need to get done."
The $1,000 got bargained down to $150, but combined with the other new regulations, the bill is still expected to significantly reduce blockages. When sidewalks were blocked during the rehab of the Suit Corner at 3rd and Market, an exasperated Kenney told Clark DeLeon that this is one reason why he's running for Mayor:
"It's a disgrace," he said, "Why do you think I'm running for mayor? That's the only position to get anything done by the city." Kenney is so fired up about pedestrian safety, he's ready to run for Mayor over it. Reading the tea leaves then, some of the Vision Zero advocacy seems likely to get a warm reception from him.
3. He introduced a bill to end the City Hall Parking Lot.
At the end of the 2014 session, Kenney introduced a bill that could eventually ban city officials from using the City Hall apron as a general parking lot.
The stand-out hit of the planning blogosphere this fall was local AP editor Jon Poet's dryly hilarious City Hall Parking Lot Tumblr, which mocked city officials for the vulgar practice of parking their cars on the City Hall apron right next to a very nice and very expensive new public space. While it's certainly not the biggest issue facing the city by a long shot, it struck Patrick Kerkstra and the online urbanist set as a powerful symbolic affront to every good urban design principle the Nutter administration had gone to bat for over the last eight years.
With no obvious voting bloc organized against the City Hall Parking Lot, there was no major upside for Kenney in sponsoring the bill, and there was a considerable downside in that it could embarrass his colleagues and diminish his clout on Council. That's what makes it so interesting and telling that he did it anyway.
Elaborating on the intent of his resolution, Kenney told Jenny DeHuff and Mensah Dean "there are plenty of spots in Center City, and we have a municipal garage under LOVE Park which is not even that much further away."
"The point is, when you walk out there it looks terrible, it's dangerous. It's like a throughway sometimes out there," he said. "You feel like you have to wear a yellow traffic vest so you don't get run over by people pulling onto the sidewalk."
4. He wants to beef up historic preservation efforts.
As PlanPhilly readers know, the city's historic preservation regime is awfully weak. Councilman Kenney's office introduced two bills aimed at addressing that issue this fall.
One of the bills would transfer $500,000 from the city's reserve fund mid-year to the Philadelphia Historic Commission, doubling its budget, and the other would add around 1,000 properties to the city register of historic places. Thousands of Philadelphia properties on the National Register of Historic Places are not on the local register.
Historic Commission director John Farnham seemed not to think much of the bills when approached for comment by The Inquirer, but even if they didn't quite hit the mark, the episode at least highlights that Kenney's feelings on the issue are sympatico with Philly's frustrated preservationist community.
5. He wants to speed up redevelopment of industrial properties
Some areas of the city that are still zoned for industrial uses are actually located in hot residential markets where high land prices make industrial uses economically impractical. In most cases, empty former factory buildings in places like Callowhill, Northern Liberties, or Fishtown that still have any structural integrity are going to become condos or else remain vacant.
Jim Kenney wants to see these buildings restored to productive uses sooner rather than later, and this summer he introduced a bill that would allow residential uses in more industrial zoning classes besides just IRMX (Industrial Residential Mixed-Use), which is the only zoning category that allows residential to be built by-right.
Here's Jared Brey's report on the episode:
Also on Tuesday's agenda was a bill introduced by Councilman Jim Kenney that would permit residential development in certain industrial zoning categories. Kenney agreed to hold the bill after Bill Kramer testified that its adoption would be "likely to raise a number of concerns for both businesses and residents alike." Kramer said the Zoning Code Commission had spent a lot of time deciding what types of uses should be permitted in industrial zoning categories, among others.
Kenney didn't mind holding the bill. He said it was intended to hasten the redevelopment of blighted industrial properties specifically, but also to start a conversation more generally about speeding up the remapping process at the Planning Commission. During the meeting, he got assurances from the Commission that it would submit a letter to Council saying how much more money it would need to hire additional staff and finish the district remapping.
Extending the life of economically inappropriate zoning is one of the ways to maximize opportunities for Councilmanic Prerogative for District Councilmembers, since each individual project will end up needing a zoning variance to proceed.
So what we're seeing here is Kenney's At-Large citywide perspective on zoning—the view he'd probably also take as Mayor—which tends to favor less red tape for adaptive reuse (and consequently fewer opportunities for District Councilmembers to insert themselves into project-level zoning decisions.)
The Planning Commission replied to Kenney's inquiry, estimating that they'd need $3 million to hire enough staff to finish remapping in three years.
WHYY is your source for fact-based, in-depth journalism and information. As a nonprofit organization, we rely on financial support from readers like you. Please give today.