Finding hope in 2020: 5 good things that happened to people in the region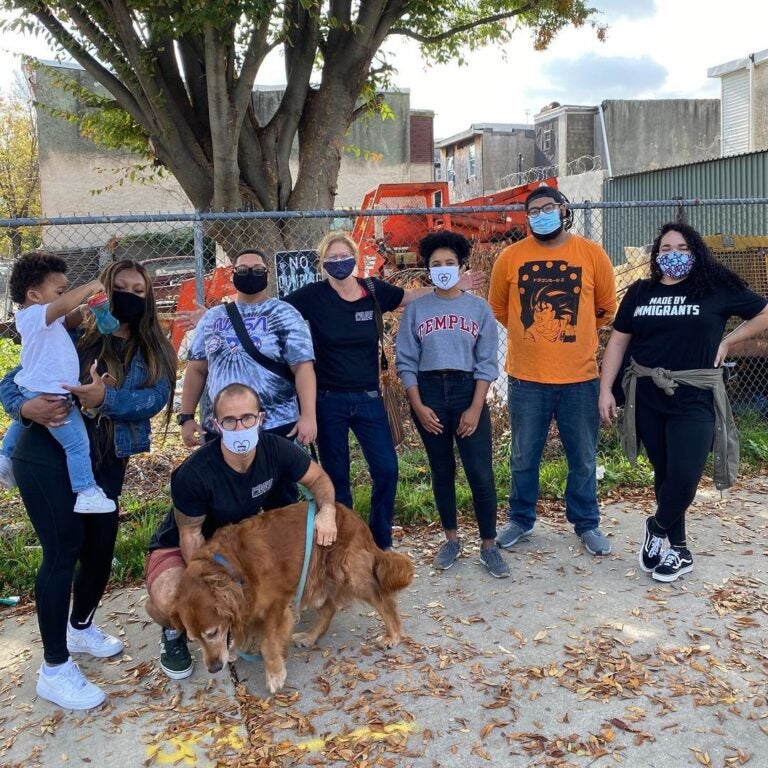 Many of us — all of us maybe — are ready to say, "Au revoir," to 2020.
It's been a year of collective trauma and pain, with more than 330,000 U.S. deaths from the coronavirus, and counting.
But it wasn't all bad. Some people did their best to stay strong through difficult, isolating moments, and many persevered to do good in their communities.
Here are the stories of five people in the region who found hope in 2020.
Falling into romance
For Ernestine Williams, 2020 brought both loss and love. Her year was "crazy, like everyone else's."
In the spring, she had to close her cookie business and move all her equipment out of the shop because of COVID-19.
And in the midst of it all, her 85-year-old mother's health problems (unrelated to the virus) worsened; she passed away on July 18. While her mom was in the hospital, Williams was able to see her a few times before she died, but not much due to pandemic restrictions.
"When your loved ones get sick, especially a parent, you want to be able to go see them," said Williams, who lives in Delanco, Burlington County. "I think that was the heart-wrenching part there."
Williams, who is a widow, reflected on the fact that her mother always wanted her to be happy.
"My mom would always ask … 'Don't you want companionship?' And I would say, 'Of course,'" she said.
Not long after her mother passed away, Williams was helping a friend out by working at the jazz restaurant Black's Blues in Mount Laurel. One day, while a band was practicing at the restaurant, a song caught her ear, and she struck up a conversation with the band members — particularly with the saxophone player. Her father-in-law was a popular Philly sax player; her grandson is a sax player too.
When she came into the restaurant the next morning, someone told her that George Bussey Jr., the sax player, had left his number for her to call him. They started talking and exactly one month after Williams' mother passed away, they went on their first date.
She recalls that date fondly: They were sitting by the water near his house, chatting, and when it started to get chilly, he offered to grab her a coat. He brought out his dad's military jacket — decked in his medals, including a Purple Heart — for her to wear.
"I was so floored," Williams said. "He told me, and he did tell the guys in his band, 'When she walked over to me and asked me about the song, I looked in her eyes and something I never felt before ran all over my body.'"
And they've been in love ever since. Although the pandemic has cut many of his performances, Williams has been at four of the five gigs Bussey has had since they met. He used to travel a lot pre-pandemic, and now they're talking about a trip to Brazil once it's safe. At 68 years old, Williams got her first passport just a few weeks ago.
"It feels good because … everybody is home with somebody, and in the beginning [of COVID] you're home by yourself and you know you have a phone and TV," Williams said, "but to actually be connected to someone right there with you … it feels great."
Despite losing her mom this year, Williams said her focus on finding positives in negative situations has helped make her life much better.
"Just try to enjoy the moment that you have, with family, with friends, with yourself mainly," Williams said. "I think that's what has gotten me through this time, this year."
Finding that dream job
Alexis Morris has worn a few hats in her adult life so far: classically trained musician; archivist working in academic libraries.
She had decided to get a library degree because she wanted to avoid the "gig economy" that the music industry would bring, but ironically the library field morphed into that too. With a gentle nudge from her husband, a teacher, she decided to pursue a master's degree in secondary education as a way to use her "talents elsewhere to help bring the new great minds instead of helping facilitate the great minds at the academic level."
She finished her student teaching in December 2019 and was immediately hired by that school to be a substitute, which morphed into a full-time sub position through the remainder of the school year.
Then on March 12, everything changed when the coronavirus hit and her class went virtual.
After making it through a tough remainder of the school year, Morris, who lives in North Wales, was ready for a full-time position that was also closer to her Montgomery County home than the hour-plus commute to the Philly charter school where she was working.
As positions were opening up for the fall start of the new school year, Morris had submitted at least 25 job applications. She found herself applying for any job, in seventh through 12th grades, in English and social studies.
By July, she started to worry because she had not heard back from a single school.
"Being a new teacher is very hard to get your foot in the door, but I thought with my life experience and a couple of my other degrees, I'm a little bit older, I would have had a little bit of a chance … even to just get an interview," Morris said. "But I did not receive one message back, and I was really starting to think I was not even going to be able to get a job."
Then finally, she got an email back: An interview was requested. It was her first-ever Zoom interview. She conducted it from her home office in her business suit, showing them an example of lesson preparation. Ten minutes after the hour-long interview, she got a call back from the principal saying they were recommending her for the job.
"Literally right after I hung up, I told my husband and started to cry," Morris said. "Because it was all of the everything … it was just so crazy but so wonderful at the same time."
Now, she's teaching eighth-grade English at Indian Valley Middle School in the Souderton Area School District. It hasn't been easy being a first-time, full-time teacher during COVID-19, but Morris said she "won the jackpot" with this job.
"Even though there was a lot of unknowns, I feel like we were very well equipped to just figure it out," Morris said. "Like we're all in this together, and we all don't know what's going on, so let's try to do the best we can as educators."
Her school started off as hybrid through September, and then moved to fully in-person classes, with smaller class sizes, which helped form great relationships between teachers and students.
"I really feel honored to work with younger generations to basically help them through this incredibly weird moment as an adult mentor, to be supportive and try to help them get through as best they can, socially and emotionally as well as academically," Morris said. "It's really a privilege for me to basically feel like I am on the front lines to give back to the community as best as I can."
Getting a second lease on life
For Sharon Brenner, 2020 started out with a big life move: getting a hip replacement in January, at age 62.
She had put off the surgery after receiving the diagnosis in May 2019 — she wanted to wait until after the summer, and when her winter and holiday obligations were put to bed.
Although she was nervous, the surgery and recovery went as planned. She was discharged from the hospital the day after and started physical therapy. After eight weeks of rest and recovery, she was able to start doing simple things again, like bending over to put on shoes. And after 10 weeks, she got the OK from her doctor to fly to Boston to see her son.
That was the same weekend in mid-March when everything shut down in Pennsylvania because of COVID-19.
"I was so glad I got my surgery done before all the closures had happened," said Brenner, who lives near King of Prussia.
When COVID started, Brenner felt that she was going to go stir-crazy with nothing to do. She started walking around her half-acre yard, looking for home improvement projects she never thought would have been physically possible for her to do pre-hip surgery.
"I said to my husband, 'Order a truckload of mulch,'" Brenner said. "He was like, 'You're not going to be able to do this.' I said, 'I think I can do it, I have the whole summer to do it.'"
Over the spring and summer, Brenner did all the mulching in her yard. Then she embarked on having the whole outside of her house painted, along with her deck. After the painting, she put all the furniture back on the deck herself, something she'd normally have to ask for help with.
And in October, she planted 200 daffodils in her garden.
"Everybody has been kind of invested in their home during this whole nine months, so all the things that I had kind of let go [pre-hip surgery,] I was back to doing them," she said.
Getting to work on these projects now with a new hip has made it easier to cope with the pandemic's isolation, she said.
"If I had to go through this period of time in pain all the time, I just don't know how I would have dealt with it because I wouldn't have had anything to distract me," she said.
"It really changed my outlook," Brenner added. "I didn't realize what a cranky person I had become. It certainly is a scary thing to go through … but it was life-changing."
Post-pandemic, Brenner said she looks forward to getting to play more actively with her grandchildren and hopes to one day see the Grand Canyon up close.
Recognizing racial injustice
Roxanne Andrews can recall the first time 2020 turned her world upside down.
It was after the death of Ahmaud Arbery, a 25-year-old Black man who was fatally shot by two white men while he was jogging in a neighborhood in Georgia.
"That frightens me still because it wasn't the police," said Andrews, who lives in Bryn Mawr and does customer service for Independence Blue Cross. "It's just the fact that he was exercising, and that's what I try to do each morning. I walk around my neighborhood, and for some reason that story just comes to mind and I become more aware of my surroundings even though I never really thought I had to be during the day."
"There are so many cases of Black people being killed just for no reason," she added. "For no reason to lose their life in that matter. And for our legal system not to recognize that and really make people accountable for what they do to other people. It's horrifying."
And then one month later, it was the killing of Breonna Taylor, followed by the death of George Floyd at the hands of Minneapolis police.
Andrews recalled after Floyd's death receiving phone calls from friends in other states, or friends she didn't see on a regular basis.
"It was really heartfelt, 'Roxanne how are you?'" she recalled. "These are white people, calling me to let me know that they are feeling what I'm feeling, enraged and upset, and that was really comforting for me."
Her feelings of being supported were followed by amazement at the protests that popped up in Philadelphia and across the world.
"If I were younger, and not such a coward, I would be protesting too," said Andrews, 62. "I'm just so proud that they're standing strong against the police brutality because some of them are being brutalized just for protesting for equal rights and to be heard, and for things to change. I love that the younger generation is pulling together because once I'm gone, and people my age and older are gone, it's comforting to know there's others in this world that are protesting."
Andrews said she knows things are nowhere near perfect — in fact, the need for the protests and some of the public and police response show there's still work to do. But she said she's an optimist and thinks that racial intolerance in the United States and beyond will change. It just takes time.
"I know things are changing and getting better because it's all been at least acknowledged," Andrews said. "Acknowledgment is the great part of knowing something is going on."
Taking community support to the streets
As protests over racial injustice took over Philadelphia and the globe, many nonprofits and community organizations saw donations and other types of support skyrocket.
For Carlos Aponte, founder of the nonprofit We Love Philly, it was also a moment to try to find more ways to help the community where he's a teacher, Fairhill.
In late August, We Love Philly, an educational organization empowering students to use their entrepreneurial skills, held a sunrise-to-sunset, 14-hour neighborhood cleanup near Aponte's school, One Bright Ray Community High School near Fourth and Somerset streets.
The goal? To help beautify the neighborhood the school calls home and raise $10,000 for a bus.
Just a few days after the cleanup, they'd hit the 10K mark and shortly afterward purchased a bus, which they're now imaginatively making their own with the help of a local artist.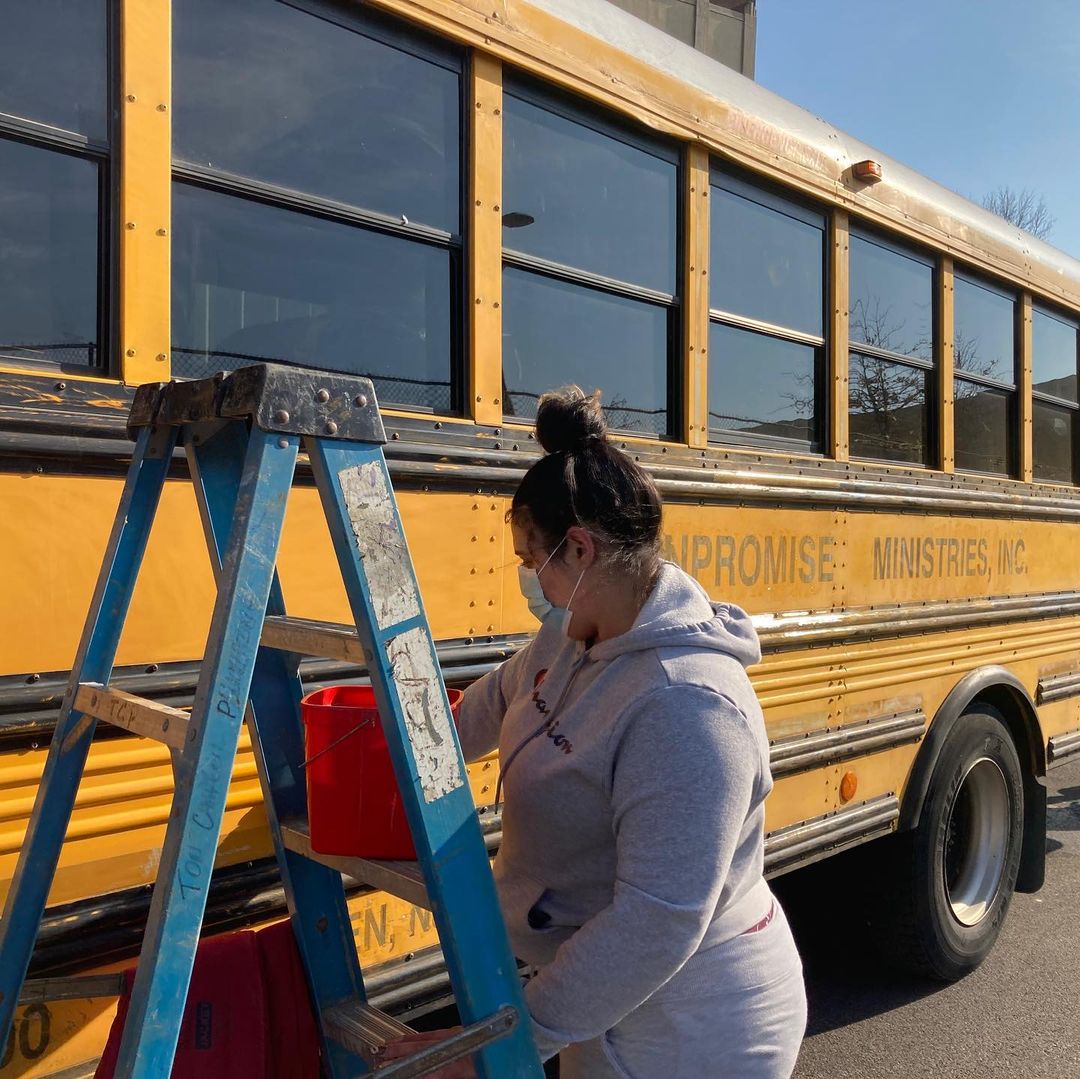 The hope and plan for the bus is to be able to move around the city, hosting mobile education workshops in different neighborhoods where students can present their skills — whether as poets, or photographers, or dancers — to the younger generation.
Cherish Green is a senior at One Bright Ray and is also a We Love Philly board member. She said the support the organization has received is the result of "an abundance of love."
"When people see that you're serious, more love just pours out, and that is exactly what happened," Green said. "To see how much support we were getting … that was incredible."
We Love Philly founder Aponte said he believes it's the intentionality of community building that can turn a year like 2020 into something with a silver lining.
"We know that we have one another, and we know we can build relationships with one another," Aponte said. "I'm hoping that the year helped people realize that maybe your neighbor can help you out … maybe someone on your block is good and is looking to do good, but they're scared to do it alone."
"I'm hoping a lot of people can see that and start to build closer ties with people in their neighborhoods," he added. "We just did it and people responded, so sometimes you just have to take that leap."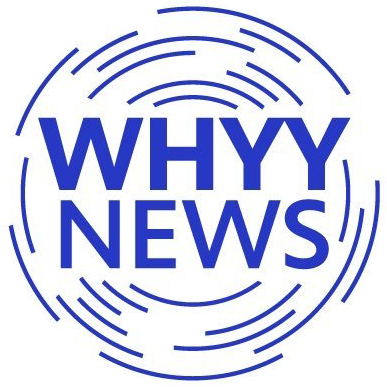 Get daily updates from WHYY News!