Federal judge clears city to remove homeless encampments on Ben Franklin Parkway, Ridge Ave.
U.S District Court Judge Eduardo C. Robreno ruled that the city could move ahead with plans to vacate the camps, so long as they provided 72 hours notice.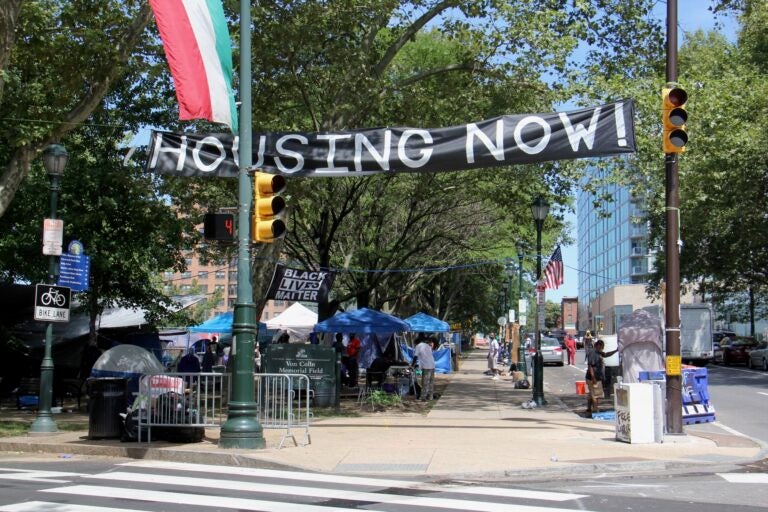 Updated 7:30 p.m.
A federal judge has ruled that Philadelphia officials can clear three protest encampments of people experiencing homelessness.
Advocates and homeless persons established the camps on Von Colln Field on the Benjamin Franklin Parkway, the Philadelphia Art Museum's nearby Azalea Garden, and adjacent to the Philadelphia Housing Authority's Ridge Avenue headquarters earlier this year. With tents and signs, they intended to draw attention to a critical shortage of affordable housing in the city.
The Kenney administration, last week, posted public notice of plans to remove the encampments, but these efforts were stalled by a federal lawsuit filed on Aug.18 that accused the city of violating the residents' constitutional right to protest.
U.S. District Court Judge Eduardo C. Robreno issued an order Tuesday afternoon ruling that the city could elect to move ahead with its plans to vacate the camps –– so long as they provided 72 hours notice.
"We appreciate the time the courts gave us, but we're extremely disappointed with the judge's decision," said Michael Huff, a pro bono attorney who filed suit on camp organizers' behalf.
A spokesperson for Mayor Jim Kenney's administration issued a statement on Tuesday acknowledging its courtroom win while noting that officials have not yet set a new timeline for dismantling the camps.
"In light of today's ruling in the City's favor, we are currently evaluating our next steps. We are still deeply concerned about the health and safety of all involved, including the surrounding community. We maintain the position that the camps cannot continue indefinitely, however an updated timeline has not been established," Kenney said.  "I urge those still in the camps to voluntarily decamp and avail themselves of the beneficial services being offered."
Activists formed the three camps following unrest over the police killing of George Floyd in late June. Now home to more than 100 residents, the camps have been the site of conflict between city officials and organizers, some of whom erected barricades following notices that the city would clear the camps last week.
Neighborhood residents in both the Sharswood community and the Art Museum area have called on the city to dismantle the encampments. Sharswood residents said the Ridge Avenue camp threatened progress on a supermarket development expected to break ground this summer, while people who live near the Parkway have painted the camps as a hazard, saying they have brought piles of trash, vandalism and public drug use, among other disturbances to their neighborhood.
In his lawsuit aimed at delaying the city's clearance order, Huff accused officials of violating residents due process protections and property rights, and failing to enshrine any specific codes for the disbursement of such encampments.
City lawyers shot back, stating that it posted adequate notice ahead of planned removals, which to date have not come to pass. The city's Law Department accused protesters of violating rules prohibiting camping and said the tents have presented public health and safety issues, concerns echoed by some nearby residents.
City officials also asserted that organizers had rebuffed offers from homeless outreach workers to provide bed space for any camp residents that sought it.
However, Huff said the city's offers have principally been for shelter space. He said part of the protesters' grievances included complaints from homeless men and women that said they were victims of assaults or experienced theft at city shelters.
"The housing provided by the city is unsafe," Huff said. "People would prefer to live in a tent and control their own lives."
Irvin Murray, the lead plaintiff in the lawsuit, said Tuesday after that he's still hopeful for a resolution. And he's grateful that City Councilmembers Kendra Brooks and Jamie Gauthier jump-started negotiations after those involving Mayor Kenney broke down.
"I'm still optimistic," said Murray. "We're still going to move forward for permanent housing…as long as we are in negotiations with the city."
Gauthier said, "We are on the precipice of a housing crisis like we've never seen in Philadelphia. The encampments are shining a light on critical issues about the state of affordable housing in our city, and the ways that we must better support our unhoused population. Councilmember Brooks and I are committed to facilitating the ongoing conversations between the city and encampment organizers, and we are hopeful that we will reach a peaceful resolution that works to protect Philadelphians from homelessness."
Murray said that some progress has been made, but that encampment residents won't leave until all of them have a place to go. Many, like Murray, say their experience with the shelter system has been so bad, they won't return.
The current sticking point in negotiations is empty Philadelphia Housing Authority homes, which the encampment organizers want handed over to a nonprofit to fix up and house those in the encampment.
PHA director Kelvin Jeremiah said all sides are still hoping for an amicable resolution in which the encampments' residents leave voluntarily. He said that he has offered to stop selling PHA houses, and that the agency is open to selling scattered site housing to nonprofits.
"I appreciate them raising the issue and putting it into the public discourse," said Jeremiah.
Edwin Jones has been without a permanent home for 18 months. After living with friends, that got difficult, he said, so he began sleeping at 30th Street Station and then moved to the trolley tunnel at 15th Street. Living at the encampment has been much better.
"Because it gives you independence, you're not hassled by SEPTA police, or Philadelphia police, you're not told you can't stay here, you got to move on or do this," said Jones. "We're just as human as you are, we aren't different."
If he has to leave, Jones said he'll pick another high-profile spot to pitch his tent.
"I'll go to Independence Mall, make it a bigger problem; instead of local, take it national," he said.
For now, it's unlikely encampment residents will be evicted as long as negotiations with the city continue, said Delaney Keefe, a Villanova University law student who is working with the legal team that filed the lawsuit against the city.
"We're still trying to figure out some way to get permanent housing for these people," said Keefe. "If negotiations break down, they still give us 72 hours' notice, which gives us enough time to rally our community of supporters and protesters to stand up to the city's injustices."
Keefe said the encampment organizers have provided the city with a list of residents and have told residents of the services offered. Though some have taken advantage of shelter beds, she said there remains a large number of people who are afraid of the shelters because of the potential spread of COVID-19 and past experiences with shelter staff.
She estimated that if PHA were to give the group about 100 empty houses to fix up, all the residents could be housed.
Jeremiah said he was pleased by the judge's decision.
"It reaffirmed our position that PHA and the city have the right to remove the encampment because of all the public safety threats it poses," he said. "It's a victory for all the law-abiding citizens of the community."
He said that though progress has been slower than he hoped, he's happy talks are continuing.

WHYY is among more than 20 news organizations producing Broke in Philly, a collaborative reporting project on solutions to poverty and the city's push towards economic justice. Follow us at @BrokeInPhilly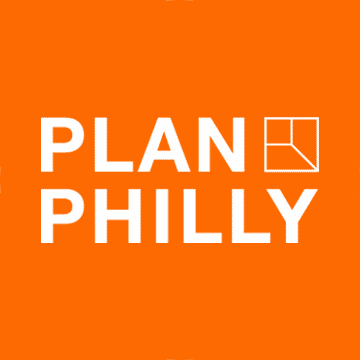 WHYY is your source for fact-based, in-depth journalism and information. As a nonprofit organization, we rely on financial support from readers like you. Please give today.