Father Judge, Chestnut Hill College sign education agreement3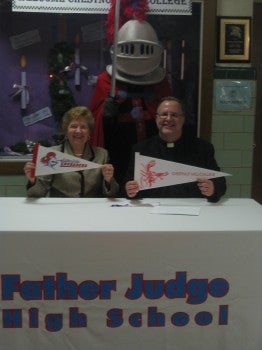 Fr. Joe Campellone and Sr. Carol Jean Vale, SSJ, couldn't have dreamed up a better fit. The two — and many of their colleagues, came together last night to sign a formal agreement allowing Chestnut Hill College to hold evening classes at Father Judge High School.
"I've always been a proponent of lifetime learning," Campellone, president of Judge, said at the event. "We're really excited."
The agreement, which began informally at the end of August, brings adults from around the Northeast to Judge two nights a week for evening classes as part of Chestnut Hill College's continuing education program.
"I think its' a marvelous opportunity for us to have a presence in this area of Philadelphia," Vale said of the partnership. "I think we can provide an invaluable service to the people of this area."
The eight-week sessions (two per semester) began in late summer. Two classes of students formed for each of the fall sessions, and already enrollment has grown.
The spring semester will welcome three classes per session, and nearly 50 students have enrolled to date.
While the college has hosted off-campus classes before, Elaine Green, dean of the School of Continuing and Professional Studies said the partnership with Judge is the college's first allegiance with a high school.
The agreement took root at an annual Christmas party last year at Chestnut Hill College, where four Judge faculty members also currently teach. From there, it became an opportunity for both schools to expand their horizons and share their missions.
Ken Soprano, vice president of Academic Affairs at the college, said one of the important characteristics of the program is its flexibility. "We really look at the students' needs," Soprano said. "We want them to succeed." Soprano and the college's Vice President of Financial Affairs Lauri Strimkovsky stressed the fact that the partnership with Judge is suited to the needs of busy, working adults in the Northeast, many of whom also have families.
"It's hard to go back to school with work and a family," Strimkovsky said. "It's great to be able to offer that flexibility."
The signing took place in the the main corridor of Father Judge, with a classful of Wednesday night students looking on.
"I congratulate you for coming here," Vale addressed them. Beneath pennants and banners representing both schools, and under the watchful eye of Judge's Crusader mascot, the agreement was signed. Said Campellone: "To be able to offer the people of this community another alternative to education as far as college . . . it just does the heart well."