Family bikers want "no-drop" street designs, representation on Nutter's Bicycle Advocacy Board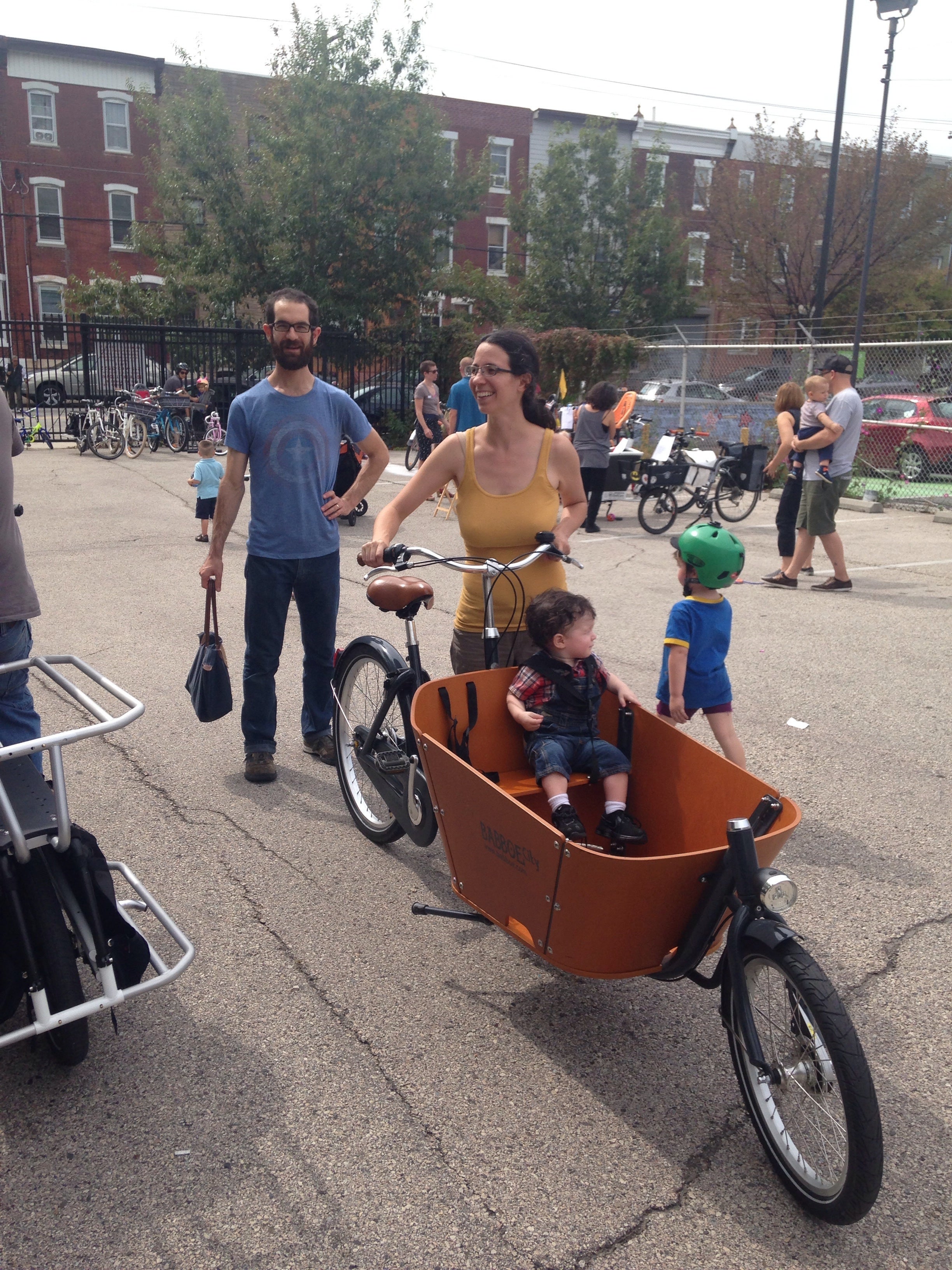 This open letter to Michael Nutter from cyclist moms Dena Driscoll and Marni Duffy asking him to appoint a family biking advocate to the new Philadelphia Bicycle Advocacy Board provides an interesting introduction to the idea of the "design user."
When politicians, planners, and transportation engineers think about the design of our streets, and how the public right-of-way should be apportioned between different users, who are they thinking about? What mental picture do they have of the typical person who is riding in our bike lanes?
Is it a fearless athlete who bicycles competitively? Is it a relatively brave adult commuter, with years of experience biking in the city? Is it a parent biking her daughter to pre-school? Or is it a pre-teen just starting to navigate the neighborhood on her own or with her friends?
While applauding Nutter's creation of the Bicycle Advocacy Board as a meaningful overture to Philadelphia's growing cycling constituency, Driscoll and Duffy's letter expresses disappointment in what they see as a lack of representation for bicycle commuters, and especially the least experienced of those commuters.
The composition of Nutter's appointments to the board, drawn overwhelmingly from the world of competitive and recreational cycling, suggests one of its five goals – attracting national and international cycling competitions, and fundraising for the annual Philly Bicycling Classic – will receive outsized attention even as the other four official goals involve brainstorming recommendations for policy change to make bicycling safer and more accessible for cyclists of all ability levels.
There is a term in the world of group cycling called a "no-drop" ride, meaning a ride where the group moves at a pace comfortable for the slowest rider, so as not to "drop" anyone from the pack.
West Philly activist and committeeman Brian Villa cleverly reappropriated the term in a Facebook forum discussion of Driscoll and Duffy's letter arguing that the Mayor will need to appoint a "no-drop board" that takes into account the perspectives of the most vulnerable groups of riders as well.
The coinage is even versatile enough to apply to the streets themselves. This fall, the advocacy group People For Bikes introduced a character named Isabella – a fictional 12-year old girl who could enjoy some more independence if only her neighborhood streets were designed with cyclists like her in mind – no-drop streets, in other words.
"Isabella…is 12. She likes cartwheels, Instagram photos with her best friend, and ice cream cones. Sometimes she even likes school. But without someone to drive her around, she can't enjoy those things, because of the way her neighborhood's busier streets are built.
The ultimate goal of the Green Lane Project — and, we'd argue, of all modern bicycle infrastructure — is to get Isabella where she wants to go."
What would it mean to design a no-drop street? Driscoll, who helps organize family rides with the group Kidical Mass, has some specific items on her wishlist.
"Moving parked cars away from the bike lane is number one," she says, "Having a child in the door zone is scary because they're falling under the radar. Even if someone looks, they're probably too small to see. Better infrastructure gets more children out on the street. Lower speed limit, calmer drivers, all the very typical things."
Family biking advocates like Driscoll, Duffy, and Travis Skidmore of the advocacy blog Philly Pedals have specifically been critical of plans like the so-called Neighborhood Bikeway on 13th and 15th Streets in South Philly which, with its two lanes of parked cars and zero bike lanes, is derided as a symbol of City Hall fecklessness and half-hearted commitment to winning physically protected bike infrastructure.
Back in October I attended an ABCs of Family Biking event Kidical Mass hosted in the parking lot by Fleischer Art Memorial and spoke with committed family bikers as well as some new and expecting parents looking into the various options for biking with children in the city.
The sentiment among many of the new parents who attended was that, while they enjoyed bike commuting prior to having children, they're nervous about picking up the habit again for fear of getting hit with a baby on board.
"We both like biking on our own, and if we have our choice will always choose to bike the city," one new mom told me, "but with this guy – he's still small, only 13 months, and we haven't ventured out with him yet. It does terrify me a little bit."
Different parents had different levels of risk tolerance. Another mom was privately sold, but came to "talk to other people who cycle with their kids to try to convince my husband it's like actually a reasonable thing."
"I don't even care about cycling in the city," she said, "I would just like for him to have that experience of going out on the trail with me, and for me to be able to go out on the trail on the weekends. But I guess like my husband feels it's not safe, like it's just a matter of time before you have an accident on a bike."
Concern over keeping younger families in the city is a hot topic recently, with most of the conversation centering on improving the quality of Philly's beleaguered public schools. But quality of life issues – whether all the benefits of an urban lifestyle enjoyed by childless couples are still accessible and affordable for parents – are another unduly overlooked part of the equation.
Many recent arrivals have moved to Philly because they enjoy the experience of living in a walkable urban place where they can get around without cars. And as a bread and butter economic issue, the ability to forgo car ownership is
key to realizing Philly's affordability edge
over the other big East Coast cities. The prevalence of reverse commuting shows that there's a strong preference for urban lifestyle even in the face of adversity. About 36% of Philadelphians leave the city each morning for jobs in the suburban collar counties. It'd be easier to live closer to work, but for what appear to be largely lifestyle reasons, these people prefer to live in the city.
So one front in the policy agenda for keeping new families in the city involves making it possible for young adults to continue to do the things they enjoy about urban life after they have kids, and extend those pleasures to their children.
"A lot of politicians can't understand the idea that somebody wants a three year old on the street on a bike," says Driscoll.
They don't understand yet, but as groups like Kidical Mass grow, and as our bike share network puts hundreds of new amateur cyclists on the streets, the political tide may begin to turn.