Fact check: Can carcinogens released while barbecuing be absorbed through the skin?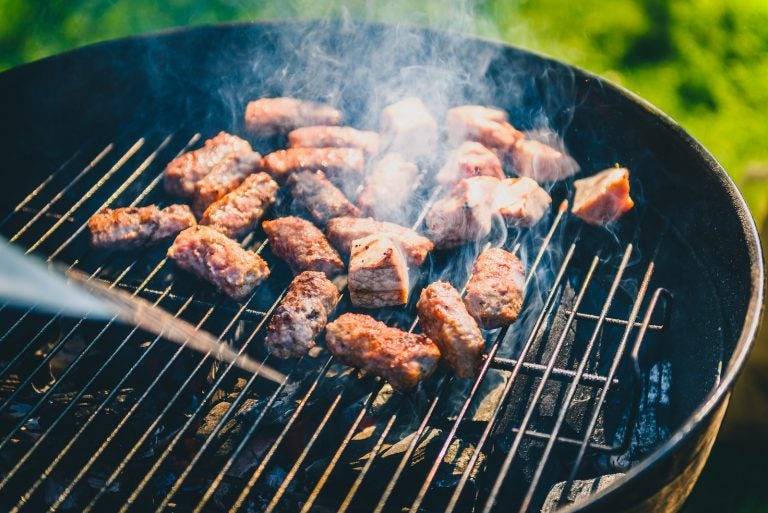 For years, scientists have warned us that barbecuing isn't the  healthiest way to cook. That's largely thanks to cancer-causing compounds called PAHs, or polycyclic aromatic hydrocarbons, which form when fat hits high heat — like the flames of a grill.
"By themselves, they are innocuous, but once they see the human body, they can be activated into compounds that cause harm," said Trevor Penning, who directs the Center of Excellence in Environmental Toxicology at the University of Pennsylvania. "They can lead to mutations of DNA, and when that occurs, if those mutations are not repaired, then that can lead to cancer."
Scientists have known for a while that these compounds, created by grilling and other high-heat methods of cooking, make it both onto the food we eat and into the air we breathe. But now, a group of researchers in China are saying that there's a third route of entry: our skin.
The study, which was published in the journal Environmental Science & Technology, tested 20 young men divided into three groups at an outdoor barbecue. The first group received full exposure to grilled foods and smoke. The second group only had their skin and lungs exposed (they had to eat boiled food instead of barbecue). And the third group only had their skin exposed (they had to wear airtight hoods, and only eat boiled food).
Later, the researchers tested urine samples from all three groups to measure their PAH levels. They found that, as expected, the highest level of PAH exposure came from eating grilled foods — what surprised them was that skin absorption ranked second, above exposure from inhalation.
So what does this mean for home grillers? The study's authors recommend covering bare skin, and changing clothes as soon as possible.
But Penning says there's no need to change your barbecue garb just yet. That's because, he says, the study omits a key piece of information.
"The compounds they measured do not cause cancer in animals," Penning said.
As it turns out, not all PAHs are created equal. This study measured low-molecular weight PAHs because, the researchers found, those compounds are more likely to be absorbed by the skin. But Penning said they're also not as harmful as PAHs with high molecular weights.
"If they want to make an argument that cancer-causing chemicals are absorbed through the skin from barbecue, then they have to measure cancer-causing chemicals," he said, "not just polycyclic aromatic hydrocarbons as a class, and the low-molecular weight ones specifically, which really aren't carcinogenic."
But barbecue lovers aren't completely off the hook. Penning says there's plenty of exposure to dangerous PAHs — along with another class of carcinogenic compounds produced by grilling called heterocyclic amines (HCAs) — that happens when we eat.
"What creates the polycyclic hydrocarbons is the heat and its contact with the food itself, especially if the food has fat on it," he says. "So you want to cook slower rather than fast. The other thing you want to do is cut off the fat, right? Because it's the fat also that creates the high temperature."
Most of all, he said, you want to avoid the char marks that so many grillers pride themselves on.
"People like that black soot that's on the food, and that has polycyclic aromatic hydrocarbons in it," he said. "If you eat food that is blackened, which we all enjoy, you have to understand that there's a risk there."
It's a message Penning admits most people won't want to hear ahead of a big barbecue. But as with most things involving our diets, he says moderation is the key.
"It's all relative risk," he said. "These are widespread pollutants. They're found in lots of different things to which we're exposed. And at the end of the day, we just have to think about ways to reduce exposure."