Explore Philly's murals with your kids
Philadelphia is a city of neighborhoods—and depending on where you and your family live, whether within the city limits or in the Philly suburbs, there may be lots of neighborhoods within the city that you haven't had the chance to visit or explore.
Mural Arts Philadelphia is one of our city's treasures—it is actually the largest public art program of its kind across the country. Mural Arts brings together community members and professional artists in a collaborative process that creates beauty, shares history and tells the story of Philadelphia's diverse neighborhoods. Whenever I'm driving or walking around the city with my kids, looking at the murals creates great conversations!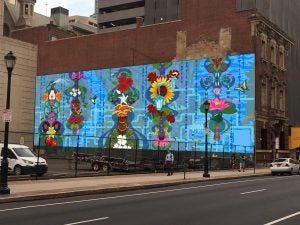 The murals offer a way to help our kids—and us—get to know about the parts of the city that they don't live in or know much about. And because this October is Mural Arts Month, there will be many unique opportunities to experience the murals with your kids throughout the city. Check out this full calendar of more than 25 events at locations across Philadelphia.
Great experiences with your kids
The events, performances and dedications that are planned include many events that are free and some you'll need tickets for. They include:
Dedications: Throughout the month, a number of new murals will be dedicated throughout the city. Of particular interest to families include Legacy (Saturday 10/20, 2 p.m. at the Lucien E. Blackwell Library, 125 South 52nd Street) 
a mural that explores the question: How do we create our own cultural identities?
On Saturday 10/28 at 11 a.m., Philly Rowing, a mural featuring the women and children who've been part of the Head of the Schuylkill Regatta will be dedicated at the Head of the Schuylkill Regatta, under the Girard Avenue Bridge, on the Kelly Drive side.
Tours: Another fun way to engage with the murals is through a special tour—you can take a walking tour or a trolley tour. The Love Letters train tour may be very cool for you and your kids; every Saturday, you can catch a trolley that will take you to see a series of 50 murals created in 2010 with street artist Steve ESPO Powers that are described as "open-ended love letter, from an artist to his hometown, from an individual to a neighborhood." You will get off the trolley at points to see the murals so do dress according to the weather.
 Parkway Soiree: You and your kids can join in the fun of painting with Mural Arts at the Parkway Soiree, a free public celebration of the Benjamin Franklin Parkway. There will be lots of fun family-friendly events there and Mural Arts will be there with a public paint day.
Do you have a favorite mural in the city? One that you like to talk about with your kids? We'd love to hear about it—please share in the comments below.