Explainer: Why Sandy aid has taken so long to reach people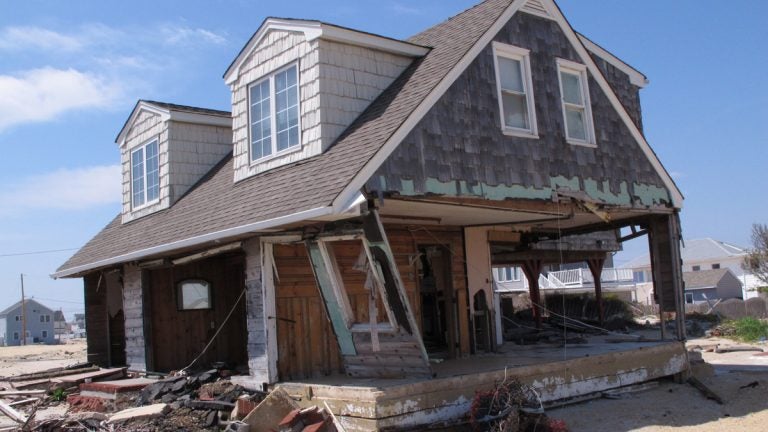 Six months after Sandy came ashore, Gov. Chris Christie held a press conference with Shaun Donovan — then secretary of the U.S. Department of Housing and Urban Development – to formally accept delivery of the first $1.83 billion in Community Development Block Grant recovery funding to the state of New Jersey. Then last spring, the feds approved another $1.46 billion in aid.
But as the second anniversary of the storm approaches (Oct 29), less than one-third of the portion of that funding that's earmarked for homeowners, landlords and renters has actually been handed out.
In particular, the RREM grant program — which offers homeowners up to $150,000 to repair, elevate or rebuild their primary homes — has a budget of $1.1 billion, but has only distributed about $290 million so far, according to the N.J. Department of Community Affairs, which says another $110 million is in the pipeline. The figures are current as of September 1.
So why the ongoing delays? It's a complicated process with lots of moving parts and plenty of blame to go around. The state, the feds, advocates and storm survivors all point the finger in different directions, so it's hard to identify a single bottleneck slowing the flow of money. Here's a summary, though, of some of the potential contributing factors.
What the State SaysSpeaking with Christie at that press conference back in April 2013, HUD Secretary Donovan pledged to avoid a repeat of the aftermath of Hurricane Katrina, when many homeowners complained of long waits to get the funding they needed to rebuild.
He vowed to reduce burdensome regulations and speed up the process of delivering aid money. But despite some positive changes at the federal level, critics say much of the red tape remained.
Speaking at a hearing before state lawmakers last January, N.J. Department of Community Affairs Commissioner Richard Constable deflected criticism levied against the Christie administration for the delays in getting the money out the door, pointing the finger at federal bureaucracy.
The federal requirements are many, Constable noted. Sandy survivors were required to submit income verification to make sure they didn't earn more than the limit to qualify. They had to submit substantial damage determination letters furnished by their municipalities so authorities could ensure that aid money was going to the neediest applicants. State officials had to research how much aid money individual homeowners received from other sources in order to comply with HUD prohibitions on duplication of benefits. And the state faced a backlog of environmental and historic reviews it was required to conduct on each property in accordance with federal regulations to confirm that the rebuilding process wouldn't harm the environment or be detrimental to historic or archeological artifacts.
"HUD does have a lot of restrictions and regulations and rules that we have to abide by that in many instances handcuff our abilities to get the monies out as quickly as possible," Constable said. "We're trying to work with the cards that we're dealt. We're trying to work with our friends in the Congressional delegation — Senator Menendez and Senator Booker — to try to get some of these rules changed or eased so we can do a better job."
What the Feds SayTestifying in March before a committee chaired by Sen. Robert Menendez, HUD Secretary Donovan said he understood the frustrations. He blamed the delays, however, not on red tape but on behind-the-scenes processes that simply take time to complete and are largely unavoidable. He noted that members of Congress – gridlocked in a debate over sequestration — took three months to first approve the Sandy aid package for New Jersey and the other affected states. It then took another three months for New Jersey to draft and submit its spending plan for the money, and for federal officials to approve it.
Questioned by Menendez, Donovan downplayed claims by the Christie administration that the federally-mandated environmental and historic reviews have been one of the main bottlenecks.
Donovan noted that the state had a big job when it came to handling the distribution of aid money to thousands of residents, and that unfortunately takes time.
"With respect to implementation, it is important to note that while preparing recovery plans, (states like New Jersey) had to simultaneously build the 'back of the house' infrastructure to implement programs on a scale and at a pace they had not previously experienced," he added. "For example, in developing a single family housing rehabilitation program, the grantee must develop policies and procedures to implement the program, advise the public of how to apply for the assistance, open the application window for an adequate period of time, and then move to evaluating those applications and making funding decisions. Only after these processes occur can the grantee proceed to closing and begin to distribute funds to homeowners. Similar issues arise in implementing housing buyout programs, business assistance programs, public service programs and other innovative initiatives undertaken by grantees."
What Critics SayAt the same time, the feds have raised several concerns about New Jersey's handling of the grant process for storm victims. One management audit released in May cited the state for sloppy record keeping, including outdated computer records and missing and incomplete files. That was likely the reason storm victims reported instances of lost paperwork and having to submit identical files on multiple occasions. The problems appeared to largely stem from mismanagement of the RREM grant program by HGI, the state's contractor that ended up being fired last January.
The concerns found in the federal audit echoed the criticisms of Fair Share Housing, which charged that HGI botched the processing of applications. Fair Share's analysis showed that 80 percent of applicants who were initially rejected for aid ended up winning their appeals. Some critics also said the state had insufficient oversight over contractors it hired, keeping problems from being corrected before they mushroomed and potentially lengthening delays for Sandy survivors.
Democratic lawmakers led by state Senate President Stephen Sweeney (D-Gloucester) say time-consuming issues that held up the flow of aid dollars to storm victims could have potentially been reduced if the state had better integrity monitoring of private contractors in place from the very beginning.
Improvements in the ProcessDespite the past troubles and delays, state officials claim that many of those problems have now been remedied. Trenton has made a number of changes on its end in recent months to quicken the flow of aid money, including allowing homeowners to start work before all their funds have been released and allowing them to submit more paperwork by mail rather than having to make as many visits to Housing Recovery Centers.
The changes seem to be having their intended effect. A report submitted to the federal government for the second quarter of the year noted that the state spent more than $175 million on aid programs over the preceding three months, compared with just $100 million in the previous quarter. The state's report to HUD for the third quarter of 2014 is due to be released any day, and the numbers it contains will show whether this trend has continued.
_________________________________
Scott Gurian is the Sandy Recovery Writer for NJ Spotlight, an independent online news service on issues critical to New Jersey, which makes its in-depth reporting available to NewsWorks.