New lottery system for Philly trade school admissions stokes debate
Listen
0:00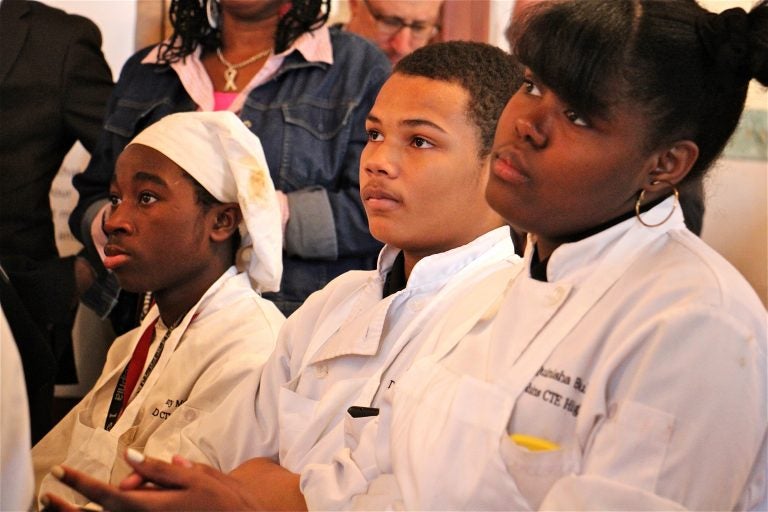 For decades, Philadelphia's Career and Technical Education (CTE) High Schools have been among the city's most desirable, attracting motivated students from every neighborhood.
And for years, they've been able to cull their students, discarding applicants with poor grades, poor attendance, or even just a poor interview.
All of that, however, is about to change.
Starting with this year's eighth graders, the school district of Philadelphia's four CTE high schools — Murrell Dobbins, Swenson Arts and Technology, A. Philip Randolph, and Jules E. Mastbaum — will admit students via lottery. There will no longer be any admissions criteria other than students showing interest.
If there are too many students for the number of seats available, high achievers will have no advantage over those who struggled in lower grades.
District leadership says the move is about fairness. By shedding admissions criteria, officials say, these schools can serve all interested students, rather than casting aside those who may have tripped up in seventh or eighth grade.
"This is all about creating access for children and making sure that regardless of where children live they have access to some of our more successful programs," said superintendent William Hite. "There's a lot of interest in CTE. We have children on a wait list, we have CTE programs that are not filled."

But critics believe the shift threatens the vitality and quality of successful schools, essentially turning them into new versions of the come-one-come-all neighborhood high schools that many consider the city's worst.
Alumni unite
"It would change the whole tone of the school," said Connie Little, a 1965 Dobbins grad. "It's like the want to make it a neighborhood school. [Dobbins] is not a neighborhood school."
Little, a longtime aide to former Mayor John Street, and other Dobbins alum are vowing to fight the change.
"When we go to a fight, we come prepared," Little said. "And we're prepared to win."
What seems, at surface, a technical question about high school admissions policies is actually a referendum on equity and excellence in a school district struggling to balance the two.
Earlier this year, the Pew Charitable Trusts published a report on Philadelphia's free-wheeling high school choice system, where students can pick among special admissions schools such as Central and Masterman, citywide admissions schools such as Dobbins, and neighborhood high schools.
Each school has its own criteria, and this complicated setup systematically disadvantages certain students, Pew found. In particular, Latino students whose credentials qualified them for top schools tend not to even apply. And the city's most selective, academically focused schools are disproportionately white and Asian.
The city's four CTE schools — which were designed to focus on vocational training — accept applicants from all over the city, but have a lower academic bar than special admissions schools. At Dobbins, for instance, applicants must have A's, B's, or C's, no more than 10 latenesses, and no negative disciplinary reports on their most recent final report card. Applicants also must submit to an interview before hearing whether they've been accepted.
In 2015, the year of the Pew study, Dobbins received 1,601 applications and accepted 687 students. Other CTE schools also rejected hundreds of applicants. Among citywide admissions schools, Philadelphia's CTE high schools received some of the highest numbers of total applications. And no citywide admissions school rejects more students than Swenson Arts and Technology.
| | | | |
| --- | --- | --- | --- |
| SCHOOL | # APPLICATIONS | # ACCEPTED | ACCEPTANCE RATE |
| Murrell Dobbins | 1601 | 687 | 42.9% |
| Swenson | 2533 | 857 | 33.8% |
| Randolph | 1055 | 621 | 58.9% |
| Mastbaum | 1282 | 798 | 62.2% |
District officials want to open the doors wider, by both adding seats at CTE schools and shedding the admissions criteria that, they believe, bar too many motivated students from entry.
"Interest is the criteria," said Hite. "If children are interested in pursuing cosmetology or building trades or culinary arts…I want the children in those programs."
He said that he concluded that schools were imposing "barriers to entry" for admission to programs that could actually change students' attitudes about school.
The superintendent said it's nonsensical to take children with multiple absences and turn them away from a program that interests them. Rather, the district should be pursuing policies to engage those kids who aren't lit up by the standard curriculum.
"We had criteria in CTE programs that were basing it on previous things students did in middle school and, in some cases, elementary school," Hite said. Some children were truant, he said, because school did not have a course of study that interested them. The current admissions system denies them entry to a program "that could motivate those children to actually engage in school in a very different way. This is about opening up opportunities for more children, these are still citywide admission schools, they are not neighborhood schools."
But where district brass see expanded opportunity, Dobbins alum see the continued dilution of a school that was once a bastion of black excellence in long-suffering North Philadelphia.
A bastion of excellence
Dobbins' impressive alumni network includes everyone from basketball luminaries (Dawn Staley, Hank Gathers, Doug Overton) to members of the political elite (former top cop Sylvester Johnson, Sheriff Jewell Williams, and ex-fire-chief Lloyd Ayers). In its postwar heyday, Dobbins was considered one of the city's top schools, alum and former teachers recall.
"Dobbins was slightly below Central," said Rich Yankowitz, the school's legendary basketball coach who taught at the school from 1969 to 2005.
Yankowitz remembers a version of Dobbins so full with students they had to be educated in three shifts. And no one got into the school without passing an entrance test and the discerning eye of the admissions committee, on which Yankowitz served.
"We turned students away with, like, ten absences," Yankowitz said.
Today, Dobbins has only about 600 students, and much of its hulking, eight-story frame lies empty. Yankowitz attributes the enrollment decline to a shift away from tried-and-true vocational programs such as automotive engineering and carpentry.
On its latest School Progress Report, Dobbins scored just an 8 out of 100, a mark indicating it's in need of significant academic improvement. Only one third of students matriculated to college and just one percent scored advanced or proficient on the statewide algebra test.
Yankowitz believes achievement will only continue to drop if Dobbins can't screen applicants,
"The level of the children you're going to get into school is just going to drop even further," he said.
The furor among Dobbins alum gestures to a generally acknowledged truth about Philadelphia's high school system: if your school isn't a school of choice, it will become a school of last resort. Those schools required to take anyone who walks in the door typically wind up with the least engaged students from the most disadvantaged backgrounds.
For Dobbins alum, retaining some veneer of desirability is critical. Otherwise, Dobbins, they believe, will function much like a comprehensive, neighborhood high school.
"In the prisons you don't find students from the technical schools and the specialty schools," said Yankowitz. "You find most of the prisoners from comprehensive high schools. So why in the world are you gonna try to take away what's good in the city and just make it another so-so school?"
Why not Central or Masterman too?
Connie Little also detects inconsistency — and even discrimination — in the district's commitment to access and equity.
Top schools such as Central and Masterman also have far more applicants than available spaces, but the district isn't changing their admissions criteria. She believes the CTE schools are being singled out because they serve students of color and are located in poorer communities.
"Everyone one of those schools are in what we call 'the hood,'" Little said.
Dobbins, at 22nd and Lehigh, is 89 percent black and in the heart of a zip code where 40 percent of residents live below the poverty line.
(Swenson, located in the Northeast, may be the exception to Little's rule.)
Even though most will acknowledge the downstream effects of having admissions criteria, especially on the neighborhood high schools, it can be politically difficult to tinker with brand-name schools. Many, like Dobbins, have strong and well-connected alumni networks.
Little said she's already spoken with many of the city's top political leaders about the proposed changes to Dobbins' admissions policy.
But Hite has started to test his limits.
Just last month he announced that Science Leadership Academy, a successful magnet school, will share building space with Benjamin Franklin, a comprehensive high school. Last school year, Philly merged the struggling Leeds Middle School in Northwest Philadelphia with Hill-Freedman World Academy, a standout magnet program.
Each of those moves stemmed, in part, from a desire for greater equity. Each also risked blowback from powerful constituents.
The district's new CTE admissions policy appears to be in that same vein. And it seems to have unearthed familiar tensions around whether the district should safeguard good schools or open their doors wider.
"You can't destroy what was once great," said Yankowitz, the former Dobbins basketball coach. "And that's what's gonna happen."