Emotional testimony as $15 minimum wage for N.J. passes first legislative stage
A long day of at times emotional testimony culminated in a key legislative committee approving a bill that would raise New Jersey's minimum wage to $10 later this year and put the state on a path to having the wage reach $15 by 2024.
The vote along party lines in the Assembly Labor Committee yesterday marked an initial victory for worker advocates. They've been pushing for years for a dramatic pay increase for the state's lowest-income residents; an estimated 1 million people in New Jersey have jobs that currently pay less than $15.
But the hearing also gave critics of the proposed legislation an opportunity to air their many concerns, including whether a mandatory higher wage could impact local governments which employ low-wage workers and rely on property taxes to cover the salaries of those workers. Some also noted the bill lacks any language that would establish an "off-ramp" that could be triggered if the economy tanks — something that California lawmakers incorporated into that state's recent minimum-wage hike to deal with any unintended consequences.
With New Jersey's wage measure now poised to go through both the full Assembly and Senate in the coming weeks, it remains to be seen whether legislative leaders will allow for any amendments to be made in response to those concerns. Doing so could threaten to upset a deal struck by Gov. Phil Murphy, a first-term Democrat, and legislative leaders from his own party after several months of back-and-forth negotiations. Murphy has made establishing a $15 minimum wage a core priority since taking office last year.
Advocates say current wage doesn't match cost of living
New Jersey's minimum wage is set every year under language that's written into the state constitution that requires annual adjustments based on changes in the rate of inflation. That policy led to a slight increase in the wage on January 1, from $8.60 to $8.85, which pushed a full-time worker's yearly income up by about $500 to $18,400 annually.
But worker advocates for years have been saying that, even with the inflationary adjustments, the minimum wage has not kept pace with the state's high cost of living. They have pointed to research conducted by the United Way that suggests someone needs to make at least $26,640 annually in New Jersey to make ends meet. And compared to 1968, when the minimum wage was $1.40 in the state, today's rate would have to be $10.31 to have the same purchasing power, according to an analysis of federal labor statistics.
The current minimum wage here also trails the rates provided in many neighboring states, including in Connecticut, where it is $10.10, and New York, where the hourly wage is between $11.00 and $15.00, depending on the size of the business and where it is located. New Jersey's minimum wage still outpaces Delaware, where the rate is $8.75, and Pennsylvania, which has a wage of $7.25.
Under the legislation that was approved yesterday, New Jersey's minimum wage would rise to $10 on July 1, and to $11 on January 1, 2020. It would then increase by $1 in each subsequent year until reaching $15 in 2024. From there, the wage could continue to go up as the constitutional language that calls for inflationary adjustments would still be in effect.
The bill creates a separate ramp-up schedule for seasonal workers and those employed by businesses that have five or fewer workers. That group would get to $15 by 2026.
There is also a carveout for farmworkers; they would get to $12.50 by 2024, with an opportunity for state officials to eventually bring them up to $15 by 2027. Workers who earn a tipped wage, including bartenders, waiters and waitresses, would also see their first raise since 1991, with the rate eventually going from $2.13 up to $5.13 over a five-year ramp-up.
Atlantic City worker describes his struggle
Despite fighting against carveouts, worker advocates praised the bill's advancement yesterday, saying it represents a major step forward for the estimated 1 million workers in New Jersey whose jobs currently pay less than $15.
"This is a significant number of New Jerseyans who are barely making ends meet," said Analilia Mejia, director of the New Jersey Working Families Alliance.
Brian Kulas, an Atlantic City food-services employee, fought back tears as he told committee members about his struggles as a low-wage worker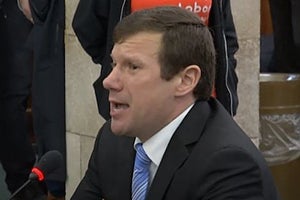 and what the increase would mean for him. He said he recently had to choose between buying food and personal hygiene products.
"I'm not buying anything that's a luxury," Kulas said.
But there was also compelling testimony on the other side of the debate, including from Stan Kaplan, who owns a gas station and auto-service center in Ewing. He said the forced increase in the wage would put his gasoline business into the red, which would likely force him to close his pumps and lay off the workers who run them.
Gas station owner: 'Not in business to lose money'
"I'm certainly not in business to lose money," Kaplan said. "I'm going to simply walk away from my gas pumps."
The higher wage could also become an issue for local governments, including municipalities that rely on property taxes for revenue but are also forced to stay within a 2 percent annual cap on tax increases. Michael Cerra, assistant executive director of the New Jersey League of Municipalities, said it could either bring on higher service fees or service cutbacks in many places.
"There really are no other alternatives because of the 2 percent cap, and there is no cap relief included in this bill," Cerra said.
During the hearing, concerns also were raised about whether the definition of a seasonal worker was too narrow in the bill and whether the carveout for companies with five or fewer employees should be expanded to provide more relief to small businesses.
Assemblyman Moriarty: 'Time to help workers'
Several business advocates also suggested that an off-ramp from the graduated wage increases should be added to the bill. Such a policy would give lawmakers a way to freeze the increases if the state is hit hard by a recession or a precipitous rise in unemployment.
"I suggest that's significantly important," said Michele Siekerka, president and chief executive of the New Jersey Business & Industry Association.
Assemblyman Hal Wirths (R-Sussex) said his own minimum-wage proposal, which wasn't put up for consideration yesterday, would provide businesses and low-income workers with new tax breaks along with higher wages. Before voting against the Democrats' measure, he called their proposal "way too aggressive."
"I think it will be very damaging to the businesses and unfortunately by the time many people in this room are vindicated, the damage will be done and it will have cost us a lot of jobs," said Wirths, who is a former state labor commissioner.
But Assemblyman Paul Moriarty (D-Gloucester) pointed to prior concerns about minimum-wage increases tanking the economy that never materialized.
"I have voted for so many bills to help business, to find a better business environment in this state," Moriarty said. "We've thrown money at businesses. It is time to help workers."