Eagles fans are perfecting the art of the 'takeover'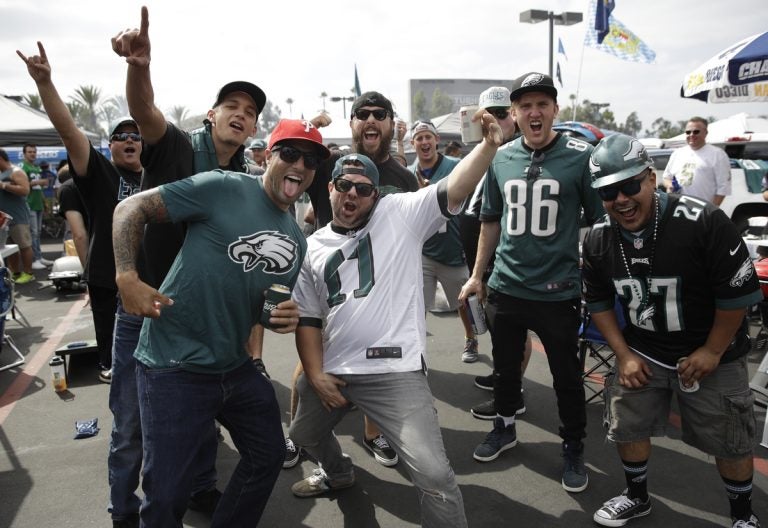 It's no secret that winning away games in the NFL is a daunting task.
Luckily for the Eagles, who've played four of their first six games on the road, Philly fans travel well. It doesn't matter if it's 100 miles up the Turnpike to New York's Metlife stadium or a 2,700 mile trek to Los Angeles to the Charger's new home — the sound of chanting E-A-G-L-E-S fans will fill the air.
After another road victory at Carolina Thursday night, the Eagles stand atop the NFC with a 5-1 record. And their rabid, traveling fans have played an essential role in helping them win three of their four away games thus far, propelling the Birds to one of the best starts in team history.
Eagles wide receiver Nelson Agholor summed up what the fans' support means to them on the road: "They show up, they have a great time, they support the guys and we feed off their energy."
It's fun for the players — and even more fun for the fans, many of whom choose to travel together in groups with hopes of taking over the opposing team's stadium, and showing just how dedicated the Eagles Nation can be.
Craig Chenosky and Marilyn Minda run The Green Legion, a company that offers Eagles away game packages and trips, as well as home game tickets and tailgate packages. Chenosky founded the company in 2003 and hasn't  looked back since. Minda joined in 2007 and together they take groups of hundreds and sometimes thousands of loyal fans all over the country to tailgate, bar hop, explore different cities, and cheer on the team.
"I'm definitely aging faster than I need to," Chenosky, President of The Green Legion, said about traveling the country with Eagles fans. "I've gone from a financing and marketing degree to an adult babysitting degree."
Although Chenosky may not be using his college degree in the most conventional way, Philly fans probably don't mind that he created a way to have fun and help their beloved team win more games.
If you are an Eagles fan, it may be no surprise to you that there has been Midnight Green scattered all throughout the stands of opposing team's stadiums this year. But for fans of most of the Eagles' opponents, it is unprecedented.
"At our tailgates we have a tradition of marching into the stadium in volume, together, as a group of say, 500 people," Minda said. "Just seeing the faces of the people at their cars watching that volume of Eagles fans walk by, they're more than awestruck."
Eagles fans are a different breed. Minda knows from first hand experience that nobody does it quite like the Eagles fans do.
"We have a tailgate here at home every home game and we've never seen volumes of the competition's fans walk by," Minda said. "I'm not saying they don't come to the game, I'm just saying they don't come in large groups, all at once, swarming the Linc."
Eagles fans? They swarm.
The next chance for Eagles fans to take over won't be until next month when they take on division rival Dallas Cowboys. The Eagles enjoy the comfort of their home stadium for the next three weeks.
But Chenosky and Minda look forward to energizing fans and pushing the Eagles to their next road victory in Dallas that day. The players will surely be counting on the support from the fans on the road the rest of the way.
Travel packages vary in price, but a three night trip to Dallas offered by Green Legion including airfare, hotel, bar specials, admission to the tailgate and ticket game runs around $1,000 per person.
"They travel so well for every game," Eagles quarterback Carson Wentz said following a road victory in Los Angeles. "It is so enjoyable and they make it so fun, but it is starting to be the norm almost. Hats off to them. They bring it every game no matter where we are."
With Dallas scheduled for November 19, Eagles fans look forward to the challenge of showing "America's Team" what Green Legion's loyalty is all about.