Dysfunctional Trump, battered by tell-all tidbits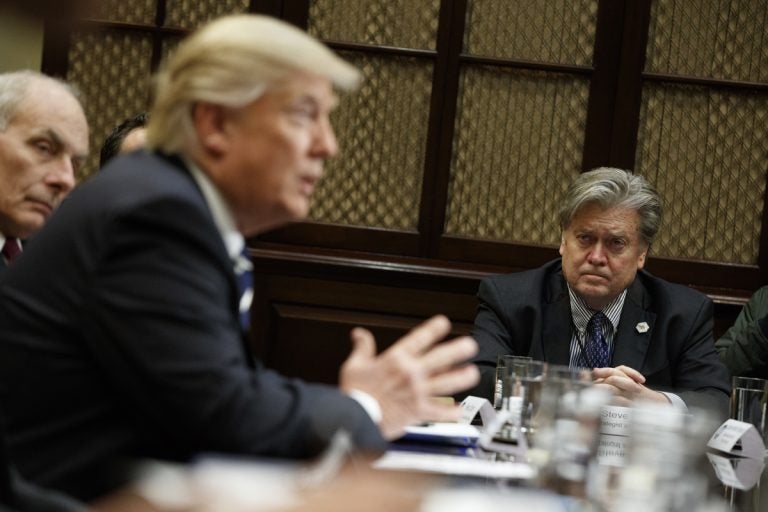 The bomb cyclone hit with hurricane force yesterday, battering the building and besieging its occupants. I'm referring, of course, to the new book about Trump and his dysfunctional regime, a tell-all tome replete with sickening details that entertain as well as nauseate.
You've probably heard that the leaked portions of "Fire and Fury," authored by New York journalist Michael Wolff and slated for official release next Tuesday, has prompted Trump to break up his bromance with former chief strategist Steve Bannon, a key source in a book that's reportedly based on 200 inside sources. You've probably heard about Bannon's quoted opinion that Donald Jr.'s Trump Tower meeting with the Russians was "treasonous," and that "it's as plain as a hair on your face" that Robert Mueller's probe "is all about money-laundering."
What's important about this book is that Wolff was (inexplicably) allowed to roam the West Wing and talk to all sorts of people for weeks on end, putting them on tape. There's no way that Trump can blame the book's contents on "Democrats" or on the "Deep State" or on whatever conspirators he might conjure beneath his tinfoil hat. Everybody in the White House leaks about the mad king.
And the Bannon stuff is merely a taste of the toxic smorgasbord. Consider this tidbit — culled from the people who work for Trump:
"He could not really converse, not in the sense of sharing information, or of a balanced back-and-forth conversation. He neither particularly listened to what was said to him nor particularly considered what he said in response. He demanded you pay him attention, then decided you were weak for groveling. In a sense, he was like an instinctive, pampered, and hugely successful actor. Everybody was either a lackey who did his bidding or a high-ranking film functionary trying to coax out his performance — without making him angry or petulant."
And this description of his work process:
"He didn't process information in any conventional sense. He didn't read. He didn't really even skim. Some believed that for all practical purposes he was no more than semi-­literate. He trusted his own expertise ­— no matter how paltry or irrelevant — more than anyone else's. He was often confident, but he was just as often paralyzed, less a savant than a figure of sputtering and dangerous insecurities, whose instinctive response was to lash out and behave as if his gut, however confused, was in fact in some clear and forceful way telling him what to do. It was, said [aide Kate] Walsh, 'like trying to figure out what a child wants.'"
And this priceless anecdote:
"Early in the campaign, [aide] Sam Nunberg was sent to explain the Constitution to the candidate. 'I got as far as the Fourth Amendment,' Nunberg recalled, 'before his finger is pulling down on his lip and his eyes are rolling back in his head.'"
And this depiction of Trump's first week in power:
He "was already trying to limit his hours in the office and keep to his normal golf habits."
There's all kinds of juice to imbibe — like Rupert Murdoch's description of Trump as "a f—ing idiot," and billionaire Thomas Barrack Jr.'s remark that his pal Trump is "not only crazy, he's stupid," and Trump's love of sexual hijinks (he "liked to say that one of the things that made life worth living was getting your friends' wives into bed"), and former Trump legal spokesman Mark Corallo's privately-confided belief that some of Trump's behavior "represented a likely obstruction of justice," and much more — and what this tells us, at minimum, is that Steve Bannon is the least of Trump's problems.
What it also tells us is that the Trump team is stupider than a box of rocks. His lawyers actually sent a letter to Wolff's publisher, demanding that it "cease and desist" to release the book next Tuesday. Apparently they're a tad dim about the First Amendment – and tactically dim as well, since that move alone will gin up more sales for the book.
Trump is now trying to distance himself from Bannon, his usual practice when someone in his circle becomes a liability. Suddenly he's making believe that he barely knows the guy, that Bannon has "lost his mind" and "is only in it for himself." (This is what's known as psychological projection.) Trump similarly claimed that the indicted Paul Manafort, his campaign chairman during the crucial nomination period, "was only there for a short period of time." Trump has falsely claimed that plea-copping aide George Papadopoulos was a "young low-level volunteer" who "few people knew." Trump, via his lawyers, has also sought to minimize the indicted Michael Flynn, dismissing him as "a former Obama administration official."
But he can't explain away everybody around him. A bomb cyclone can batter a building, but this particular White House is being chewed up from the inside.
And if this is what we're already getting on day four of the new year, 2018 looks like a wild one.
—
Meanwhile, Trump announced yesterday that his fraudulent voter "integrity" commission is officially dead. (I wrote two weeks ago that it was already comatose.) Oh well. I guess we'll never know the identities of the "three million illegals" who rigged a popular vote victory for Hillary.
Trump hilariously claimed in a tweet that he killed the commission because "Democrat" state officials refused to hand over their sensitive voter information. He forgot, or never knew, that the firmest rejection came from red-state Mississippi, which said this about Trump's partisan hacks: "They can go jump in the Gulf of Mexico."