During the mayoral campaign, Kenney promised to build 30+ miles of protected bicycle lanes. Almost 2 years later, where are we?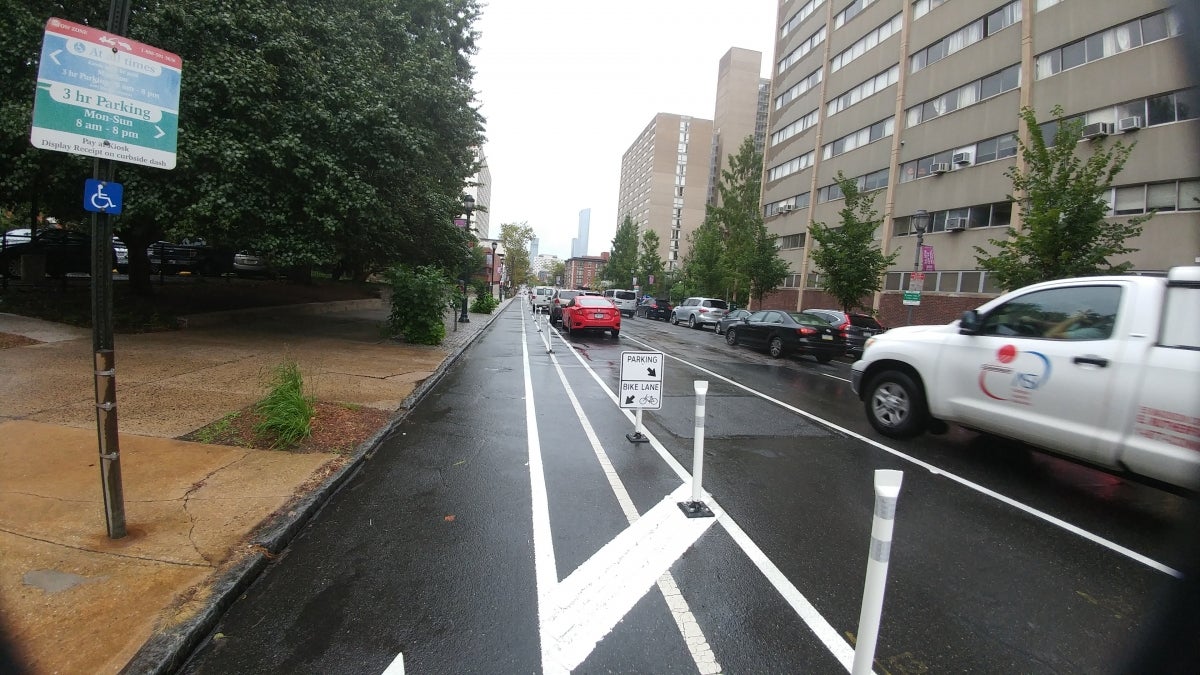 In the 2015 mayoral race, then-candidate Jim Kenney pledged to build more than 30 miles of protected bicycle lanes in Philadelphia, to accompany the more than 400 miles of unprotected bicycle lanes that already separate bicycle and automotive traffic.
Last April, the city won funds for thirteen protected bicycle lane projects, which would fulfill the thirty miles pledge. But actual construction on those projects has lagged since, frustrating many bicyclists who voted for the Mayor.
At the end of August, the city celebrated the opening of a protected bike lane on Chestnut Street between 33rd and 45th Streets. Last year, a section of protected bicycle lanes were built along Ryan Avenue Next to the Pennypack Creek Park and another section on Frankford Avenue as a link to the Pennypack Creek Trail. The city also has plans to install protected bike lanes on American Street in Kensington — though recent renderings show inconsistencies in the lane placement and level of protection for the project, which is set to begin construction in 2018 and finish sometime in 2020.
Very few of the planned protected lane projects have rolled out. The stretch of Race Street between Fifth and Ninth streets remains unprotected. Much of the painted infrastructure across the city is withering away, particularly along 22nd Street and Moyamensing Avenue. White striped lanes erode over time, leaving what seems to be an awkward and dangerous extension of space unreserved for cyclists. The plastic delineator posts lining parts of South Street and Walnut Street Bridges have been destroyed by cars repeatedly, only to be replaced months later — or not at all as is the case with short strip along the eastbound lane of the South Street Bridge.
2016 ended with the Kenney administration fulfilling their pledge to add 15 miles of bike lanes, protected or unprotected, by installing 16 miles of bike lane infrastructure. However, as of autumn 2017, construction of protected bicycle lane has sputtered. Even though the funding is there, the will to build is not.
The Bicycle Coalition of Greater Philadelphia's Executive Director, Sarah Clark Stuart, expressed mixed feelings about the state of Philadelphia's protected bicycle network. "Progress has been slow to ramp up… more progress needs to be demonstrated on the ground going forward," Clark said. "I'd like to see the mayor help by getting a little more involved and help sell the safety benefits of protected bike lanes."
The creation of the Office of Complete Streets and hiring of Kelley Yemen to run it represents actionable proof that the Mayor is pursuing his pledge, says BCGP.
Stuart credited OTIS and Yemen for "doing a lot of work behind the scenes" to build protected lanes along the nine blocks of Chestnut Street, a process which took six years in total. But at the opening ceremony, Councilwoman Blackwell suddenly suggested that the bike lane should be a temporary pilot, after hearing complaints from constituents during its construction. In response, OTIS Deputy Manager Mike Carroll said simply that the installation is permanent.
Implementation Woes
Bicyclist advocates and OTIS face an uphill battle installing bike lanes in many neighborhoods, where the loss of parking to benefit cyclists riding through evokes NIMBYism among residents who have grown accustomed to available on-street parking near their homes. Recently, a project to build a protected bicycle lane on Lombard and approaching the South Street Bridge was squashed when neighbors along Lombard Street successfully appealed to Councilman Kenyatta Johnson to oppose the proposal. Despite the council member's opposition, the mayor's office maintains that the project remains viable.
Bike Coalition Communications Manager Randy LoBasso described the bike lane planning process as a cumbersome and inconsistent. "We got the pledges, Mayor Kenney was on board with the miles and Vision Zero," said LoBasso. "What are the exact approvals to be found or met before implementation is ready? It could use more order so everyone understands what the ground rules are."
While Mayor Kenney has the executive power to push forward with protected bicycle lanes that do not require Council approval, like the Pine and Spruce Street arteries linking West and East ends of South Center City, spokesperson Lauren Hitt defended the Mayor's deference to district council members. "They have an excellent understanding of the different community leaders and groups with whom we need to work to make these bike lanes a success," said Hitt.
But bicycle advocates want the mayor to do more. "If the mayor could be a stronger safety cheerleader, be up front saying, 'that we need to get this done,' I think it would go a long way to achieve what we're trying to achieve," said Bob Previdi, policy coordinator for the Bike Coalition.
According to the Coalition's Stuart, better bike lanes will benefit all road users. "It's going to incentivize better cyclist behavior," said Stuart, who suggested that the long-proposed protected bike lanes on JFK Avenue and Market Street would make those streets safer for pedestrians to cross as well.
When asked whether the city will get to 30 miles of protected bike lanes Kenney pledged during the campaign, Hitt replied, "While that remains a long-range goal, the outreach and planning we've done has revealed that the interconnectivity of bike lanes is far more crucial than the total number of miles. In a City of limited resources, filling gaps and making connections is our strategic focus in bringing more bike lanes to Philadelphia."
The addition of Chestnut Street brought the total mileage of protected lanes built to a little over two miles.
WHYY is your source for fact-based, in-depth journalism and information. As a nonprofit organization, we rely on financial support from readers like you. Please give today.