Drexel to reveal magnetic drums to the world
This weekend, Drexel University will reveal a new musical instrument it has been working on for a year.
It's a drum kit played with magnets, instead of sticks.
If you glued a metal foil onto the underside of a drum head, then put an electromagnet just millimeters above it, the drum resonates.
It makes a sound similar to a synthesizer — think of the meaty drone of a 1970s prog rock synth – but the sound is entirely acoustic: it's a floor tom with a mylar head, resonating the air.
"When you can create acoustic sound with the richness and complexity that comes with that it's great," said engineer Jeff Gregorio. "If you can control it digitally, it's even better."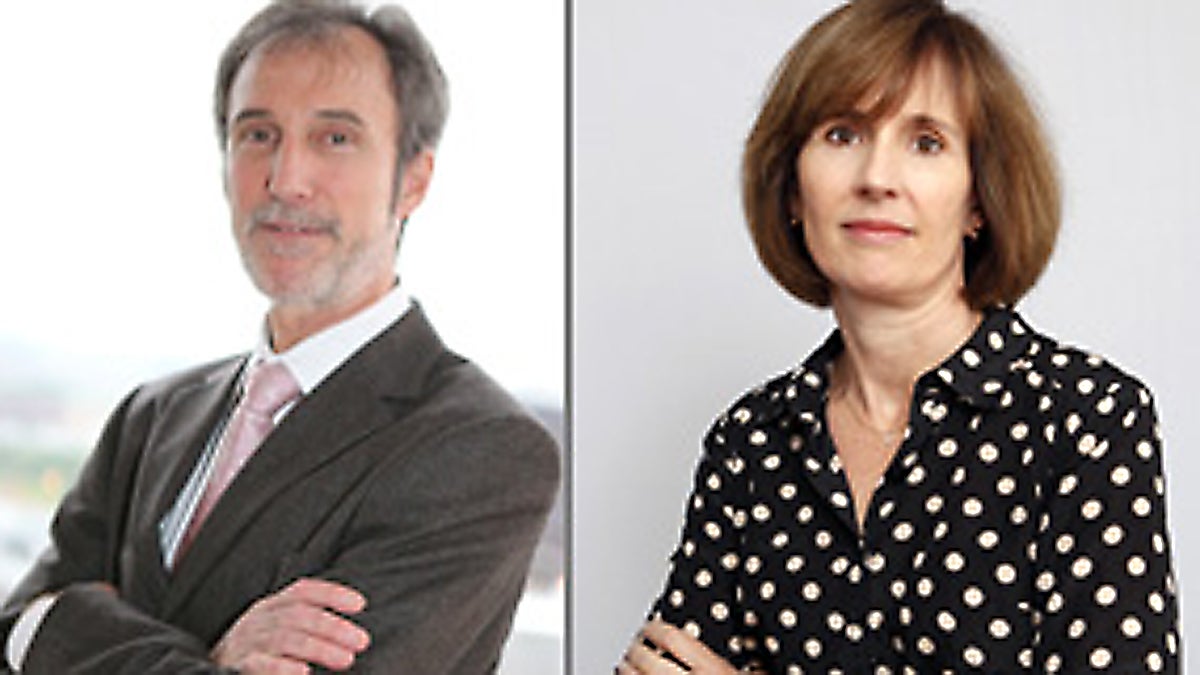 Drexel researcher Jeff Gregorio (left) and ExCITe Center artist in residence Peter English will unveil "Drumhenge" at two interactive performances on Saturday, June 17. (Emma Lee/WHYY)
Gregorio is a PhD candidate at Drexel University's ExCITe Center, a multidisciplinary project bringing together several disciplines toward various ends. For this project — funded largely by the Knight Foundation — his job was to invent an innovative concept marrying music and technology, and make it function.
He collaborated with musician Peter English, an artist in residence at the ExCITe Center. His job was to make it cool.
"It sounds like a synth, but it doesn't sound like a synth," said English. "It's in the air. It's physical. It has an other-worldly feeling. I love that sound. It's a fascinating sound."
The drums are triggered from a keyboard, not unlike using a Casio to play water glasses. With a turn of a knob the player can change the attack of the magnet – the speed and force with which it turns on — to create something closer to a percussive sound. You can also whack the drum with a stick – old school style — and let the magnet fortify the decay.
The drums can also play themselves. Each drum is equipped with wifi technology; put a several of them in an array and they will communicate with each other, creating patterns among themselves.
Each drum in the "Drumhenge" is equipped with a small computer and wifi, which allows the instrument to take instruction from a computer, a keyboard, or another drum. (Emma Lee/WHYY)
For the public demonstration on Saturday evening, English and Gregorio have wired 16 drums with electromagnets, arranged in a circle in order for audience members to more easily interact with them.
"It's not a drum circle, even though it is in a circle," English insisted. "It's a henge. We need to be clear on that."
A henge – as in Stonehenge. While trying to avoid the stigma of a drum circle, English stumbled into the stigma of Stonehenge, which worked out very badly in the mock documentary film, "Spinal Tap."
"There's obviously the potential for a whole Spinal Tap faceplant," he admitted. "But — you know what? — let's embrace that. This is what happens when you try new things."
To prepare for Saturday's demonstration, English is inviting local musicians — including Chris Powell of the band Man Man — to noodle with the drums and discover what they can do.
The goal is to make the complicated technical prototype into something intuitive, bringing it closer to music. After spending the better part of a year developing magnetic drums, English and Gregorio are crossing their fingers that the debut of the new musical technology jives with people's ears.
"There are a lot of great instruments out there. Why do you need a new one?" said English. "You need to make sure it's interesting."