'The case has been resolved': Settlement in Dominion defamation case against Fox News ends weeks of waiting in Wilmington
Fox has agreed to pay $787.5 million to resolve claims it broadcast and perpetuated bogus claims that Dominion Voting Systems stole the election from Donald Trump.
Listen
1:36
"The case has been resolved."
With those five words Tuesday at 4 p.m., Delaware Superior Court Judge Eric M. Davis broke the tension that had been building for months, weeks, and days in advance of the defamation trial pitting Dominion Voting Systems against Fox News and Fox Corp.
Davis took the bench after a courtroom packed with 200 lawyers, journalists, and spectators from the public endured wait after wait for the last two days for a trial that had been scheduled to begin Monday morning.
Davis didn't disclose any details but outside the courthouse 20 minutes later, Dominion lawyers announced the whopping $787.5 million settlement. Dominion had sought $1.6 billion in damages.
"Lies have consequences. The truth does not know red or blue,'' lead plaintiff attorney Justin Nelson said before dozens of reporters and camera crews. "But for our democracy to endure for another 250 years and hopefully much longer, we must share a commitment to facts."
Dominion claimed in its lawsuit that Fox defamed its company by repeatedly airing false allegations, perpetuated by then-President Donald Trump and his lawyers and acolytes.
That included bogus claims that Dominion programmed its voting machines to steal votes from Trump and award them to Delaware's Joe Biden in the 2020 election.
Dominion also charged that Fox commentators and executives knew the claims of a rigged election were false, but continued airing them anyway, even after Dominion provided them with ample evidence the Trump team was lying.
Fox argued that it was merely reporting on matters of the greatest consequence — the presidential election — and that comments made by the president are always newsworthy in a democracy.
Davis had ruled last month after a pretrial hearing that it was clear Fox defamed Dominion by repeatedly broadcasting false allegations. The jury that was seated Tuesday was poised to decide whether Fox committed actual malice, and if so, how much financial damages Fox must pay Dominion.
'Fox News must be held accountable for what they did'
Davis had delayed the start late Sunday while both sides reportedly engaged in settlement talks.
But when those negotiations failed to produce an agreement by Tuesday morning, the two dozen or so lawyers on each side descended on courtroom 7E, along with a media throng from outlets as far away as Australia, to document the biggest current civil proceeding in America.
Outside the courthouse, a circus atmosphere of sorts reigned.
More than a dozen members of the television media camped outside under canopies while on-air reporters applied makeup and practiced their lines, then delivered remote reports to their stations.
A black box truck circled the block with aggressive messages on its side, including "Fox News Lied," and "Rupert Murdoch Knew."
The truck rolled around the blocks courtesy of the advocacy group Media Matters for America.
While almost everyone in court was a reporter or lawyer, a few spectators were sprinkled among the attendees.
One was John Flaherty, a member of the Delaware Coalition for Open Government.
"Fox News, instead of just reporting the news, they are the news,'' Flaherty said. "They became a propaganda organ for somebody against this company that did no harm to nobody. So we'll see what happens.''
Flaherty said he suspected jurors would find that Fox's actions met the high bar required of actual malice.
"I think Fox News is in deep, deep trouble,'' Flaherty said. "They got those emails that I've read that indicated that they knew that what they were reporting was false. And their close relationship with the Trump administration, I think, casts a lot of doubt as far as their impartiality."
Retired electrical engineer Bill Schultz stood alone at the courthouse exit, holding a sign that read: "Fox + GOP = Fascist propaganda."
"Fox News needs to be held accountable for what they did to America," Schultz said. "Simple as that."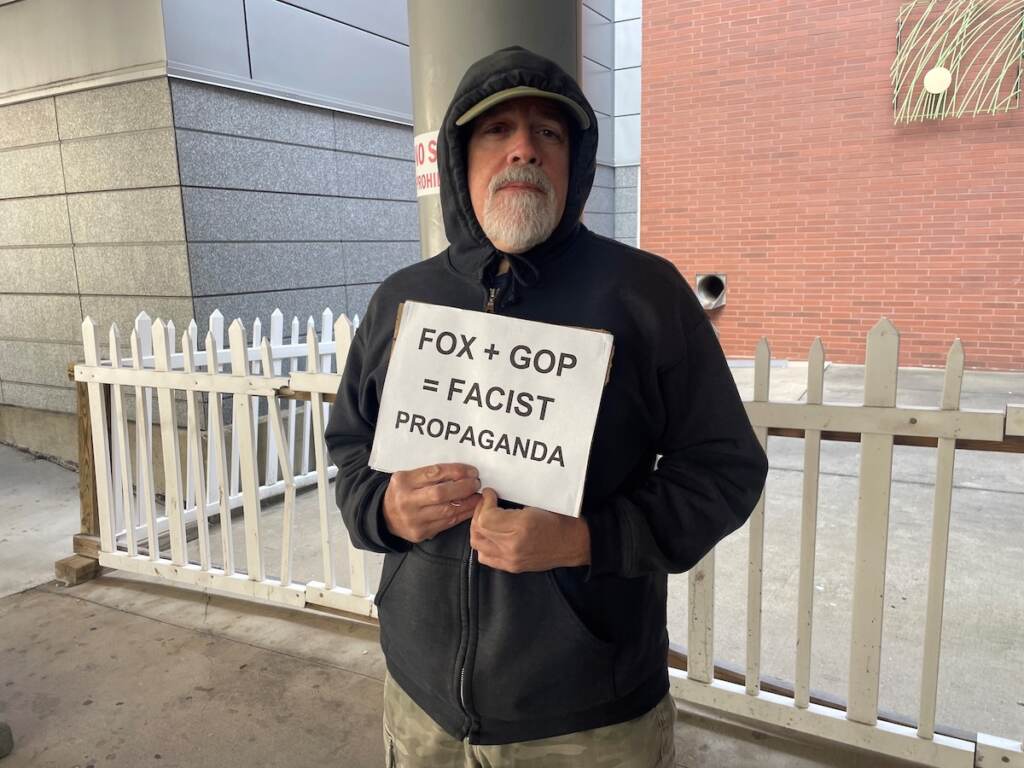 No pro-Fox demonstrators or spectators were visible in or outside the courtroom.
'We thought it would be a very important trial for this country'
But with a settlement seemingly off the table, at least immediately, Davis needed a jury to hear the case.
He spent two hours presiding as lawyers from both sides each struck several prospective jurors, finally setting on 12 jurors and 12 alternates for what was to be a six-week trial.
One moment of levity occurred as Davis began reading instructions. One of the alternates, a middle-aged man wearing a black T-shirt from the MonsterMania horror movie convention, blurted out that he could not go on.
"Can I be excused?'' he almost begged the judge. "I've been up all night. I can't take this."
Davis called a recess, in part to discuss the issue with the man in private. When court resumed, the man had been excused. He was replaced a few minutes later.
Opening arguments were set to begin at 1:30 p.m. after lunch. But spectators waited and waited, while lawyers from both sides conferred and came in and out of the courtroom.
And then, in an instant, it was over.
Alan Bushell, who had driven more than two hours to Wilmington from Bergen County, New Jersey, with his wife, expressed his disappointment on the elevator as he exited the courthouse.
"This case was a bust,'' Bushell said.
Outside, the couple spoke about why the lawsuit meant so much to them.
"We thought it would be a very important trial for this country, for the press, for everyone living here,'' Barbara Bushell said.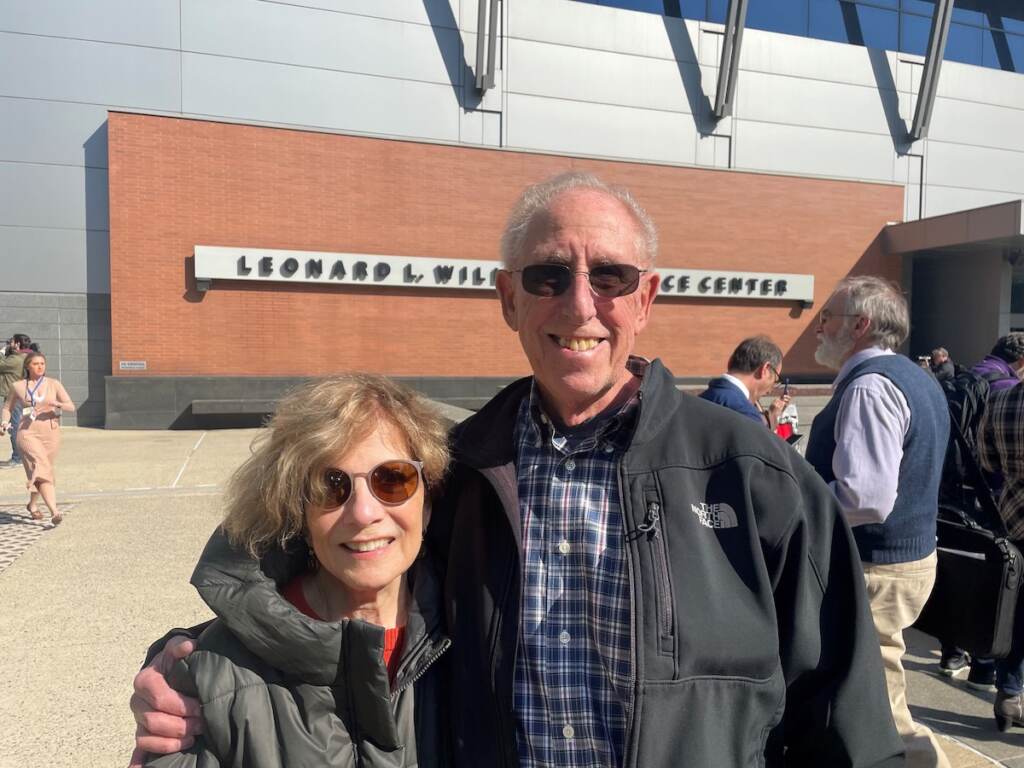 Alan Bushell wanted Fox to apologize publicly.
"If there's no public apology, if there's no acknowledgement of lying to the public, if there's no change in how Fox operates and the other right wing media, then we're still going to have this problem in the end,'' he said.
Fox News didn't apologize but did issue a statement admitting to mistakes.
"We acknowledge the court's rulings finding certain claims about Dominion to be false,'' the Fox statement said. "This settlement reflects Fox's continued commitment to the highest journalistic standards.
"We are hopeful that our decision to resolve this dispute with Dominion amicably, instead of the acrimony of a divisive trial, allows the country to move forward from these issues."
WHYY is your source for fact-based, in-depth journalism and information. As a nonprofit organization, we rely on financial support from readers like you. Please give today.