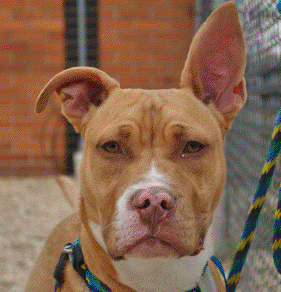 Poor Spike (A12476930). He was returned to the shelter after being adopted because his owner has to move and couldn't take him with her. Spike is a 6- to 12- month-old pit mix, medium sized and about 30 pounds. Spike is still a puppy and can get very excited and pull on his lead a lot. He craves attention but isn't rough about it. He seems to want to listen and please and would probably do well with puppy-training and learning commands.
Spike is appropriately playful, but because he is still a puppy if you have children under 10, they must come in to meet him. Also, if you have any dogs at home, please bring them in to meet Spike. This dog is a little diamond in the ruff. Do you have what it takes to polish him up?
These animals are located at Philadelphia's animal control shelter, ACCT. They need immediate adoption or foster care.
ACCT is located at 111 W Hunting Park Ave. and is open 365 days a year. Please check the PSPCA website for hours. To check the status of an animal, call 267-385-3800, email nsmith AT pspca.org or mdecker AT pspca.org.
Don't forget to check out the weekly Animal Care & Control event at the Petsmart in Haldeman Plaza, where you can learn more about adoption and foster care, and meet some animals who need a good home.
Check in every week with NEast Philly to see the cat and dog of the week.