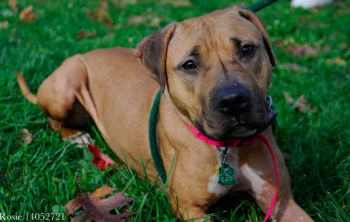 Hi, my name is Rosie (A14052721) and I'm a young pit mix, about 1 to 2 years old.
On first glance, I look kind of like a puppy, but I'm full grown at less than 40 lbs! That's what we call a "pocket pittie." I'm a very polite girl in my kennel — I spend all of my day sitting quietly just being my adorable self hoping that someone comes to save me.
I'm a really good girl outside of the kennel- I am fantastic on the leash and remain focused on my handler. Sometimes I jump a little, but I respond very well to a correction. My favorite place in the whole world is right inside your lap- I looooove curling up with my handler and giving him or her kisses. Often times when I'm really happy, I express myself through an adorable little snort!
I promise to bring lots of smiles to your life. I did fantastic in my behavior evaluations and didn't mind being touched all over, nor did I care about kitties! I did well with dogs in my dog meets, too, and have begun having regular play dates.
I think a reason I keep getting overlooked is because I have some scars on my face. The people aren't sure why or how I got them, but I hope you won't judge me for them because I'm a very loving, polite girl with everyone I meet.
I almost forgot- I'm already spayed too! I am part of a Pen Pal program, which means that I have a volunteer who is dedicated to working with me, teaching me manners and tricks, keeping me happy in the shelter and most importantly, communicating with potential adopters or foster parents!
If you are interested in saving my life, please don't delay! Contact my Pen Pal through this link.
These animals are located at Philadelphia's animal control shelter, ACCT. They need immediate adoption or foster care. ACCT is located at 111 W Hunting Park Ave and is open 365 days a year. Adoption hours are Monday-Friday; 1pm-8pm; Saturday and Sunday; 10am-5pm. To check the status of an animal, call 267-385-3800. Check in every week with NEast Philly to see the cat and dog of the week.
This weekend, you can visit ACCT pets at:
Cutter's Mill Chalfont – DOG & CAT ADOPTIONS: Saturday, October 22. The event will run from 11:00 to 2:00 at the Cutter's Mill in Chalfont (4275 County Line Rd, Chalfont, PA).
Petsmart Haldeman – DOG & CAT ADOPTIONS: Saturday, October 22. The event will run from 11:00 to 2:00 at the Petsmart in Haldeman Plaza (11000 Roosevelt Blvd.).
The ACCT Adoption Center is open: Monday through Friday 1:00 PM to 8:00 PM Saturday and Sunday 10:00 AM – 5:00 PM