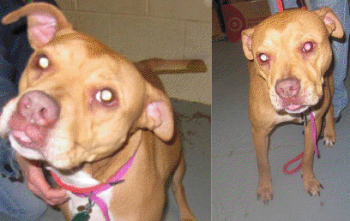 Bella (A12335162) is a friendly 3-5 year old American pit bull mix. Sweet Bella was surrendered for adoption because her previous owner could no longer keep her in his current home. Bella is very scared here in the shelter, but once she gets to know you she
warms up and is very playful.
She was so wiggly it was hard to get a good picture of her. Bella should not go to a home with cats. She got along with all the dogs we introduced her to, but she would do best with a calmer dog in her forever home. If you have small children and other dogs please bring them in when you come to meet Bella. Adopt this beautiful girl today!
These animals are located at Philadelphia's animal control shelter, ACCT. They need immediate adoption or foster care.
To check the status of an animal, call 267-385-3800, email nsmith AT pspca.org or mdecker AT pspca.org.
Don't forget to check out the
weekly Animal Care & Control event
at the Petsmart in Haldeman Plaza, where you can learn more about adoption and foster care, and meet some animals who need a good home.
Check in every week with NEast Philly to see the cat and dog of the week.