Delawareans debate late-term abortion ban before Senate committee
Listen
1:41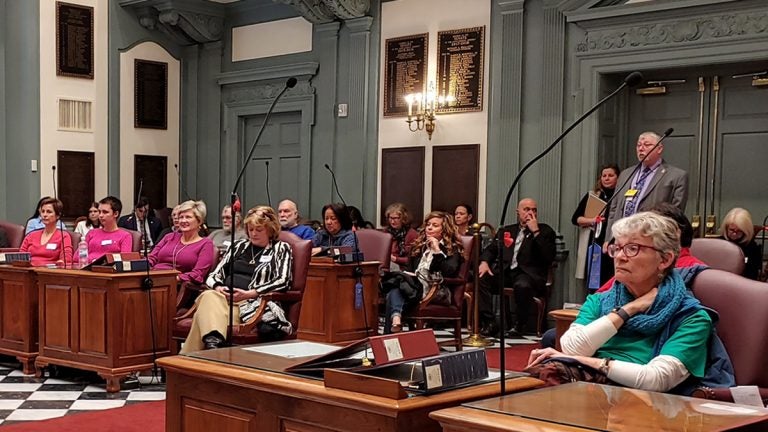 Dozens of abortion opponents and those supporting a woman's right to choose gathered in Delaware Legislative Hall in Dover Wednesday to testify about the procedure as lawmakers weigh a ban on late-term abortions.
Under the legislation, performing an abortion after 20 weeks could be classified as a Class D felony — unless it were to prevent the mother's death or severe injury.
A companion bill would require doctors to offer an ultrasound to women considering abortion.
"I think this horror needs to end," said bill sponsor, state Sen. Bryant Richardson, R-Laurel, in front of a Senate committee, which must decide whether the bill is released to the floor for a vote.
"A law that deprives someone of life is an unjust law, especially if the motivation of the law is for the convenience of another," he said.
During Wednesday's committee hearing, abortion opponents cited research saying that a fetus can feel pain after 20 weeks.
Other medical experts contradicted that claim — doctors from the Medical Society of Delaware and Christiana Care spoke out against the bill. They said the legislation would "revoke the ability to provide safe care due to the inaccurate concept of feeling pain."
The American Congress of Obstetricians and Gynecologists has maintained that a fetus does not reach viability until 24 weeks. According to Planned Parenthood, only point 5 percent of abortions are late-term.
Dr. Donna J. Harrison of the American Association of Pro-Life Obstetricians and Gynecologists said if a woman's health is in danger, she should be given a C-section, not an abortion.
Women who had abortions spoke about regretting that decision  and the depression they've experienced. Several said they might have chosen another option if they'd seen an ultrasound image of the fetus.
Others testified that, thanks to Roe v. Wade, they were able to have an abortion in a safe facility. They fear any ban will make abortions more risky.
Ruth Lytle-Barnaby, president and CEO of Planned Parenthood Delaware, said the small percentage of women who have abortions after 20 weeks are usually in tragic situations.
"There are women who have fetal anomalies discovered well after 20 weeks. Imagine having a pregnancy for an extra 20 weeks when you know there's no way the fetus will survive. That's really cruel," she said.
Lytle-Barnaby added the ultrasound bill is meant to "shame women."
Richardson accused Planned Parenthood of trying to "protect their cash flow."
"I'm going to fight as long as I have a breath for these unborn children who don't have a voice," he said.
A similar measure Richardson introduced last year was not debated.
Delaware is not the only state debating the issue. Lawmakers in Tennessee, South Carolina and Arkansas are trying to restrict abortions. Virginia and New York legislators are aiming to expand abortion rights.
And Delaware passed a law in 2017 that protects a woman's right to choose if the Roe v. Wade Supreme Court ruling legalizing abortion is overturned.