'Our Super Bowl': Golf fans celebrate as top PGA stars tee off in Wilmington
Officials expect the biggest sporting event in the history of northern Delaware to draw more than 130,000 fans, and pump tens of millions of dollars into the economy.
Quentin Burslem and Chris Scorziello, beers in hand, reveled Thursday morning in their good fortune at snagging catbird seats for the BMW Championship at Wilmington Country Club.
From their front-row perch just above the first tee box, they watched in awe as many of the PGA's top competitors blasted majestic 300-yard drives down the fairway to kick off the biggest sporting event in the history of northern Delaware.
"It's amazing. I mean, there's no other feeling like this,'' Scorziello gushed. "Get to see professionals just go out and shoot their best game possible. I'm still in shock."
Burslem, a top golfer at the nearby DuPont Country Club, said he has been relishing the chance to watch world-class practitioners of his sport up close, in his hometown.
"Any time a club is able to secure a championship such as the BMW, it's obviously really, really good for the club,'' Burslem said. "And as far as the area goes, just the jobs that it's creating for people and the volunteer work that's being done has a huge impact on the area."
For nearly two decades ending in 2004, DuPont Country Club hosted the women's LPGA McDonald's Championship and then the LPGA Championship. But except for that and NASCAR races at Dover Motor Speedway, Delaware has had only college or minor league pro sports teams and events.
Now comes the BMW Championship, the semifinals of the Fed-Ex Cup playoffs. A total of $15 million in prize money will be awarded among the 70 players, including $2.7 million to the winner.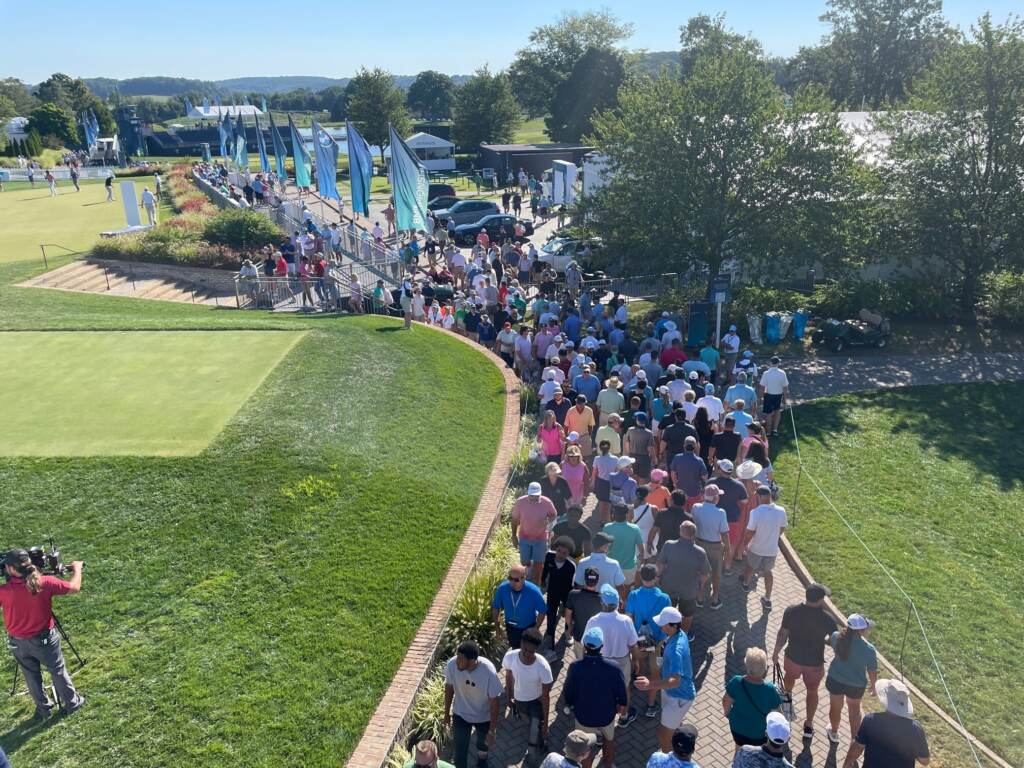 Tournament organizers expect more than 130,000 golf fans to trek through Sunday to the country club on Wilmington's outskirts for the tournament. Hotels, restaurants, and other businesses anticipate an economic boost in the tens of millions of dollars.
Already this week, fans have been posting photos on social media of the golfers, some of whom are staying at Wilmington's Hotel DuPont. Rory McIlroy, one of the sports luminaries, has already dined at two local restaurants, Bardea in downtown Wilmington, and Capers & Lemons near Greenville.
Andy Lubin, a real estate developer who is one of 2,100 volunteers at the event, said it's a great opportunity to showcase the area to the nation and world.
"It's great for the state of Delaware,'' Lubin said from his volunteer spot in a hospitality area of the 18th hole. "It's wonderful for the city of Wilmington in terms of the visibility that the national television and international television will give Delaware,"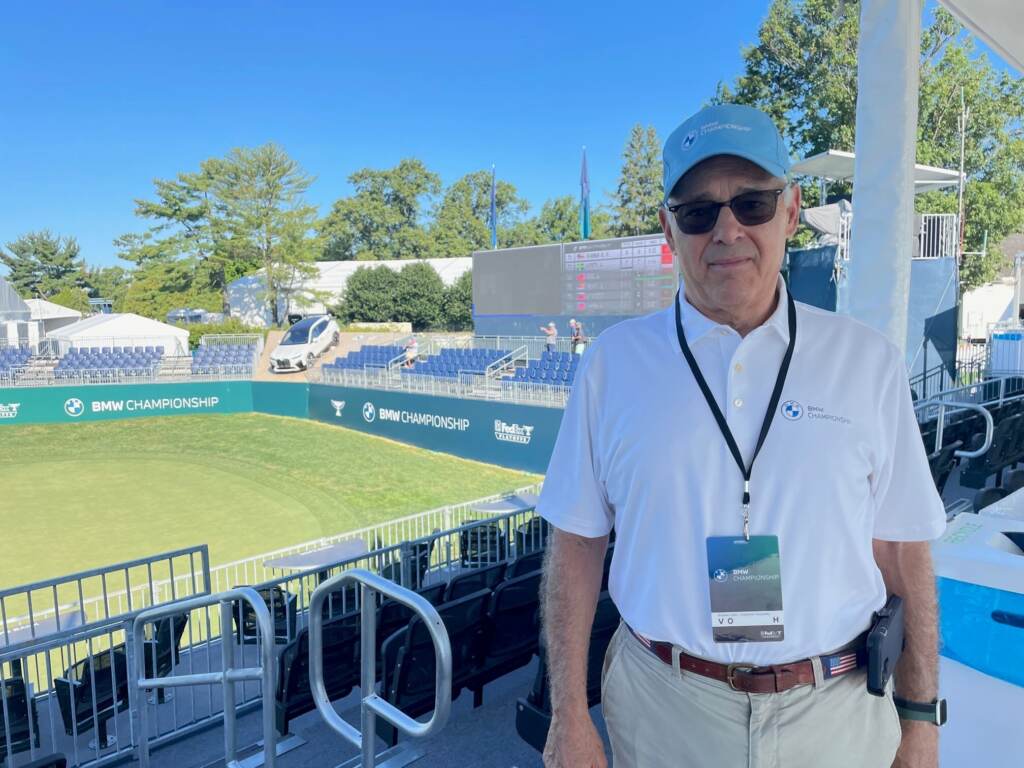 And on a sunny morning with low humidity, perhaps you can forgive Lubin for engaging in a bit of hyperbole. "And the weather is magnificent, as it always is in Wilmington,'' he quipped.
New Castle County Executive Matt Meyer, who visited the course Tuesday, shared Lubin's enthusiasm.
"This is our Super Bowl. This is big for us. Delaware doesn't get Super Bowls, World Series, PGA golf championships like this,'' Meyer said. "We have Rory McIlroy. Tiger Woods was here. The best in the world at this game are here. Thirty thousand people a day."
Woods, the most popular figure in golf, isn't playing. But he was in town briefly on Tuesday and met with fellow nearly two PGA stars at the Hotel DuPont. The topic was devising a strategy to deal with the new Saudi-backed LIV Golf tour that has already signed many top stars such as Phil Mickelson and Dustin Johnson. Golfers who have joined LIV Golf have been banned from PGA events such as the BMW Championship.
But controversies in the world of golf don't matter to Meyer. He says the tournament serves as a perfect vehicle to celebrate Wilmington and generate future tourism.
In that vein, he encourages visitors and residents alike to head down to Wilmington's riverfront on Friday and Saturday night, for a city- and county-sponsored party where admission is free.
"No, $50, $100, $200 tickets,'' Meyer said. "Everybody can come. They're going to be food trucks, live music. Come have a good time."
For Paul Ruggiero, president of beer, wine, and liquor wholesaler NKS Distributors, the BMW Championship gave him a chance to play with professionals in Tuesday's Pro-Am event. He played nine holes each with Matt Kuchar and Maverick McNealy.
"I felt like I was a 6-year-old on Christmas morning. It was like the first time at Disney World,'' said Ruggiero, whose daughter Christina caddied for him. "The whole experience was fantastic."
He raved about the expertise of the pros, who were merely practicing for the real show.
"To be right there next to them and watch the precision, how they play, how they stroke the ball, the coordination, the power, was just incredible," Ruggiero said. "And both players were really friendly, great guys to talk to. They made it super fun."
Beyond his personal sports thrill, Ruggiero echoed others who tout the tournament's benefits to his state "and all our bars and restaurants, with all the folks coming in to see the best players."
Tim Glavin, who is retired from the medical services business, says he's simply delighted to have professional golf back in Delaware again.
"I miss the LPGA,'' Glavin said. "I'm just glad the community gets to see professional golf again. And we're going to see it at its highest level here. So it should be a blast."
Fans look toward the first tee. (Cris Barrish/WHYY)

A spectator checks out the course layout at Wilmington Country Club. (Cris Barrish/WHYY)

BMW is showcasing its vehicles outside a showroom near the first tee. (Cris Barrish/WHYY)

The pros practiced on the putting green before teeing off. (Cris Barrish/WHYY)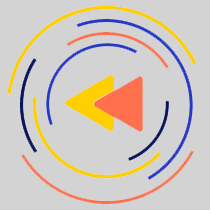 Saturdays just got more interesting.
WHYY is your source for fact-based, in-depth journalism and information. As a nonprofit organization, we rely on financial support from readers like you. Please give today.