Delaware teachers union president resigns after sexist, racist blog posts unearthed
The president of the Delaware teachers union resigned Wednesday night, just hours after WHYY reported about sexist, racist, and other inflammatory remarks on his former blog.
Listen
1:06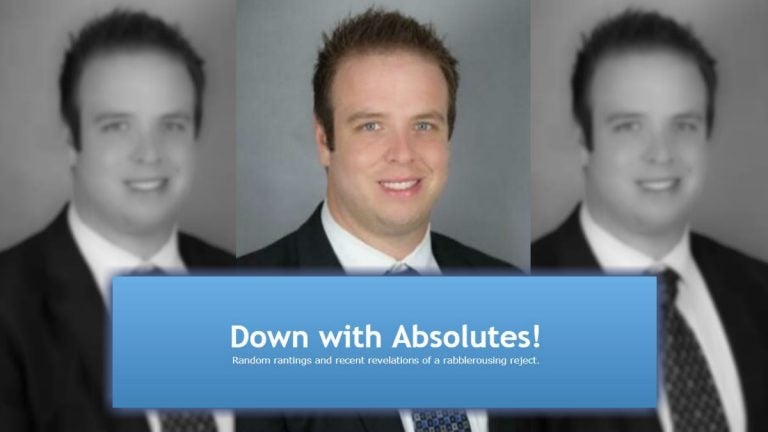 The president of the Delaware teachers union resigned Wednesday, just hours after WHYY reported about sexist, racist, and other inflammatory remarks on his former blog.
Mike Matthews, a fifth-grade teacher who was elected in 2017 to a three-year term to lead the 13,000-member Delaware State Education Association in 2017, stepped down after the union's executive board met Wednesday. The job is a full-time post that paid him $95,000 — which amounts to 150 percent of the state's average teacher salary.
His successor, Stephanie Ingram, announced Matthews' departure in a late-night news release.
Ingram, an elementary school teacher who had been vice president, said that even though the posts about then-Gov. Ruth Ann Minner, state Reps. Helene Keeley and Melanie George Smith, Muslims, refugees, and others were from a decade ago, they "were completely inappropriate and contrary to the views or values of the educators who make up the DSEA."
Ingram said the union's members — about 75 percent of whom are women — "take seriously our responsibility to our members, their students, and our community." The union is widely considered the most powerful and influential labor organization in Delaware.
Among the blog posts, which were verified by WHYY before publication:
Matthews called then-Delaware Gov. Ruth Ann Minner a "Butch Bitch." He wondered whether a video of "chocolate, caramel and vanilla brothas" gang-raping Minner would boost her poll numbers. Minner could not be reached for comment.
He called then-House Minority Whip Keeley "delectable" and "gorgeous" with a "come hither" look. He wrote about her "hot feminist booty" and quipped: "Come see me. I'll have you begging to take my last name."
He called state Rep. Melanie George Smith "uber-hot" and wondered what she would be wearing to Legislative Hall.
Matthews also wrote in October 2005 that "blowing all the Muslims up" perhaps isn't such a bad idea. He suggested a child molester was justified if his wife was a "stank-ugly ho."
In September 2005 he wrote this about a family displaced by Hurricane Katrina being relocated to the Wilmington area on the same block as four sex offenders: "If sacrificing one of her children to a sex offenders is the cost, then her bitching is totally unwarrented (sic)."
After WHYY's story posted Wednesday, one state lawmaker said he had searched months ago for Matthews' remarks after a contentious meeting, but couldn't find them after searching the internet for about three hours.
Matthews' Down With Absolutes blog, which was filled with irreverent remarks that mostly targeted political happenings in Delaware, ran from 2004 to 2009. Matthews later wrote that he hoped he had "provided a service in some kinky way."
Matthews would not speak with WHYY Thursday. But in a Facebook post about 1 p.m., he reiterated the apologies and regret he had expressed in an interview earlier this week.
Matthews expressed his regret for his former posts in a Facebook post today about 1 p.m.
"For any hurt, pain, or grief I caused individuals because of my words, I can only offer a full-throated, genuine apology without exception or qualification,'' he wrote. "And hope that the work I've done since entering education and my role as a union leader can, in some minor way, redeem the words that are in no way a reflection of where I am today.

"We are in very challenging times right now … a time where individuals are being scrutinized for actions they've taken in the past and how those actions should be weighed on their present and future.
"While I own and take responsibility for the words I published nearly a decade ago, I do not condone them nor are they words that would ever slip from my brain to my hands to the keyboard ever again. It is no defense to say that I was a rambunctious, wily twenty-something attempting to find his way in the world who had suddenly found an audience willing to receive the often thoughtless words I posted on the Internet."
Matthews also wrote that that "in rendering a final judgment on who I am," he hoped friends and union members "would be willing to measure my work over the past five or six years and whether or not that should have some bearing considering the words I published long ago … As I shared with the executive board on a conference call Tuesday night, I consider what I did with my blog as running up a large credit card tab. And now the bill has come due. And I am willing to accept any consequences that come with that."
The questionable blog posts cannot be found with a general online search. WHYY obtained copies of several offensive posts, however, from a source who had unearthed them from the online archival site, waybackmachine.org. The source, who works in education circles, requested anonymity out of fear of retaliation or being ostracized by Delaware education officials, advocates, and politicians.
After being contacted by WHYY, union officials began their own investigation. Executive director Jeff Taschner said Thursday that he and others knew Matthews had operated the blog, but were unaware of the remarks in question. Taschner called the situation "serious" and said the leadership would be meeting soon to discuss the "next step."
Taschner said Thursday that Matthews submitted his resignation letter early Wednesday night, in advance of an executive board meeting.
Asked what he thought about Matthews' previous online remarks, Taschner said: "Mike's decision speaks the loudest on that. He believes that what was shared, which he never denied, made his ability to lead this organization difficult. Mike put the organization and the membership in front of himself.  I look at other people who have been very public lately who have put themselves in front of institutions or organizations."
'Needed to act quickly and they did'
'The state Department of Education and the office of Gov. John Carney had no comment on the controversy involving the leader of a union that routinely advocates for better pay and conditions for teachers, and supports political candidates.
Meghan Wallace, who runs Mary Ann's List, a political action committee that supports pro-choice Democratic women running for office, gave Matthews credit for stepping down. She said even posts from a decade ago, especially about sexual violence, don't warrant a pass.
"I'm not saying we need to be drudging up things in people's past just just to have an issue with them but this is pretty vile stuff," she said. "And it think it really deserves attention. It deserved attention a while ago."
Atnreakn Alleyne, who runs the Delaware Campaign for Achievement now that helps students of color boost academic performance, agreed.
Matthews' misogynistic, racist and other offensive comments, even though most occurred before he became a teacher in 2009, "are despicable and demeaning and they needed to act quickly and they did. Kudos to them for that. Kudos to Mike for owning the remarks and doing the right thing."
Alleyne also urged urged the teachers union to continue the discussion about what's appropriate behavior for educators.
"DSEA should really be looking into conversations about misogyny, about racism, sexism, sexual harassment in the education profession," he said.
Taschner said those discussions are "currently woven into our values and beliefs.
Laura Sturgeon, a language teacher and former member of the union's board, is the Democratic nominee for the state Senate's 4th District seat against incumbent Republican Greg Lavelle, and was openly supported by Matthews.
In a Facebook post Thursday, Sturgeon praised "Mike's advocacy" for educators and noted "how much he has matured since his early 20s."
Sturgeon said he made the right decision to step down.
"I also know that Mike understands as well as I that time does not diminish the gravity of his statements in a position so centered on our children and the role models that we provide them," he said.
Ingram was not available for an interview Thursday. But in the news release she stressed that she is "committed to helping DSEA to continue moving forward, building on the important partnerships with parents, community leaders, and elected officials, and maintaining our focus on the goal of providing all Delaware children with a quality education."
Matthews' post did not discuss his plans for the future and Taschner said he doesn't know if Matthews would return to teaching at Cooke Elementary School in Hockessin.
Pati Nash, spokesman for Cooke's district, Red Clay, said Matthews is currently on a three-year leave to work for the union. To return to active status, he would have to apply to the Red Clay board, which would vote publicly on whether to reinstate him to active status.
WHYY is your source for fact-based, in-depth journalism and information. As a nonprofit organization, we rely on financial support from readers like you. Please give today.