Delaware State University names first permanent female president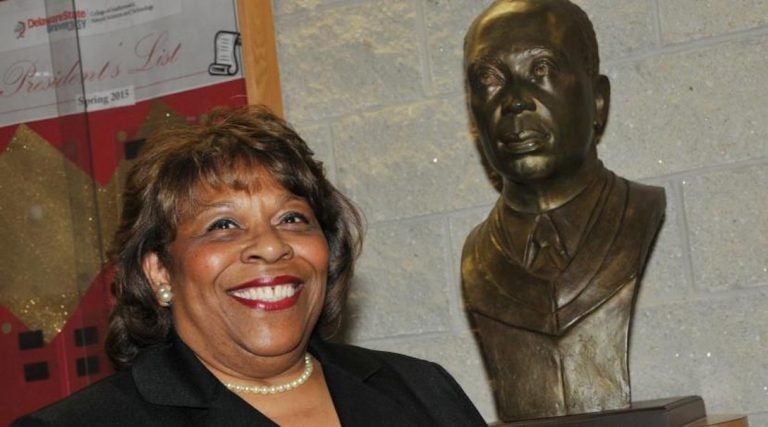 Delaware State University has named its first permanent female president, picking interim leader Wilma Mishoe, whose father Luna headed the Dover school from 1960 to 1987.
Mishoe, 68, is a former Delaware and Ohio college administrator who was named chair of Delaware State's Board of Trustees in August. But in November, she was named interim president when Harry L. Williams resigned after nearly eight years to become chief executive of the Thurgood Marshall College Fund.
Her interim appointment was history-making for the 127-year-old school. Now she's broken through the ultimate glass ceiling at Delaware State, which several college ranking groups consider one of the country's leading Historically Black College and Universities.
Mishoe was not immediately available Monday morning to discuss her new post, which she assumes July 1.
But in a letter to "students, faculty, staff, alumni, community partners & friends,'' board chair Devona A. Williams praised Mishoe as a "dynamic leader and a four-decade veteran in higher education with deep roots at what has been, for 127 years, one of the most important institutions for access to higher education in the country.
Delaware State, which grew, diversified, and expanded its research scope under Harry Williams, has an estimated 4,600 undergraduate and graduate students.
"Our priority is to keep the university moving forward with an intentional focus on student success," Mishoe said in a written statement when she was named interim president.
That statement also said that the "momentum'' the school gained under Williams "must continue. Standing still while we search for our next great leader is not an option. We have to keep innovating and improving."
Enrollment grew by nearly 25 percent under Williams, who established partnerships with institutions of higher learning globally in Africa and China.
Mishoe also cited her history at Delaware State when she succeeded Williams on an interim basis.
"You know I grew up on that campus years ago, as a child of a college president. My father was the president of Delaware State College at the time for 27 years,'' she said then. "I've observed an awful lot of change at that institution and it doesn't have the same meaning to other people because they haven't experienced it the way that I have."
In 2014, Mishoe had become acting president of Wilberforce University after 11 years on that school's board.
She has been a higher education administrator for 36 years, mostly at Delaware Technical Community College, from which she retired in 2010, but also at then-Wilmington College from 1975-1980.
Devona Williams' letter lauded Mishoe's "exceptional leadership'' as interim president.
"In short order, she has repositioned the focus of the institution squarely on our students, requiring that we all— trustees, faculty, and staff —look through the lens of the student in everything we do,'' Williams wrote.
Williams added that Mishoe has prioritized "stronger communications and accountability … while leading a comprehensive review of every policy and practice at the university. This review is transparent and includes overdue discussions in facilities improvement, better customer service, student life, teaching and instruction, athletics, and budgeting and accounting."
Mishoe is also seeking $100 million from the state to deal with what Williams called "critical deferred maintenance issues that have gone unattended for far too long."
The board chair also cited a line that Mishoe routinely says: "Some people may love my students just as much as me, but no one loves them more."
Mishoe' next step is to go to China for 10 days with Williams "to visit our partnering universities in Ningbo and Changchun, and to begin building partnerships with many more,'' Williams wrote.