Delaware State researchers join fight against chemical weapons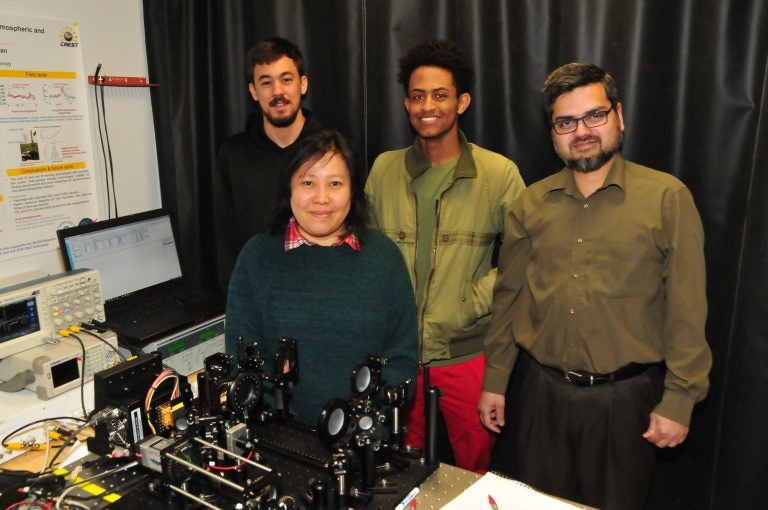 The hunt for the next chemical weapon attack could start at a laboratory at Delaware State University in Dover.
The U.S. Department of Defense has awarded DSU physics and engineering professor Mohammad Khan a $102,000 grant to develop a laser system for detecting chemical and biological weapons. Once developed, the system would be mounted on a drone and flown within range of suspected weapons caches.
"As our military and combat operations become more 'lean' and automated, this project will train and prepare students to be ready for challenges and adapt to cutting-edge technologies required for the next-generation workforce," Khan said.
Khan said the sensor will be able to detect sarin gas and other chemical agents. UN experts have said sarin was used in multiple attacks in recent years by the Syrian government against opponents. The sensor will also seek out other chemical agents, volatile organic compounds and dangerous hydrocarbons such as benzene, toluene and xylene.
"The instrument will play an important role for large-scale sensor network applications in several initiatives by the Office of Naval Research," Khan said. "Those areas will be integrated with environmental and life sciences to better understand modern day threats."
The grant money comes from the Department of Defense's Hybrid Complex Warfare Division.
Delaware State has made a name for itself in the field of optics. In 2011, researchers at the Dover campus joined NASA in analyzing information sent back by the Curiosity rover from Mars. In 2012, the school started construction of its Optical Science Center. Between 2006 and 2012, the optics program received $23 million in research grants, making it one of the school's most prolific research efforts.
Last year, DSU professor Renu Tripathi was awarded a $728,000 grant from NASA to develop new technology to measure the Earth's magnetic field for possible use in satellite missions. The research, which will be conducted  through 2020, will be aimed at creating a new laser-based remote magnetometer for measuring the magnetic field at mesospheric altitude (31 to 50 miles above the surface of the Earth). Tripathi and co-principal investigator Gour Pati will collaborate on field tests with a team from NASA's Goddard Space Flight Center.