Delaware, other state Medicaid programs consider acupuncture as opioid alternative
State governments are thinking about how to treat pain other than opioids.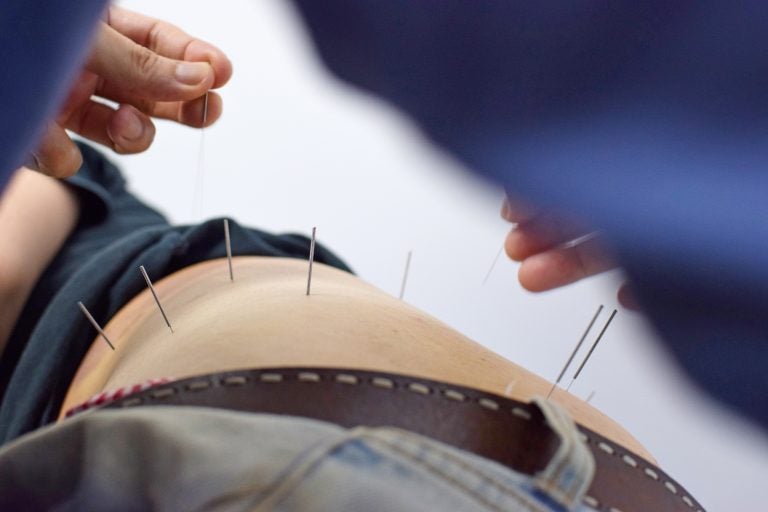 When Reno Reali was serving in the Army in Iraq in 2005, he was injured during a mortar attack. He had a lot of surgeries on his back, struggled with post-traumatic stress disorder, and used a wheelchair for a while.
And then there was the pain.
"It was waking up every single day with … this overwhelming dread," he said. "I was in so much pain … just getting out of bed took a lot of effort."
His doctors prescribed fentanyl patches for pain relief around the clock.
A few months ago, his therapist suggested he try something else — acupuncture.
Reali was not convinced.
"I didn't think anything was going to work because I had been taking the medications for so long, but then I got to a point with the medication where the medication wasn't working either," he said.
But now, Reali is off the pain meds. He gets acupuncture, and he practices tai chi and yoga at the VA Medical Center in Philadelphia to cope. He is getting his bachelor's degree in psychology, and he attributes some of that progress to acupuncture.
"Being able to … sit in a classroom without pain is great … and I was not able to do that with the medications," he said.
Dr. Iliana Robinson, a medical acupuncturist, treats Reali and other veterans at the VA Medical Center.

"Acupuncture is one of the things that should be tried first," said Robinson, who is also a gynecologist with Penn Medicine. "The side effects are minimal to none … when patients do try it, they are very grateful. Sometimes it's like the first time they've had a pain level less than five."
Although no one is sure how exactly acupuncture works, she said that is also true of anesthesia and other medications that doctors use. Robinson said she would like to see that option available for patients who want to cut back on pain medication.
Will it be covered?
New Jersey Medicaid already covers acupuncture for pain; Pennsylvania does not, and Delaware is considering it.
In June, the Delaware House and Senate passed a bill that says insurance providers cannot put an annual or lifetime limit on the number of visits to physical therapists or chiropractors for back pain.
An earlier version of the measure called for starting a pilot program within the state employee health plan to cover acupuncture, massage therapy, and yoga for back pain, but those provisions did not make it to final legislation.
Karyl Rattay, director of the Delaware Division of Public Health, said officials are trying to determine how much it would cost to have the state's Medicaid program cover acupuncture for back pain. An early analysis put the cost at millions of dollars, she said.
A recent review of clinical trials found that there was low to moderate evidence that acupuncture works for chronic neck and low back pain.
Ohio Medicaid expanded coverage to include acupuncture this year, but Vermont decided in February that there was not enough evidence to do the same.
WHYY is your source for fact-based, in-depth journalism and information. As a nonprofit organization, we rely on financial support from readers like you. Please give today.