Delaware museum sends George Washington's dishes back to China
Listen
3:31
While America and China have been at war of words over trade policy,  a Delaware museum has been doing its own cultural diplomacy by helping Chinese scholars preserve and explore their own history.
Workers are very slowly and very gingerly cutting plastic foam to protect plates and other porcelain dishes that once belonged to President George Washington. The items being packed at Winterthur Museum in Wilmington will be sent to China for an exhibition at the Hong Kong Maritime Museum.
Winterthur's senior curator of ceramics and glass Leslie Grigsby says the exhibit is a return home for Washington's dishes, which were made in China specifically for the American market starting the late 1700s.
These are "objects that were made specifically for members of the Society of the Cincinnati, which included important American personages such as George Washington and many of the Revolutionary War heroes who he got to know well during that time of upheaval here in America," Grigsby said.
Other pieces heading to China include items made for Chinese traders around 1784 and afterward.
The exhibit is in response to a growing Chinese interest in items that were exported out of China, especially how the Chinese excelled at global trade through history by targeting various designs for specific markets.
"The types of porcelain that might have been made for the English and American market are often of a very different design than the kinds that might be made for Sweden or Vietnam or Korea."
The porcelain exhibit is just the latest example of Winterthur's cultural exchange efforts in China. For the past decade, director of Academic Affairs Gregory Landrey has been taking Winterthur's conservation expertise to China, teaching students there how to protect and restore the Qianlong Garden inside the famed Forbidden City in Beijing. Despite its name, the "garden" is different than you might expect.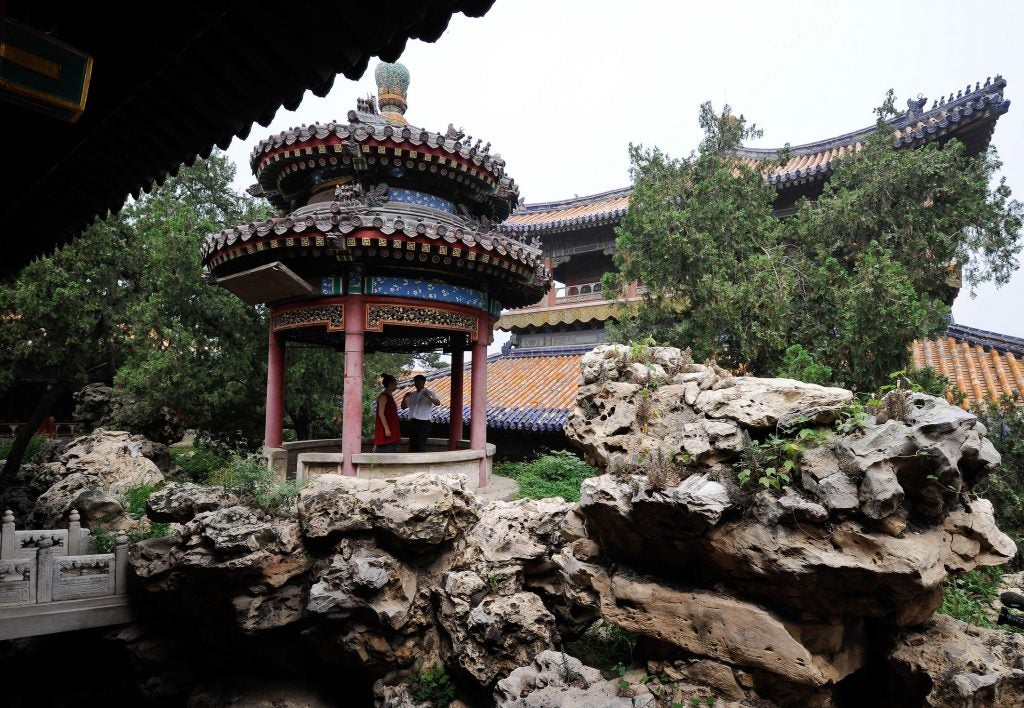 "It's rockery. It is trees, it's not a flower garden," Landrey said. "It's a setting for meditations, a setting for just time to think, that's sort of the nature of the garden, and that is how the Qianlong emperor wanted this space."
The garden also includes little outbuildings that Landrey and others are teaching the Chinese to preserve. "There are multiple places for the Qianlong emperor to sit, so you have these fantastic thrones that are really rather wonderful. That's a sense of the setting. It is China at its best in its 18th century artistry."
After ten years of teaching, Chinese students are taking over the conservation work. "The students that have graduated on the fast track, some of them are now back with the program and now teaching," Landrey said. "One of the objectives of the World Monument Fund, which is a supporter of this whole project, is to be sure that it's all localized."
This cultural exchange stands in stark contrast to the current disputes over tariffs between U.S. and Chinese leaders. Landrey said he's felt a unity with Chinese scholars who are equally interested in preserving their history as their American counterparts.
"It's been a delight, for one semester, for three months, [I was] very much able to feel I was living in China, rather than just a guest lecture, living there, engaging with the people. The take away from that is the similarities of our two cultures, more than the differences."
He said there is a deep interest among the Chinese in learning more about their lengthy history and heritage. "They value it greatly, they want to understand it, they want to celebrate it," Landrey said. "They're aware that they have a card they can play which is this longevity, great pride there, and they find it a very unifying thing for the people of China as an outsider, but also a unifying thing between Americans and Chinese people."
Grigsby hopes international interest in items displayed at Winterthur continues to grow the museum's visitors and add to the global cultural exchange. "Cultural institutions all over America and the Western world want to build on the recent tradition of stronger and stronger ties between Asia, not only China, but Japan, etc., and the West."
The exhibit featuring Washington's porcelain opens in Hong Kong in December and will run through April. It could then be extended to the world-class Shanghai Museum.