Delaware League of Women Voters rolls out electronic voter guide
Delaware's primary elections are two months away and the League of Women Voters is banking on its electronic voter guide to help folks make informed decisions.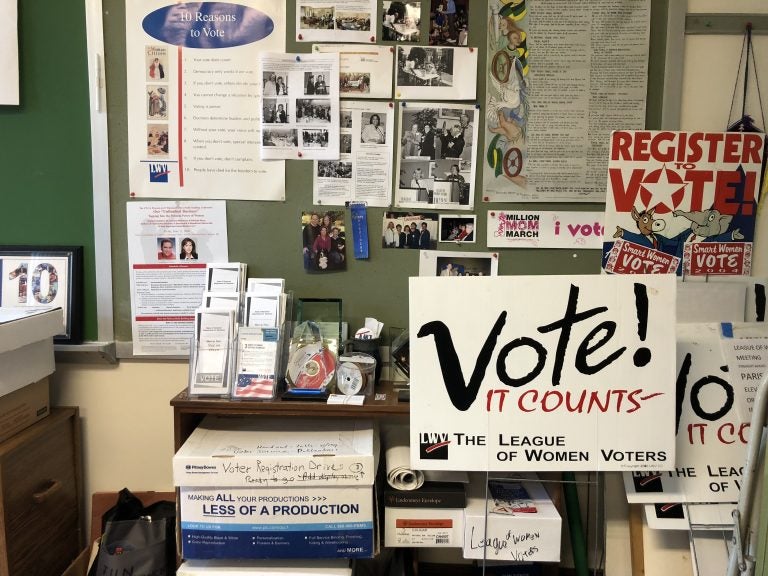 Delaware's primary election is less than two months away and the League of Women Voters is banking on its electronic voter guide, VOTE411.org, to help folks make informed decisions.
"Voters get a lot of conflicting information, especially now, now that social media is giving us a skewed view of the world. And in our mailboxes we get smear campaigns and you can't really tell what's true. So a lot of people trust the League of Women Voters for fair and truthful information and that's what we try to provide," said Kim Wells, who is LWV of Delaware's VOTE411 coordinator.
Wells said the website gives voters a boost of confidence because they can see a sample ballot with all of the races listed in their district, based on their address. You can also pull up two candidates side-by-side to learn where they stand on specific issues.
"It's kind of like shopping for a car where you see the features list side by side, you can do that with the candidates on Vote411.org," Wells said.
There's also general election information by state — like when the registration deadline is, or what type of identification is required at polling places.
According to the nonpartisan activist organization, tens of millions of voters have used VOTE411 since it debuted 12 years ago. Wells said more than 3,000 Delawareans used the digital voter guide in 2016 and she's hoping for at least a tenfold increase this year. The one-stop-shop, she said, is particularly helpful for first-time voters.
Delaware State University senior Ja'Carla Mitchell remembered when she first went to vote, she expected there to be a blurb summarizing each candidates' platforms, but was then surprised to find only the candidates' names appeared on the ballot. Something she would have known, had she visited VOTE411 beforehand.
"If you don't know about it, or if no one ever tells you beforehand, you can definitely be confused on the process," said Mitchell, who is now involved with LWV's student club on DSU's campus. She and Erin Gordon lead the club as its vice president and president, respectively.
"I feel like right now a lot more people our age are actually getting more politically active, especially with everything that's going on," Gordon said, referring to the student protests after the Parkland mass school shooting and recent immigration protests. "And so this club that we're starting on campus is a great way to kind of wrap in all of that enthusiasm, and all of that dedication and bring it towards this good stuff."
The student club was officially formed in March and currently Gordon is focused on making sure her fellow students know about VOTE411 and understand that voting matters.
"I like going to that site especially around election time so that you can get to know the candidates, and they have polling place locations and a lot of events that are happening with the candidates. And so it's a really good tool you can use to go and kind of get to know who you want to vote for a little bit more," Gordon said.
"Some of my friends are like, 'I don't know how to get involved,' or 'I don't even know where to start,'" Mitchell said. "So maybe start small, Delaware, here's a way for you to get involved, here's a way for you to get involved with your school and get educated about politics."
LWV is also hoping the convenience of providing all of the information on one site will encourage other younger people, like Mitchell and Gordon, to get involved.
Delaware's VOTE411 primary election guide is up and it will be updated in September for the general election.
WHYY is your source for fact-based, in-depth journalism and information. As a nonprofit organization, we rely on financial support from readers like you. Please give today.