Delaware coronavirus case total hits 104, presidential primary postponed
Delaware's Democrats will have to wait a little longer to vote in what's expected to be a landslide primary win for Joe Biden.
Updated 6:14 p.m.
Delaware added 17 new coronavirus cases Tuesday, for a new total of 104 since the outbreak started in the state on March 11. Patients range in age from 1 to 90 with 71 cases in New Castle County, 10 in Kent County and 23 in Sussex County. Eleven individuals are hospitalized and five are critically ill. For many of these patients, authorities don't know the source of exposure, indicating that community spread is happening in the state.
Presidential primary postponed
Delaware's Democrats will have to wait a little longer to vote in what's expected to be a landslide primary win for Joe Biden. Gov. John Carney updated his state of emergency order Tuesday afternoon to move the date of the presidential primary from April 28 to June 2.
Carney's update also suspends residential foreclosures and evictions until May 15 or until the public health threat is over. "The additional protections in this order are essential to help support Delawareans – especially our most vulnerable neighbors – as this situation evolves," Carney said in a statement. "This is an extremely challenging economic situation for many of our neighbors, and we need to do what we can to support them."
Foreclosures that were already in motion before the state of emergency order will not be able to  move forward until 31 days after the emergency is terminated.
Carney's order also prohibits utility companies from terminating service or charging fees for late payments.
Firefly Music Festival canceled
Firefly Music Festival is the latest Delaware event to fall victim to the coronavirus. Organizers announced the decision to cancel the event which draws tens of thousands of music fans to Dover this afternoon.
"We are deeply disappointed by this difficult decision, one that impacts our fans and our incredible team of performers, crew, vendors and our community in Dover, Delaware," organizers said in a statement posted on social media. "We look forward to welcoming you in the Woodlands in June 2021where we will dance, sing, and celebrate live music together."
Those who have purchased tickets through official ticket provider Elevate will be able to get a full refund, or they can choose to hold on to their tickets which can be used at next year's event.
The festival has been the biggest music event in Delaware since its inception in 2013 and has drawn some of the biggest names in music including Paul McCartney, Kendrick Lamar, Eminem and Bob Dylan. This year's event was to include headliners like Rage Against the Machine, Billie Eilish, Halsey and Blink-182.
Campgrounds, playgrounds closing
While just about everything else has been shut down by the coronavirus, Delaware parks have remained open. Until today, even campgrounds and playgrounds had remained open.
But starting at 5 p.m. Tuesday, all state park campsites, cabins, cottages, yurts and playgrounds will be closed. Campground reservations are cancelled through May 15. Full refunds will be issued.
Beach access from within Cape Henlopen, Delaware Seashore and Fenwick Island state parks is also off limits to comply with Gov. John Carney's order restricting access to the state's beaches for just exercise and dog walking. The fishing pier at the Indian River Inlet will remain open for now.
Access to state park land still remains open and admission fees are not being collected. Park officials urged those visiting the parks to practice social distancing and avoid gathering in large groups.
Delaware delays tax filing deadline
Delaware taxpayers are getting an automatic extension on filing their taxes this year. The state Division of Revenue announced late Monday that tax returns are now due July 15.
Despite the extension, Director of State Revenue Jennifer Hudson encouraged taxpayers to file state and federal returns electronically or by mail right away. "Although the filing deadline has been extended, individuals are still urged to file as soon as possible," she said. "Filing electronically with direct deposit remains the fastest way to get your refund."
The Division of Revenue is still processing tax returns and issuing refunds, even though employees are working under a modified staffing arrangement. While DOR's public service windows are closed due to coronavirus, staff are answering taxpayer questions via email and by phone.
Anyone needing a further extension beyond July 15 can file a request online or via email at DOR_PublicService@Delaware.gov.
The deadline for corporations to file their Delaware taxes is tied to the federal tax deadline. That filing deadline has also been extended to July 15.
Second Wilmington employee diagnosed with COVID-19
An employee in Wilmington's Department of  License and Inspections is the second city worker diagnosed with coronavirus. The worker is at home in self-quarantine and has not been at work in the Redding Government Building since March 13. The city says the worker's duties do not include "off-site tasks such as inspecting city residences and businesses."
The area where the employee works has been thoroughly cleaned and disinfected as part of a building-wide cleaning regimen.
Earlier this month, a public works employee was also diagnosed with the virus. The city says of several dozen employees that were in close contact with that employee, several have tested negative for the virus. Others are completing two weeks of self-quarantine.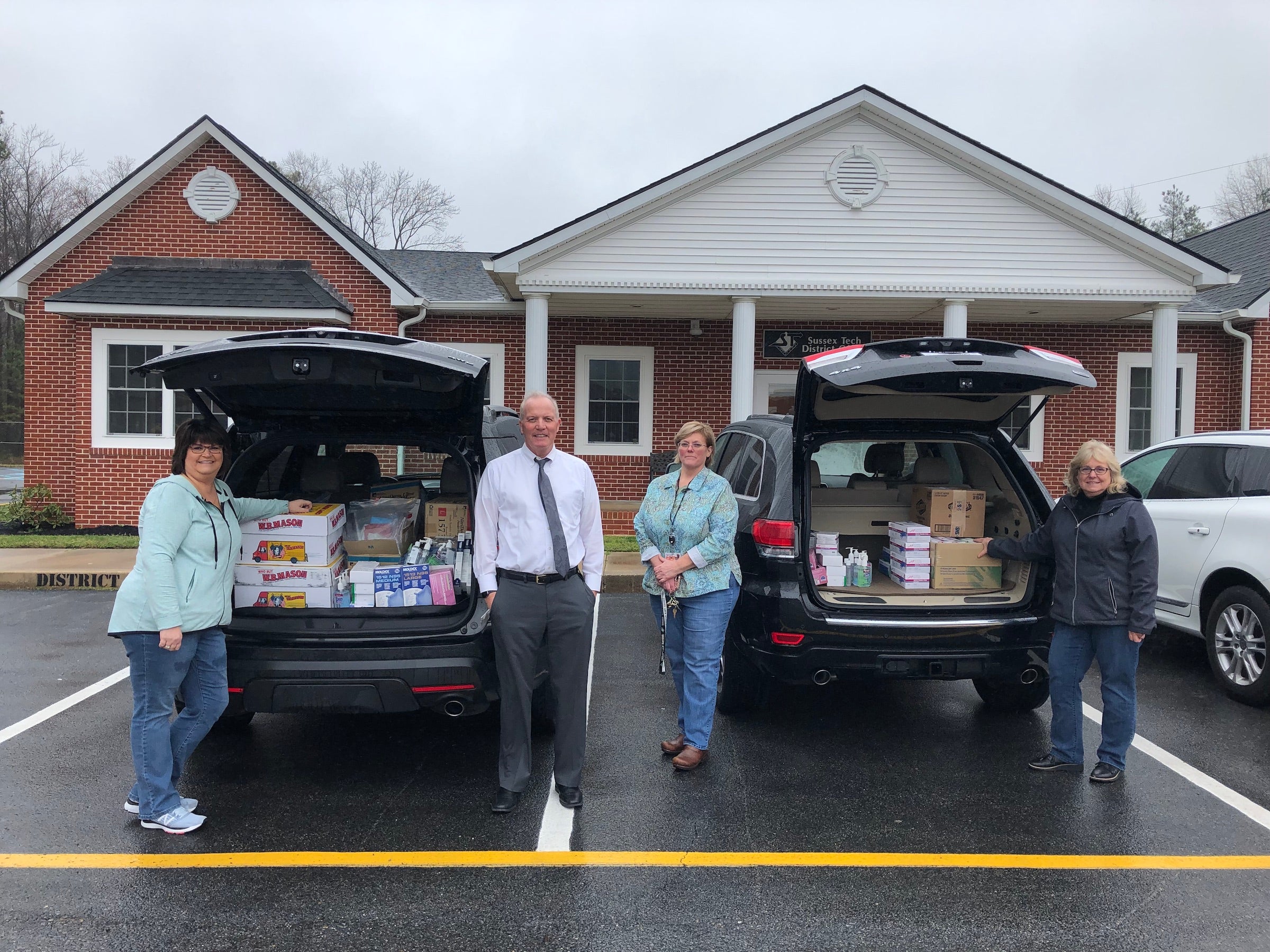 Delaware tech school donates masks, gowns
Sussex Technical School District is sending 8,800 gloves, 35 surgical gowns and five biohazard kits to the hospitals in southern Delaware to assist the coronavirus response. Other donations include masks, hand sanitizer, supplies, and thermometer covers.
The equipment is typically used in the district's high school and adult health professionals classes. "In this fight, everyone has to do their part," said Sussex Tech Superintendent Stephen Guthrie. "We know these extra supplies will go to a life-saving cause."
About 140 high school students take part in the district's health professionals program, while 160 people are in the adult program.
WHYY is your source for fact-based, in-depth journalism and information. As a nonprofit organization, we rely on financial support from readers like you. Please give today.