Delaware assault weapons ban fails in state Senate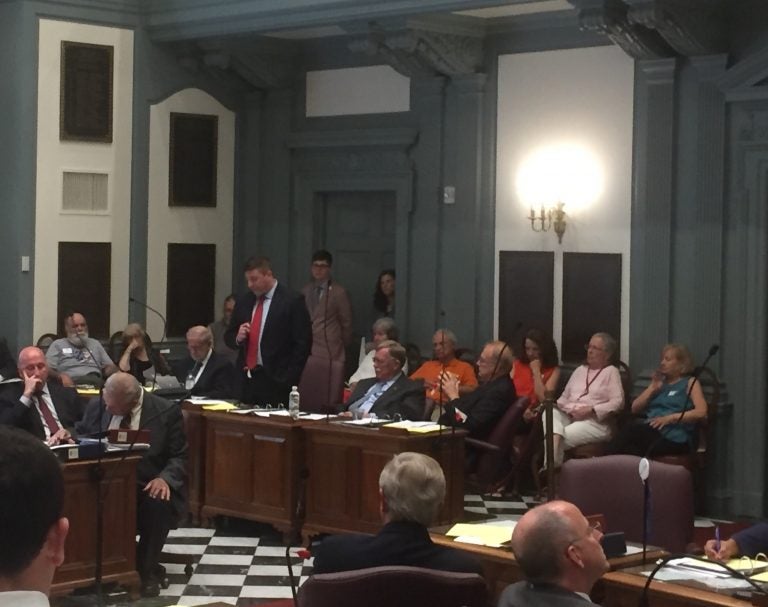 After dozens of gun-rights supporters filled Legislative Hall in Dover to show their opposition Tuesday, legislation that would ban certain assault-style weapons in Delaware failed to win approval for a vote on the Senate floor.
The bill, sponsored by state Sen. Bryan Townsend, D-Newark, failed to clear a Senate committee two weeks ago, but Democrats attempted to resurrect it under a suspension of rules.
"This is a disservice to Delawareans on all sides of the legislation," Townsend said after the decision.
"Fundamentally, the motivation behind the legislation is we should do everything constitutionally permitted to make our communities safe," he added. "Each time these firearms are used in mass shootings in schools, churches, and concerts, people rightfully ask, 'What have our elected officials done to keep me as safe as possible?'
"Rather than even debate the issue, we are burying important legislation that desperately deserves a public debate. One day we will have the debate, and it should have been today."
The legislation called for banning the sale, purchase, and transfer of certain assault-style weapons.
Possession of those weapons would also be prohibited, but that prohibition would not apply to those who had them prior to the legislation's passage.
The bill also would have prohibited transporting assault-style weapons across state lines with some exceptions. Licensed firearms dealers and manufacturers would be allowed to sell or transfer assault-style weapons to a licensed dealer in another state.
In June, state Sen. Greg Lavelle, R-Sharpley, didn't vote to release the bill from committee, arguing the Delaware Constitution protects the use of these firearms for defense, hunting, and recreation.
Last week, President Pro Tempore David McBride, D-Hawk's Nest, vowed to bring the legislation to the Senate floor.
On Tuesday, not enough lawmakers voted in favor of suspending committee rules to allow a vote on the bill. The motion failed 10-9, with two Democrats — state Sens. Bruce Ennis of Smyrna and Brian Bushweller of Dover — voting against the motion. Townsend said Republican state Sen. Cathy Cloutier, R-Wilmington, was the Democrats' last hope to vote in favor of suspending the rules, but she was in the hospital with pneumonia.
State Sen. Anthony Delcollo, R-Elsmere, said his colleagues made the right decision.
"We review bills in committee, and they're either approved or not," he said. "Today I believe this vote reinforced this process because we did not permit a bill to sidestep the important aspect of reviewing and examining evidence and the merits of a measure through a full discussion in committee."
McBride quipped that the senator has "participated in 40 bills that were under suspension of rules."
Delcollo also argued the plain meaning of the language is how the state's Constitution is interpreted by courts. He pointed to last year's Delaware Supreme Court ruling that a ban on guns in state parks violates the state's Constitution.
Townsend, who said he believes the state's high court would find an assault-weapons ban reasonable, pointed to a ruling that a similar ban in Maryland is constitutional.
He also doesn't believe the legislation was given enough opportunity for debate in the committee hearing. Townsend said he didn't call on witnesses because the agreement was to use the time to give the public the opportunity to testify, while Lavelle called on a pro-gun legal witness.
"This deserves a full robust debate, among expert attorneys on both sides of the issue," he said. "We didn't get a chance for that."
WHYY is your source for fact-based, in-depth journalism and information. As a nonprofit organization, we rely on financial support from readers like you. Please give today.