Delaware gun rights supporters rally against firearm-control measures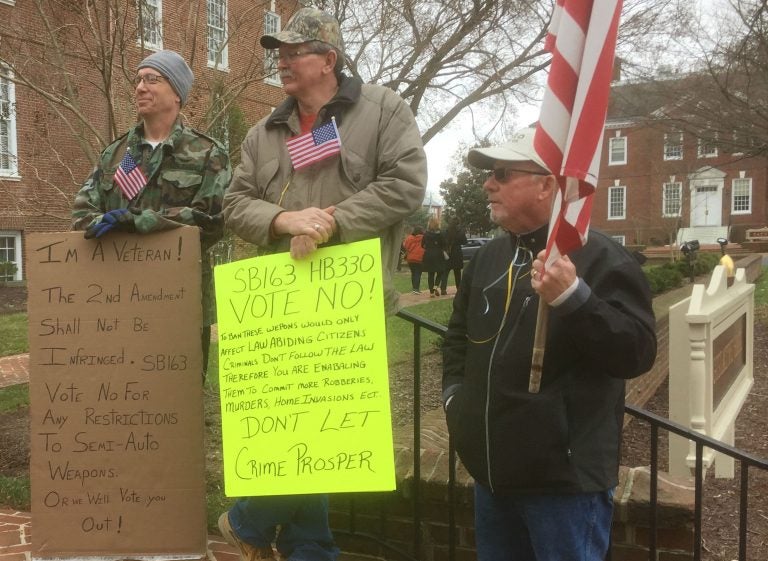 More than 100 Delawareans rallied in support of the Second Amendment outside Legislative Hall in Dover Wednesday — then lined up for an opportunity to express concerns about gun control measures to their legislators.
Mitchell Denham, who launched the Facebook group Delaware Gun Rights, said he organized the demonstration to allow his members to peacefully protest legislation that aims to ban certain weapons for those under 21 and a bill that would ban assault weapons.
The House has passed legislation raising the legal age to buy a firearm or ammunition from 18 to 21, with some exceptions. The Senate is expected to vote on the bill Thursday.
Another bill, awaiting consideration in committee, aims to prohibit the manufacture, sale, offer to sell, transfer, purchase, receipt, possession, or transport of assault weapons in Delaware, with certain exceptions.
In 2016, there were 112 firearm deaths in Delaware and more than 36,000 in the U.S., according to the Centers for Disease Control and Prevention.
However, Denham argued that changing age limits would do nothing to prevent crime. He also said assault weapons are popular among hunters and competitive shooters — and are rarely used in acts of violence.
"One of the number one weapons for hunting coyotes is an AR-15 because of its light weight and portability, and they're also used for hunting hogs down south," Denham said.
"They try to portray it as some sort of weapon designed for killing," he said. "In reality, it's used for hunting every day — just not in Delaware, because we're not allowed to hunt with rifles."
He said he believes the state should focus on the issues of mental health and bullying.
"We want to show the world gun owners aren't the problem," Denham said.
"There's a stigma on mental health. We need to take that stigma away, and make sure people are comfortable reaching out to get the help they need, instead of feeling like they're some sort of pariah for feeling the way they do or having the problems that have," he said.